Advanced Micro Devices Inc. Stock in 3 Charts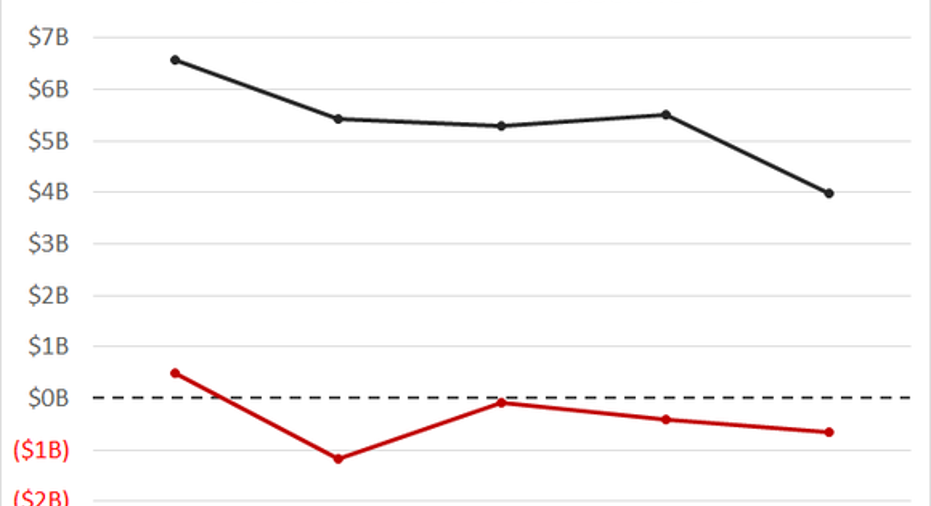 Troubled chip company Advanced Micro Devices hopes to turn things around in 2016. The company is close to launching new graphics cards, with the goal of winning back some market share from rival NVIDIA . On the CPU front, AMD plans to launch the first round of its Zen CPUs later this year. Big performance gains could help the company erase the advantageIntel products have held for years.
Neither of these efforts are guaranteed to be successful, and if one or both fail, a turnaround at AMD may not materialize at all. To get a better understanding of where AMD stands today, here are three charts investors need to see.
Quite the rough patch
The last year in which AMD turned a profit was 2011. Share losses in the CPU and GPU markets, as well as a prolonged slump in PC sales, are mostly to blame. AMD's successful semi-custom business, which supplies the major game consoles with SoCs, has been a bright spot for the company. But it hasn't been enough to offset losses related to PCs.
AMD's revenue hit a low point in 2015, and despite the company's optimism that it would return to non-GAAP profitability during the second half of last year, the net loss was the largest in three years.
Data source: Morningstar.
AMD expects to grow revenue in 2016, driven by additional semi-custom design wins that will begin to generate revenue during the second half as well as the launch of its Polaris graphics cards. The company also expects to generate a non-GAAP operating profit during the second half of the year. While AMD will almost certainly still post a net loss in 2016, the worst would be over if this guidance is hit. So far, there's been little evidence to suggest that AMD's turnaround is making any progress at all. If all goes according to plan, the second half of this year will finally offer proof that the company's strategy is working.
Beaten down in graphics
Two years ago, AMD shipped about 40% of all discrete graphics cards. NVIDIA shipped the remaining 60%, but the two companies were both strong players in the industry. This market share split had remained roughly the same for years up until late 2014.
Things changed when NVIDIA launched the GTX 970 and GTX 980 in September of 2014. The GTX 970, disruptively priced, rose to become the most popular graphics card used by PC gamers on the Steam platform. AMD's market share began to slump, and the launch of its own high-end Fury graphics cards last year failed to do much to change the situation. By the fourth quarter of 2015, NVIDIA claimed around 80% of the market by units.
Data source: Jon Peddie Research.
AMD is banking on its upcoming Polaris graphics cards to claw back market share, but NVIDIA has new products of its own. The company announced the first two graphics cards based on its Pascal architecture earlier this month, and the performance and efficiency gains are impressive. AMD will need to launch disruptive products in order to have any chance of returning to growth this year.
Battling Intel
Based on AMD's performance over the past few years, it's safe to say the company has been losing market share in the PC CPU market to Intel. A decade ago, AMD was a strong player in the market, with products that were competitive with those offered by Intel. Today, that's simply not the case.
Steam, the dominant PC gaming platform, keeps track of what type of CPU its users own. While these numbers aren't representative of the PC market as a whole, the decline in AMD's presence on Steam over the past few years is substantial.
Data source: Steam.
AMD made some major mistakes with its Bulldozer CPUs launched in 2011. Single-threaded performance was abysmal compared to comparable Intel products, and various revisions didn't help. Zen, AMD's upcoming CPU microarchitecture, aims to solve this problem. AMD has promised a 40% boost in instructions-per-clock, and the company is moving to a 14nm manufacturing process. Both of these changes should help AMD close the gap with Intel in terms of performance.
There's a lot riding on Zen, and if AMD comes up short, a turnaround will be a lot more difficult to imagine. AMD has a history of over-promising and under-delivering, but the company needs to hit it out of the park this year.
The article Advanced Micro Devices Inc. Stock in 3 Charts originally appeared on Fool.com.
Timothy Green has no position in any stocks mentioned. The Motley Fool owns shares of and recommends Nvidia. The Motley Fool recommends Intel. Try any of our Foolish newsletter services free for 30 days. We Fools may not all hold the same opinions, but we all believe that considering a diverse range of insights makes us better investors. The Motley Fool has a disclosure policy.
Copyright 1995 - 2016 The Motley Fool, LLC. All rights reserved. The Motley Fool has a disclosure policy.