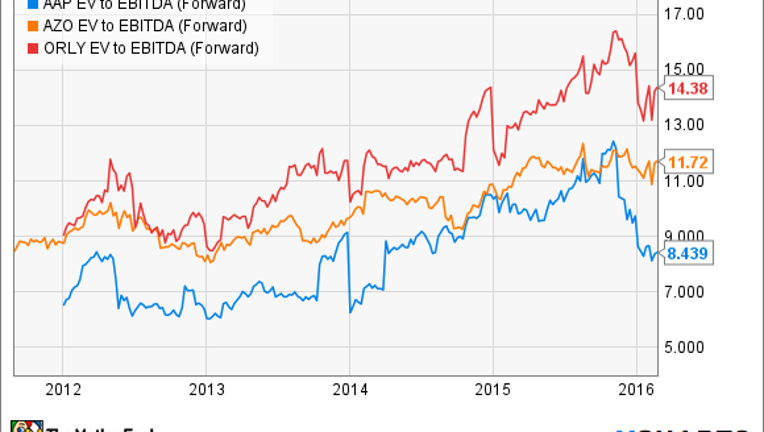 Advance Auto Parts is arguably an attractive deep-value stock, but you rarely get deep value without flaws attached. In this case, the company's integration ofGeneral Parts International (owners of Carquest and worldpac), and catching up with the kinds of margins boasted by rivals like O'Reilly Automotive and AutoZone, Inc , have disappointed so far.
In fact, while its peers are busy generating healthy same-store-sales growth, Advance Auto Parts has turned negative. What exactly is going wrong, and can it be fixed?
DATA SOURCE: ADVANCE AUTO PARTS, INC PRESENTATIONS.
Based on management's guidance and the potential to deliver margins closer to those of O'Reilly and AutoZone, the stock is a good value. Readers unfamiliar with the investment case can read more in the linked article, butnow it's time to focus on what's going wrong:
Same-store sales are now negative
The company started 2015 forecasting low-single-digit comparable same-store sales growth, and comparable cash EPS in the range of $8.35 to $8.55,only to disappoint with flat same-store-sales growth and comparable cash EPS of $7.82.
In the fourth-quarter earnings call, interim CEO George Sherman said he wasn't satisfied with the fourth quarter, and progress in the first quarter is "not up to what our expectations are right now."
The shortfall in performance raises questions about the company achieving its 2016 guidance for adjusted operating income margin of 12%, coupled with low same-store sales growth and "modest top-line growth."However, if the company merelycomes close these targets, then the stock could appreciate substantially.
Integrating CarquestThere are three key factors to consider:
The integration process includes a mix of conversions (mainly Carquest stores converted into Advance Auto Parts stores), and consolidations (Carquest stores are merged with Advance Auto Parts stores), and taking these actions is causing customer disruptions.
Carquest is do-it-for-me heavy (DIFM), and DIFM requires more exacting standards -- more capital intensive as commercial customers require parts quicker -- and Advance Auto is focusing on growing DIFM overall.
Merging two separate companies creates logistics challenges, including ensuring that the right inventory is in place at the right location, while employees and customers also need to adjust to new systems.
Starting with the integration process, the following chart shows how same-store-sales growth has slipped as Carquest consolidations -- and, in particular, conversions -- have negatively affected growth.
DATA SOURCE: ADVANCE AUTO PARTS INC. PRESENTATIONS.
The key takeaway is that, as the conversions and consolidations take place, you can expect more deterioration. On the recent earnings call, Sherman outlined how the process immediately effects sales for about half a quarter before recovering: "It's about five to six weeks that there's a negative impact and then the store begins to emerge with better results and that generally shows up in the form of double-digit comps, showing up in clearly consolidations and anywhere from single -- mid-single to a high-single to double-digit comps in our convergence stores."
Advance Auto Parts started off with around 1,230 Carquest stores, but due to consolidations and conversions, its tally as of January 2016 is around 870. Moreover, management expects to do another 350 -- roughly split between conversions and consolidations -- in 2016.
Investing takeaway: Although performance has been disappointing, Advance Auto's same-store sales growth is -- and will be in 2016 -- negatively affected by short-term waves of conversions; but once completed, growth will return.
DIFM and integration difficultiesThese two issues are somewhat more complicated. O'Reilly Automotive's model of distribution centers providing daily replenishment to its stores -- O'Reilly is a better comparator because it has a heavy DIFM mix, while AutoZone is primarily DIY -- would be ideal for servicing needs of commercial customers. Advance Auto management is clear that DIFM is the priority.
However, Advance Auto is choosing a more bespoke solution that involves investing to improve inventory coverage -- something that could initially hit efforts to get to O'Reilly, like operating metrics -- while developing a field-centric approach to distribution. In plain English, this means local managers will beempowered to decide how individual store inventories are made up. Sherman noted that daily delivery would be provided where needed, but it's "not an answer by itself."
Investing takeawayAdvance Auto's efforts to improve operational performance will take time and effort to ensure efficient inventory delivery may hold back near-term improvement.
AAP EV to EBITDA (Forward) data by YCharts.
The bottom lineAll told, investors shouldn't judge the company's same-store sales performance too harshly. It's disappointing, butit's alsopart of the process. Think of it this way: Management could make numbers look better in the near termbyslowing the pace of conversions/consolidations, butthat would come atthe detrimentof itslong-term objectives.
The increasing share of revenue from DIFM, and the difficulties in integrating Carquest, indicate that Advance Auto won't turn into O'Reilly Automotive overnight. However, it may not need too in order to make investors money. The valuation discount and opportunity is attractive enoughfor long-term investors; just don't be surprised if there's more volatility along the way.
The article Advance Auto Parts Inc: Can It Get Back to Growth? originally appeared on Fool.com.
Lee Samaha has no position in any stocks mentioned. The Motley Fool owns shares of O'Reilly Automotive. Try any of our Foolish newsletter services free for 30 days. We Fools may not all hold the same opinions, but we all believe that considering a diverse range of insights makes us better investors. The Motley Fool has a disclosure policy.
Copyright 1995 - 2016 The Motley Fool, LLC. All rights reserved. The Motley Fool has a disclosure policy.