Adobe Systems Designs Another Record Quarter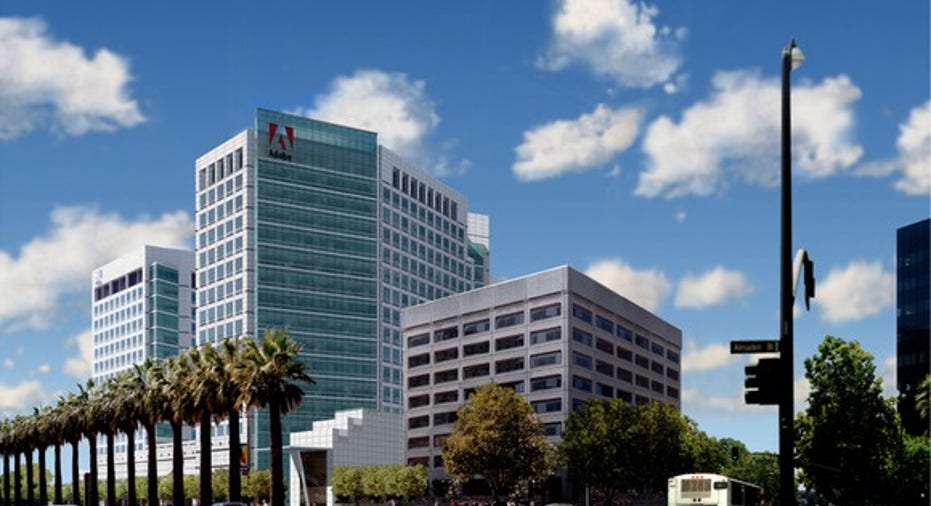 Adobe Systems Incorporated(NASDAQ: ADBE)announced its best-ever fiscal first-quarter results Thursday after the market closed, including record revenue, profits, and cash flow driven by strong adoption and retention for its Creative Cloud and Document Cloud products.
Let's zoom in on the driving forces behind its impressive start to the new fiscal year.
Adobe Systems headquarters. Image source: Adobe Systems.
Adobe Systems results: The raw numbers
| Metric | Fiscal Q1 2017 | Fiscal Q1 2016 | Year-Over-Year Growth |
| --- | --- | --- | --- |
| Revenue | $1.68 billion | $1.38 billion | 21.6% |
| GAAP net income | $398.5 million | $254.3 million | 56.7% |
| GAAP earnings per share (diluted) | $0.80 | $0.50 | 60% |
Data source: Adobe Systems.
What happened with Adobe Systems this quarter?
On an adjusted (non-GAAP) basis, which excludes items such as stock-based compensation and restructuring charges, net income per share increased 42.4%, to $0.94.
Adobe's guidance provided last quarter was more conservative, calling for quarterly revenue of $1.625 billion, GAAP earnings per share of $0.71, and adjusted earnings per share of $0.87.
Digital-media segment revenue grew 22% year over year, to $1.14 billion,including 29% growth in Creative revenue, to $942 million.
Digital-media annualized recurring revenue increased $265 million sequentially from last quarter, to $4.25 billion, thanks largely to Creative Cloud and Document Cloud.
Adobe Marketing Cloud revenue grew 26%, to a company-record $477 million.
Cash flow from operations was $730 million, up from $696 million last quarter and good for another record.
The company repurchased 2.2 million shares for $238 million, leaving $300 million remaining under the repurchase program originally authorized in January 2015. After that's exhausted, Adobe will start repurchases under the $2.5 billion authorization approved three months ago.
What management had to say
"Whether you're a designer, student, enterprise, or government agency, reimagining your customer experience has become a critical part of every digital transformation strategy," said Adobe CEO Shantanu Narayen. "Adobe's mission to help our customers design and deliver great experiences has never been more relevant, as is reflected in our outstanding Q1 results."
"Our solid execution and business momentum combined with strong market tailwinds give us confidence in our ability to continue to deliver strong financial results," Adobe CFO Mark Garrett added. "We remain bullish about our prospects for the rest of 2017 and beyond."
Looking forward
Narayen also touched on Adobe's $540 million acquisition of video-ad specialist TubeMogul last quarter, noting that the deal closed as expected in late December. As it stands, Adobe is working to complete the integration of TubeMogul with its current Adobe Media Optimizer solution, the combination of which will help Adobe customers optimize video, search, and display-ad investments across multiple ad mediums, from mobile to desktop, streaming devices, and television.
Finally, during the subsequent conference call, Adobe management revealed that it's targeting fiscal second-quarter 2017 revenue of $1.73 billion, including 24% year-over-year growth in Digital Media segment revenue, and 26% growth in Adobe Marketing Cloud revenue. On the bottom line, that should translate to GAAP earnings of $0.66 per share and adjusted earnings of $0.94 per share. By comparison -- and though we don't typically pay close attention to Wall Street's demands -- consensus estimates predicted slightly lower fiscal Q2 revenue of $1.72 billion, and lower adjusted earnings of $0.91 per share.
In the end, there was nothing not to like about this solid performance from Adobe. Given the continued outperformance and traction of its digital and recurring revenue initiatives, and its stronger-than-expected guidance, it's no surprise that shares rose in after-hours trading following the release of the earnings report.
10 stocks we like better than Adobe SystemsWhen investing geniuses David and Tom Gardner have a stock tip, it can pay to listen. After all, the newsletter they have run for over a decade, Motley Fool Stock Advisor, has tripled the market.*
David and Tom just revealed what they believe are the 10 best stocks for investors to buy right now... and Adobe Systems wasn't one of them! That's right -- they think these 10 stocks are even better buys.
Click here to learn about these picks!
*Stock Advisor returns as of February 6, 2017
Steve Symington has no position in any stocks mentioned. The Motley Fool recommends Adobe Systems. The Motley Fool has a disclosure policy.