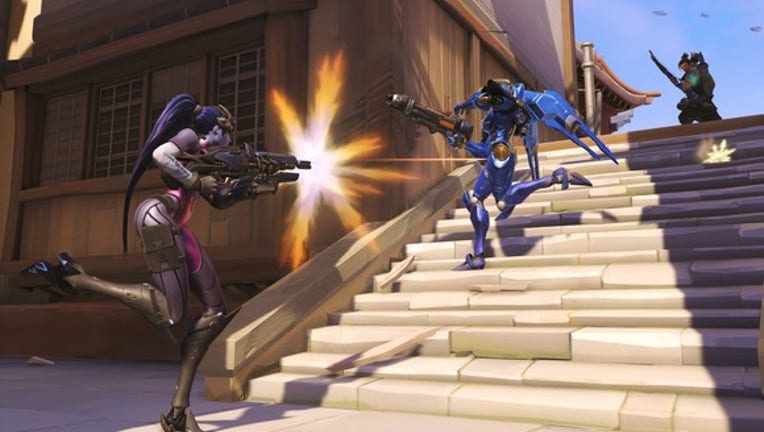 Activision Blizzard (NASDAQ: ATVI) recently reported its first-quarter results for 2017, and it was another great quarter. Over the last 12 months, players have spent about 40 billion hours playing Activision Blizzard's games, a double-digit percentage increase over the first quarter of 2016.
What caught my eye for the quarter is the continued growth of Overwatch, which now has 30 million registered players. The game added 5 million more players in the first quarter alone.
The company's Blizzard subsidiary grew revenue 50% year over year and operating income nearly doubled, driven by solid sales of Overwatch and strong engagement in World of Warcraft.
Overwatch joins the billion-dollar club
Overwatch is popular due to its addictive gameplay and easy learning curve. IMAGE SOURCE: ACTIVISION BLIZZARD INC.
Overwatch has now become Activision Blizzard's eighth franchise to reach $1 billion in revenue. Monthly active users -- a closely watched metric by analysts -- fell slightly on the Activision and King side of the company, but was flat for Blizzard. Monthly active users for Overwatch, specifically, were up over all of last year during the 2017 first quarter.
The growth and high engagement of the Overwatch player base helped drive a 30% year-over-year increase in micro in-game purchases for "loot" boxes, which provide players things like different outfits to dress their characters. This perhaps more than anything shows how attached players are to the game, because the content from loot boxes doesn't enhance the player's performance in the game at all -- it's all cosmetic.
Overwatch provides many opportunities to monetize content
Part of Blizzard's strategy to keep players engaged with the game is releasing seasonal events. These events drive higher in-game spending by offering unique seasonal-themed content for a limited time.
Michael Morhaime, president and CEO of Blizzard Entertainment, talked about the importance of these seasonal events:
It's unique in the gaming industry to have a major franchise appeal equally all around the world like Overwatch has. This is obviously very exciting for management and represents a big opportunity for the company to capitalize on the game's global popularity.
Morhaime explained how they see the opportunity to grow the franchise across different initiatives within the company such as consumer products and e-sports:
The Overwatch story is just beginning
The momentum with the Overwatch franchise is a great sign as the company gears up for the start ofOverwatch League. Activision Blizzard is currently in the process of selling teams to prospective team owners. On the first-quarter earnings conference call, CEO Bobby Kotick said, "We've been out meeting with prospective team owners, both endemic teams as well as professional sports team owners, and the reception has been terrific."
Overwatch is definitely killing it, and it's poised to get even better.
Find out why Activision Blizzard is one of the 10 best stocks to buy now
Motley Fool co-founders Tom and David Gardner have spent more than a decade beating the market. (In fact, the newsletter they run, Motley Fool Stock Advisor, has tripled the market!*)
Tom and David just revealed their ten top stock picks for investors to buy right now. Activision Blizzard is on the list -- but there are nine others you may be overlooking.
Click here to get access to the full list!
*Stock Advisor returns as of May 1, 2017
John Ballard owns shares of Activision Blizzard. The Motley Fool owns shares of and recommends Activision Blizzard. The Motley Fool has a disclosure policy.