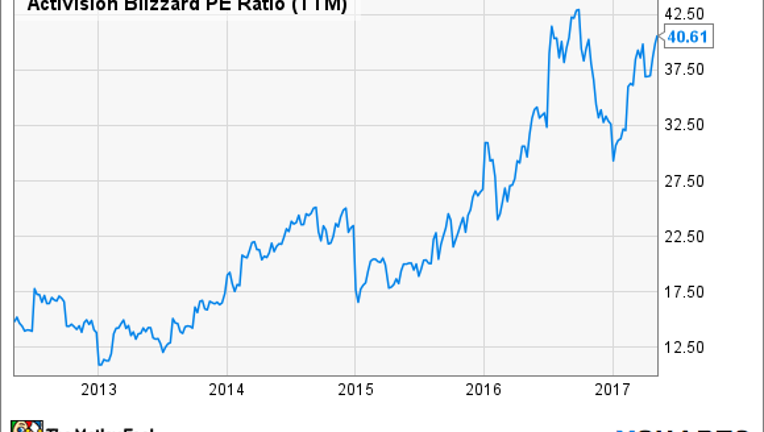 There have been few better investments over the last five years than owning shares in any of the three major U.S. video game companies -- Activision Blizzard (NASDAQ: ATVI), Electronic Arts, andTake-Two Interactive. Activision stock in particular has returned nearly 350% over that period, compared to just a 70% gain for theS&P 500.
After such a bullish run, some of you may be wondering whether it's too late to take a position in the company. Let's take a look at where Activision Blizzard stood heading into 2012 to set the stage for what investors can expect in the next five years and beyond.
What happened over the past five years
Overwatch gives the company growth opportunities in e-sports and consumer products. Image source: Activision Blizzard.
In April 2012, Activision stock traded at a P/E ratio of about 14 times.The video game company had closed out 2011 with revenue of $4.8 billion and an operating margin of 30%, leavinginvestors with $0.93 per share on the bottom line.
The company had three notable franchises heading into the year: Call of Duty, Skylanders, and World of Warcraft.That May, Blizzard releasedDiablo 3 -- the No. 1 selling PC title of 2012.
In the ensuing years, the company would go on to add Overwatch and Destiny to its franchise portfolio, along with top-grossing mobile games Candy Crush and Bubble Witch following its acquisition of King Digital Entertainment in early 2016.
Today, Activision Blizzard has a broad lineup of popular titles that gamers spent 43 billion hours playing in 2016 -- helping the company generatetotal revenue of $6.6 billion with an operating margin of 35%. Earnings per share more than doubled over the five-year period. The valuation went up as well, as its P/E expanded from 14 to 40 times earnings, meaning investors today are willing to pay far more than they did in 2012 for a piece of the company's growth and leadership within the gaming industry.
Data by YCharts.
What next?
Now a $40 billion company, I wouldn't expect the stock to generate another 300% return for investors by 2022. But these are major opportunities for Activision that will be help push the stock higher:
Expanding margins from growth in digital revenue:With 450 million players across its portfolio, Activision Blizzard has a massive customer base to offer additional content, driving higher digital revenue (accompanied by wider profit margins as well).
E-sports:Activision Blizzard is setting upOverwatch Leagueto be a long-term profit generator for shareholders. The league is expected to commence in 2017, but investors will need to be patient, as it might take a while to earn a meaningful profit for the company. Five years should be plenty of time for management to get the league humming along.
Consumer products:Activision Blizzard has anopportunityto monetize its iconic characters across its numerous franchises with the recent hire of a toy-industry veteran to run a new Consumer Products Division.
Transformative acquisitions:CEO Bobby Kotick's compensation packageincentivizeshim to make at least one more big transaction in the next five years.
As much as the company has changed since 2012, you can bet Activision will evolve even further by 2022. Though its P/E multiple will not expand the same way it has over the previous five years,continued strength on the company's top and bottom lines should reward investors nonetheless.
10 stocks we like better than Activision BlizzardWhen investing geniuses David and Tom Gardner have a stock tip, it can pay to listen. After all, the newsletter they have run for over a decade, Motley Fool Stock Advisor, has tripled the market.*
David and Tom just revealed what they believe are the 10 best stocks for investors to buy right now...and Activision Blizzard wasn't one of them! That's right -- they think these 10 stocks are even better buys.
Click here to learn about these picks!
*Stock Advisor returns as of April 3, 2017.
John Ballard owns shares of Activision Blizzard. The Motley Fool owns shares of and recommends Activision Blizzard and Take-Two Interactive. The Motley Fool recommends Electronic Arts. The Motley Fool has a disclosure policy.