Acquisitions Put Genesee & Wyoming Inc.'s Earnings Growth Back on Track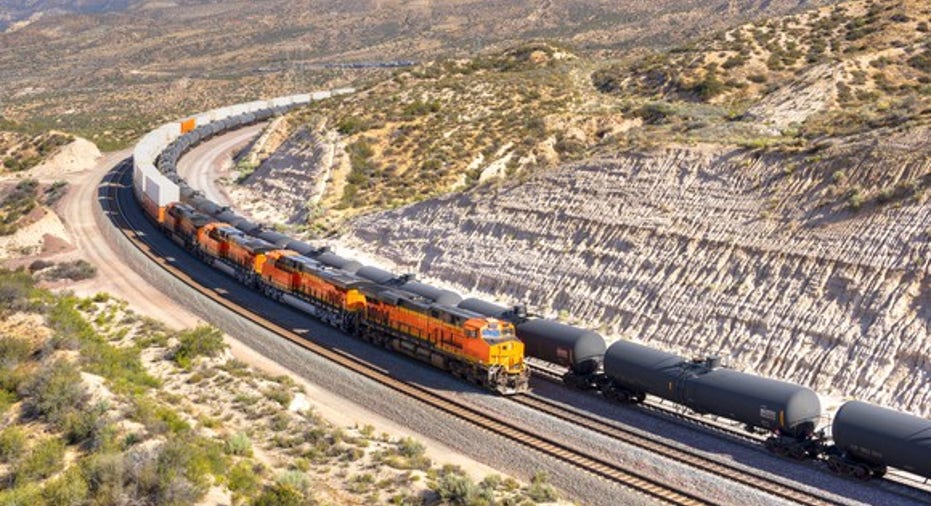 Genesee & Wyoming's (NYSE: GWR) growth-by-acquisition strategy paid off during the fourth quarter as recent additions boosted results. The company also benefited from a noticeable pickup in rail volumes in both the U.S. and Australia, which helped offset weakness in Europe. These positives should enable the company to maintain its momentum in 2017, especially since it already has more deals in the pipeline and the balance sheet to continue buying.
Genesee & Wyoming results: The raw numbers
| Metric | Q4 2016 | Q4 2015 | Year-Over-Year Change |
| --- | --- | --- | --- |
| Revenue | $516.5 million | $546.3 million | 0.3% |
| Adjusted net income | $58.3 million | $56.8 million | 2.6% |
| Adjusted EPS | $0.99 | $0.98 | 1% |
Data source: Genesee & Wyoming. EPS = earnings per share.
What happened with Genesee & Wyoming this quarter?
Genesee & Wyoming closed several deals during the quarter:
North American revenue rose 7.9%, to $322.2 million. Driving that increase was an additional $17.6 million in freight-related revenue, due, in part, to the recognition of revenue from a multi-year take-or-pay volume shortfall from a crude-by-rail contract. The company also collected $5.2 million of revenue from the newly acquired Providence and Worcester Railroad, which closed in November. Meanwhile, good expense management drove an 18.9% increase in adjusted operating income during the quarter.
Revenue in Australia rose 11.2%, to $61.4 million, primarily due to the acquisition of Glencore Rail and the subsequent joint-venture agreement to partner its Australian subsidiary with Macquarie. Meanwhile, adjusted operating income surged 26.4% thanks to those transactions and the improvement of commodity prices.
The U.K./Europe segment was the lone laggard as revenue slumped 17.4%, to $133 million. However, $21.7 million of that impact was due to foreign-currency depreciation, which, if adjusted, reduced the decline rate to 4.5% year over year. Port congestion in the U.K. and lower intermodal volumes in Continental Europe drove the decline. These issues pushed adjusted operating income down from $9.1 million in the year-ago quarter to $2.5 million last quarter.
On an even more positive note, same railroad operating revenue would have increased 1.8% year over year after adjusting for acquisitions and the negative impact of foreign currencies. Driving this growth was a 2% increase in same railroad traffic in the U.S. and improving performance in Australia.
It's also worth noting that earnings would have been higher by $0.01 per share if it wasn't for the completion of an equity offering in mid-December. The company raised $287 million of cash to position itself for additional acquisition opportunities, including pre-funding the purchase of a $110 million container terminal in the U.K. that it announced in December. The company also announced a deal yesterday toacquire the Heart of Georgia Railroad, which connects with G&W's system in that state.
Image source: Getty Images.
What management had to say
CEO Jack Hellmanncommented on the quarter by saying that:
Genesee & Wyoming has worked hard to take advantage of the slowdown in the rail sector to make acquisitions across the globe. The company completed two deals last quarter, signed another, and just yesterday agreed to a fourth transaction. While the recently closed deals clearly boosted fourth-quarter results, it's worth noting that its earlier deal for Freightliner has not paid off as expected.
Last quarter, the company recorded a series of charges relating to that U.K./Europe business, including the decision to discontinue some of its ERS Railways operations. The company is working on righting this business, with hopes of bringing it back to profitability by mid-year.
Looking forward
Despite that misstep, Genesee & Wyoming is actively pursuing more deals. CEO Jack Hellman noted that the company continues to evaluate "multiple acquisitions and investment opportunities across" its global footprint. He pointed out that it has a war chest of more than $500 million of available credit under its revolving credit facility to finance future transactions.
10 stocks we like better than Genesee and WyomingWhen investing geniuses David and Tom Gardner have a stock tip, it can pay to listen. After all, the newsletter they have run for over a decade, Motley Fool Stock Advisor, has tripled the market.*
David and Tom just revealed what they believe are the 10 best stocks for investors to buy right now... and Genesee and Wyoming wasn't one of them! That's right -- they think these 10 stocks are even better buys.
Click here to learn about these picks!
*Stock Advisor returns as of February 6, 2017
Matt DiLallo has no position in any stocks mentioned. The Motley Fool recommends Genesee and Wyoming. The Motley Fool has a disclosure policy.