Abercrombie reports narrower loss, helped by Hollister brand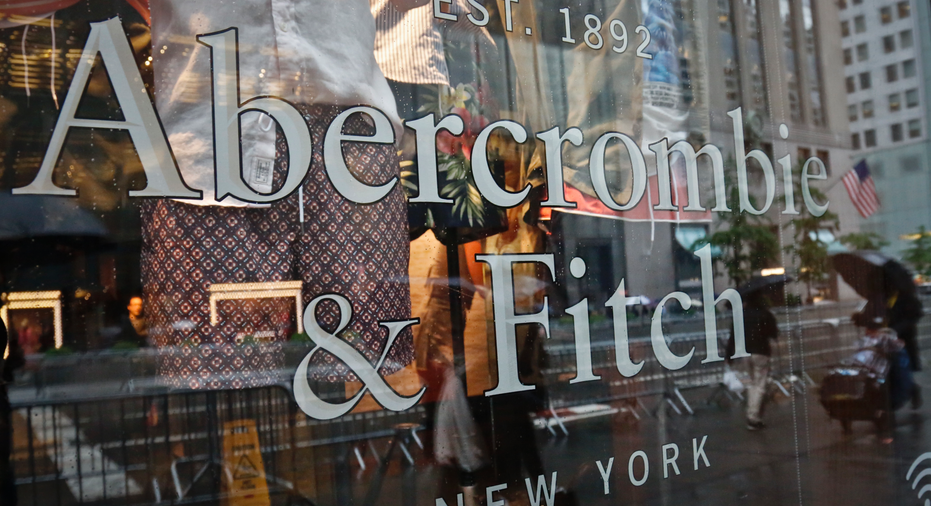 Abercrombie & Fitch Co. reported a narrower second-quarter loss Thursday than analysts had expected, powered by its surf-inspired Hollister brand. Total revenue also topped Wall Street's estimates, and the company's shares soared nearly 16 percent.
The report was an encouraging sign of where the company stood as it headed into the critical stretch of the back-to-school shopping season, and comes more than a month after A&F announced that it had terminated talks with potential buyers.
Like many teen retailers, A&F has struggled to bring back shoppers since the Great Recession. Younger shoppers are spending more online and less at malls, and they have been gravitating more toward fast fashion retailers like H&M. In the last year or so, Aeropostale Inc., American Apparel Inc. and Wet Seal have filed for bankruptcy.
American Eagle Outfitters had an advantage over A&F heading into the back-to-school period. It's posted a string of quarterly sales increases as its retooled denim choices have pulled in teens. Its second-quarter profits and sales beat Wall Street expectations, and revenue at established stores rose 2 percent, helped by explosive growth from its Aerie lingerie brand.
Abercrombie has tried to tweak its brand to attract new shoppers. It dumped sexy ads and updated its fashions. It's closed almost 400 stores since 2010 and plans to close 60 this year. And it promoted Fran Horowitz from president and chief merchandising officer to CEO earlier this year.
Horowitz told The Associated Press on Thursday that shoppers are still looking for discounts, but she says she's pleased with the performance at Hollister. Overall, she noted that A&F has taken bigger bets on certain denim styles and off-the shoulder blouses that were key trends and helped the business.
Revenue at stores open at least a year were overall down 1 percent for the quarter; at Hollister, they rose 5 percent but fell 7 percent at the its flagship brand. For the current fiscal year, A&F expects revenue at established stores to be flat.
Abercrombie & Fitch reported a loss of $15.5 million, or 23 cents per share, in its fiscal second quarter. Losses adjusted for non-recurring costs came to 16 cents per share. The average of analysts surveyed by Zacks Investment Research had been for a loss of 34 cents per share.
Revenue for the period came to $779.3 million, higher than the $761.6 million average expected by analysts.
Abercrombie shares had dropped 20 percent since the beginning of the year, but were up nearly 16 percent to $11.12 in afternoon trading Thursday.
_____
Elements of this story were generated by Automated Insights using data from Zacks Investment Research. Access a Zacks stock report on ANF at https://www.zacks.com/ap/ANF
_____
Keywords: Abercrombie & Fitch, Earnings Report