Abe: Japan enters cooperation pact with Baltic countries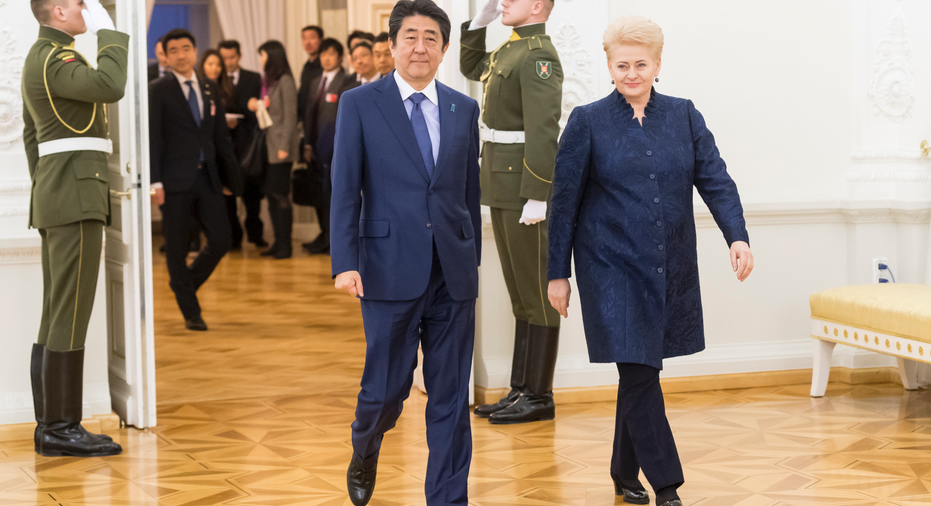 Japan's prime minister said Saturday his country has entered into a pact with Estonia, Latvia and Lithuania to boost economic and political ties with the three former Soviet republics.
Japanese Prime Minister Shinzo Abe and Latvian Prime Minister Maris Kucinskis said after meeting in Riga, Latvia's capital, that information technology, transportation and medicine are areas where Japan sees the most trade potential in the Baltic countries.
Abe praised the cargo harbor in Riga as "a successful center of transportation and logistics" that will allow Asian suppliers to deliver goods to the region.
The four-way Japan-Baltics trade pact is likely to yield benefits for Tokyo only once a larger partnership deal between the European Union and Japan has been ratified.
Abe, accompanied by a sizable Japanese business delegation, and Kucinskis both urged rapid ratification of the EU-Japan trade deal reached in December.
"I am glad that economic partnership treaty negotiations between Japan and the European Union have been concluded," Abe said, referring to the free trade agreement that will open EU markets such as Estonia, Latvia, Lithuania to Japanese companies and vice versa.
Latvia is the second leg of Abe's six-nation European tour that started in Estonia on Friday. Abe is scheduled to also visit Lithuania, Bulgaria, Serbia and Romania. He is the first sitting Japanese prime minister to ever visit those countries.
Abe arrived in Lithuania Saturday afternoon to meet with President Dalia Grybausakaite and Prime Minister Saulius Skvernelis, and to honor a late Japanese diplomat based in Lithuania during World War II. Chiune Sugihara is credited with helping save about 2,500 European Jews in 1940 by issuing them travel visas.
Abe said he discussed with Lithuanian leaders closer cooperation between the Baltic states and Japan in the areas of defense, economics and cybersecurity. He also thanked Lithuania for its support amid the tension over North Korea's missile tests.
"We have to increase our cooperation in this field to increase pressure on North Korea and condemnation of its actions" he said.
He is set to visit Bulgaria, Serbia and Romania on Sunday.