AbbVie's Venclexta Notches FDA Win, But Investors Might Want To Temper Enthusiasm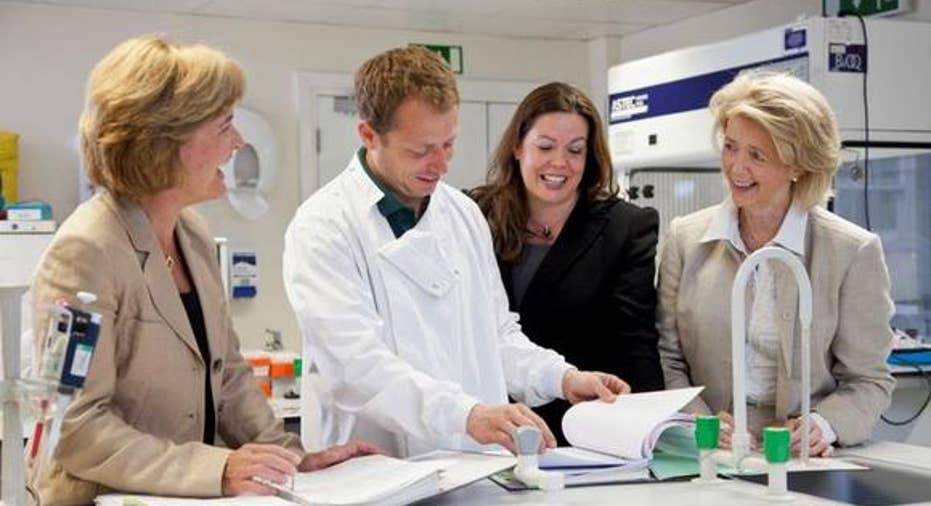 SOURCE: ABBVIE, INC
AbbVie Inc. made a big splash entering the blood cancer treatment market with its $21 billion deal to buy Pharmacyclics last year. The move single-handedly landed AbbVie one of the fastest growing cancer drugs on the planet and it signaled AbbVie's commitment to expand beyond its top-selling Humira to become a global oncology market leader.
This week, a FDA approval of AbbVie's Venclexta in some patients with relapsing chronic lymphocytic leukemia puts the company a step closer to its goal, but a drug on the horizon with ties to AstraZeneca plc may eventually temper demand for Venclexta, and for that reason, investors may want to keep their peak sales estimates for Venclexta in check.
Winning shareBuying Pharmacyclics landed AbbVie 50% of the rights to Imbruvica, a BTK-inhibiting therapy that is approved for use in chronic lymphocytic leukemia (CLL), mantle cell lymphoma, and Waldenstrom's macroglobulinemia, and that was co-developed by Johnson & Johnson .
Since winning approval for use as a second-line therapy in CLL, Imbruvica sales have stormed higher. Last quarter, Imbruvica revenue clocked in at $343 million, making its path to billion dollar blockbuster status a short one.
Imbruvica's impressive start has industry-watchers thinking its peak sales could exceed $6 billion, a heady-forecast that may have recently become more attainable following a competitors stumble and a recent FDA approval for its use in more patients.
Gilead Sciences launched its competing CLL drug, Zydelig, around the same time as Imbruvica, however, Zydelig's arguably less attractive safety profile kept a lid on its sales last year, and this year, Zydelig may be relegated to niche drug following last month's announcement that Gilead Sciences' has shuttered six Zydelig clinical trials following patient deaths.
Additionally, Imbruvica's market position should also improve this year following the FDA's clearing of its use in the first line CLL setting last month. Opening up Imbruvica to this larger CLL patient population is expected to catapult the drug's sales to $1.8 billion this year, according to AbbVie's CFO William Chase.
SOURCE: ABBVIE, INC.
Delivering another winNow that Imbruvica has been bumped up to first-line status, AbbVie hopes that Venclexta's approval in the second-line setting means that it will slot in right behind it to become another top seller in the indication.
That's not unreasonable thinking given that CLL is the most common form of leukemia. Roughly 15,000 cases of CLL are diagnosed annually and unfortunately, most CLL patients see their disease return at some point after responding to first-line therapy. Yes, Imbruvica's efficacy means that more patients will be disease free for longer than they were previously, but Imbruvica isn't a cure and that means there's likely to remain a significant need for relapsing CLL therapies -- especially in patients with 17p deletion who lack a key gene associated with suppressing cancer cells.
In clinical trials, 80% patients with 17p deletion who have seen their disease return following one previous therapy saw a complete or partial remission on Venclexta.For that reason, Venclexta is undeniably a new and important weapon in doctor toolboxes for this indication.
Reasons for cautionA response rate like that could have investors thinking Venclexta has Imbruvica-like commercial opportunity, however, there are a couple reasons why that may not be the case.
First, only 20% of the relapsing CLL patient population possesses the 17p deletion targeted by Venclexta and that means the drug will target a much smaller addressable market than Imbruvica.
Secondly, a second-generation BTK-inhibitor that could challenge Imbruvica could also shift the use of Venclexta from second line use to a third-line treatment.
In December, Netherlands-based Acerta Pharma presented data on its BTK-inhibitor acalabrutinib showing a 95% response rate during phase 1/2 trials in relapsing CLL patients. In 17p deletion patients -- Venclexta's target indication -- 100% of patients had a positive response to acalabrutinib.Importantly, acalabrutinib's safety in this trial could position it as best-in-class, helping insure its use prior to other agents like Venclexta.
Acalabrutinib's performance was so compelling that AstraZeneca handed Acerta Pharma $2.5 billion in exchange for 55% ownership only days after Acerta Pharma's presentation. AstraZeneca has an option to buy the remainder of Acerta Pharma later, and its first filings for FDA approval of acalabrutinib in blood cancer are being targeted for later this year.
Looking aheadSadly, none of these drugs cure the disease and that means that Imbruvica, Venclexta, and acalabrutinib (if approved) could all play an important role in this indication. However, since acalabrutinib could cause Venclexta's use to shrink as early as 2017, investors might not want to buy AbbVie's shares solely because of Venclexta's approval.
The article AbbVie's Venclexta Notches FDA Win, But Investors Might Want To Temper Enthusiasm originally appeared on Fool.com.
Todd Campbell owns shares of Gilead Sciences. Todd owns E.B. Capital Markets, LLC. E.B. Capital's clients may have positions in the companies mentioned. The Motley Fool owns shares of and recommends Gilead Sciences. The Motley Fool recommends Johnson & Johnson. Try any of our Foolish newsletter services free for 30 days. We Fools may not all hold the same opinions, but we all believe that considering a diverse range of insights makes us better investors. The Motley Fool has a disclosure policy.
Copyright 1995 - 2016 The Motley Fool, LLC. All rights reserved. The Motley Fool has a disclosure policy.