AbbVie's Stock Is Suffering From a Lack of Diversification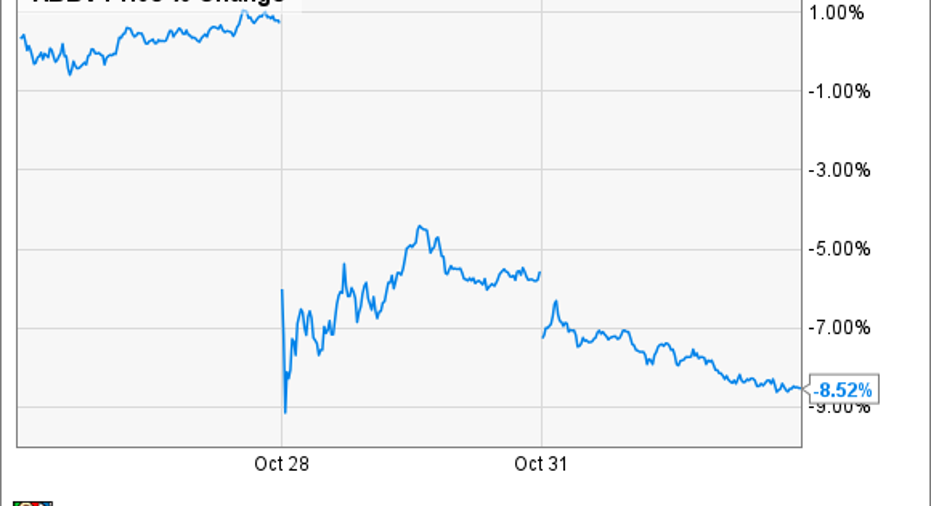 AbbVie's (NYSE: ABBV) stock has been getting pummeled the last few trading sessions -- despite a slight earnings beat in the third quarter and a 12% announced hike to its dividend in 2017.
ABBV Price data by YCharts.
So why is the market throwing shade AbbVie's way? Part of the problem is undoubtedly the underperformance of AbbVie's flagship anti-inflammatory drug Humira in the third quarter. This key drug, after all, missed its consensus sales estimate by $11 million, which contributed to the drugmaker's lower-than-expected revenue for the three-month period.
That said, Humira did post an impressive 11.3% year-over-year rise in global sales. And AbbVie's net revenue did spike by a healthy 8.2% in the third quarter relative to the same period a year ago, putting the company in rarefied air among major drug-manufacturers in terms of growth.
Put simply, Humira's $11 million miss can't explain a whopping $10 billion drop in market cap in just two days, especially as this biotech continues to sport industry-leading levels of top-line growth.
Deeper fears abound
AbbVie's staggering and rapid devaluation rather appears to have its roots in Humira's forthcoming patent expiration in the U.S. at this end of this year and inEuropean Union countries in April 2018. After all, the FDA recently approved Amgen's (NASDAQ: AMGN) copycat drug Amjevita as the first biosimilar version of Humira in the U.S. for multiple inflammatory conditions, such as rheumatoid arthritis. Numerous other companies are racing to get their own biosimilars approved stateside as well.
Image source: Getty Images.
Although AbbVie is confident it can legally defend Humira against the growing biosimilar threat until at least 2022, the underlying issue is that the company would, in fact, be in deep trouble if its legal strategy doesn't prevail.
As part of its overall strategy to soften the blow of Humira's losing exclusivity, AbbVie has attempted to round out its product portfolio with the launch of the hepatitis C therapy Viekira Pak in 2015 and the $21 billion acquisition ofPharmacyclics for its breakthrough blood cancer drug Imbruvica. Even so, Humira has continued to gobble up a disproportionate amount of the drugmaker's revenue pie over the past four quarters:
Data source: AbbVie.
That's not an encouraging trend heading into Humira's looming date with the patent cliff.
Why has AbbVie failed to diversify?
Humira's dominance is due to a mixture of the drug's continued strong growth over this period, combined with Viekira's disappointing commercial trajectory. Despite AbbVie's hopes that Viekira could cut deeply into Gilead Sciences' (NASDAQ: GILD) outsized portion of the ginormous hepatitis C market, for instance, the drug's sales actually dropped by 20.4% on an operational basis in the third quarter.
Part of this significant drop-off owes partly to the fact that the hepatitis C market has apparently reached its zenith in terms of overall prescriptions and pricing power, underscored by Gilead's well-publicized struggles. But the deeper issue is that Viekira was never really able to eat into Gilead's market share in a meaningful way. And with newer medicationswith shorter treatment times starting to hit the market, Viekira's sales will probably only continue to head south, putting an even heavier burden on Imbruvica to pick up the slack.
The good news is that Imbruvica's sales have been skyrocketing lately, rising by a noteworthy 64.5% in the third quarter compared to a year ago. However, this top cancer drug still has a long way to go before it can make a significant dent in Humira's overwhelming contribution to AbbVie's top line. Imbruvica, after all, is on track to generate $1.9 billion in revenue for the drugmaker this year -- compared to Humira's staggering $15 billion-plus.
Key takeaways
The bottom line is that Imbruvica simply cannot make up for any shortfall if biosimilars do somehow make it to market next year in the U.S. So even though this black swan-type event is highly unlikely, the fact remains that AbbVie isn't prepared for it right now -- and the market is apparently expressing its displeasure with this turn of events.
In the longer term, AbbVie is betting that Humira's sales will exceed $18 billion by 2020. If that line holds, then AbbVie probably won't be any closer to moving away from its over-reliance on this single drug to drive growth than it is today. So investors should probably brace themselves for more emotionally charged price swings moving forward.
A secret billion-dollar stock opportunity The world's biggest tech company forgot to show you something, but a few Wall Street analysts and the Fool didn't miss a beat: There's a small company that's powering their brand-new gadgets and the coming revolution in technology. And we think its stock price has nearly unlimited room to run for early in-the-know investors! To be one of them, just click here.
George Budwell has no position in any stocks mentioned. The Motley Fool owns shares of and recommends Gilead Sciences. Try any of our Foolish newsletter services free for 30 days. We Fools may not all hold the same opinions, but we all believe that considering a diverse range of insights makes us better investors. The Motley Fool has a disclosure policy.