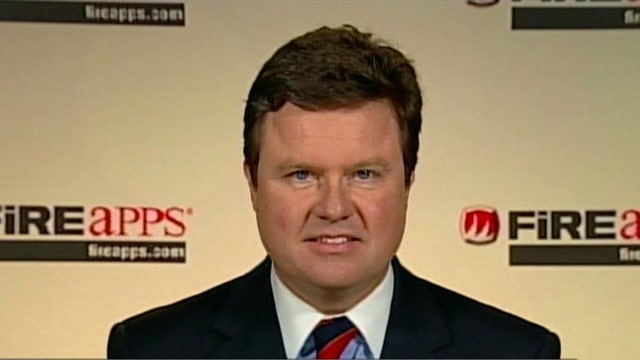 As the Bank of Japan continues to expand quantitative easing, Wolfgang Koester warns that holders of     U.S. equities will soon start feeling the effect of the weakening yen.
Koester, FiREapps Chairman and CEO, warns that some companies in the United States aren't taking enough action to protect themselves against currency volatility -- and the consequences will be clear in this quarter's earnings.
"Some of these companies have actually come out and said we're hopeful that the yen doesn't weaken, said Koester, "Well, unfortunately, that wasn't true."
The Japanese Economy Minister, Akira Amari, insists the country isn't aiming to weaken the yen, but is only attempting to fight deflation. Still, in the past quarter the U.S. dollar strengthened from 78 cents per yen to 87 cents per yen.
"Companies that did business in Japan will be receiving 11% less in cash," said Koester. "When we're talking about an 11% change in value in the yen, in one quarter, this can be a significant number if not hedged."
According to Koester, investors should be wary of companies that do a significant amount of business in Japan. Several companies acknowledged the impact of a weakening yen in previous earnings reports and Koester predicts their profit margins were even more severely impacted by the dollar-yen relationship in the fourth quarter.
Koester calculates that Corning (NYSE:GLW), Harley Davidson (NYSE:HOG) and Ralph Lauren (NYSE:RL) will feel the worst effect of the declining yen, but the ripple effect will also reach companies like Biogen Idec (NASDAQ:BIIB) and Salesforce.com (NYSE:CRM).
McDonald's (NYSE:MCD) and Coach (NYSE:COH) both claimed currency volatility weighed on their results in the last quarter. In an earnings call, McDonald's CEO, Don Thompson, said currency translation accounted for a negative impact of one cent in fourth-quarter EPS, and full year EPS by 17 cents.
"McDonald's got significantly hit by this. It was pretty obvious," said Koester.
Coach opened five new stores in Japan during the last quarter and still saw a decrease in revenue from Japanese sales. "In Japan, we posted a 2% decrease in constant currency while sales in dollars were down 7% from prior year, reflecting the weaker yen," said Coach chairman and CEO, Lew Frankfort.
Koester points out that some companies are taking the necessary measures to protect shareholders from the dangers of a stronger dollar versus the yen. Yahoo "is well-prepared; they've done risk management properly for years. I know they've got other things they're thinking about and currency may not be the number one, but when it comes to financial risk management -- solid company."
To determine which companies will successfully hedge against currency woes, Koester looks for low numbers on foreign exchange gain or loss line in earnings releases. Koester ranks Pfizer (NYSE:PFE), Avnet (NYSE:AVT), Accenture (NYSE:ACN) and FLIR (NASDAQ:FLIR) as the companies most prepared to handle the yen's volatility.
"These are companies that over the past few years have not been affected by currency volatility in comparison to others in their sector" said Koester.
In the third quarter of 2012, Koester calculated S&P 500 companies lost $22.4 billion due to currency volatility. He says currencies could prove to be just as damaging in fourth quarter results. While the main fourth-quarter concern worldwide was the yen's value, Koester points out that this will likely change in the next quarter.
"The only difference is what currency is next. I'm going to be sitting here in three months and we're going to talk about maybe the yen, but maybe we're going to talk about Brazilian Real and what companies that will be impacted," said Koester.
Koester's Likely to be Negatively Impacted by Yen Weakness:
McDonalds
Coach
Integris
Columbia Sportswear
Harley Davidson
Corning
Aflac
Sigma Aldrich
Philip Morris
Equinix
Mylan
Ansys
Salesforce.com
Koester's Best Prepared for a weaker Yen:
Yahoo
Pfizer
Avnet
FLIR
Accenture