A Trillion Dollar Renewable Energy Market Might Have Just Opened Up in North America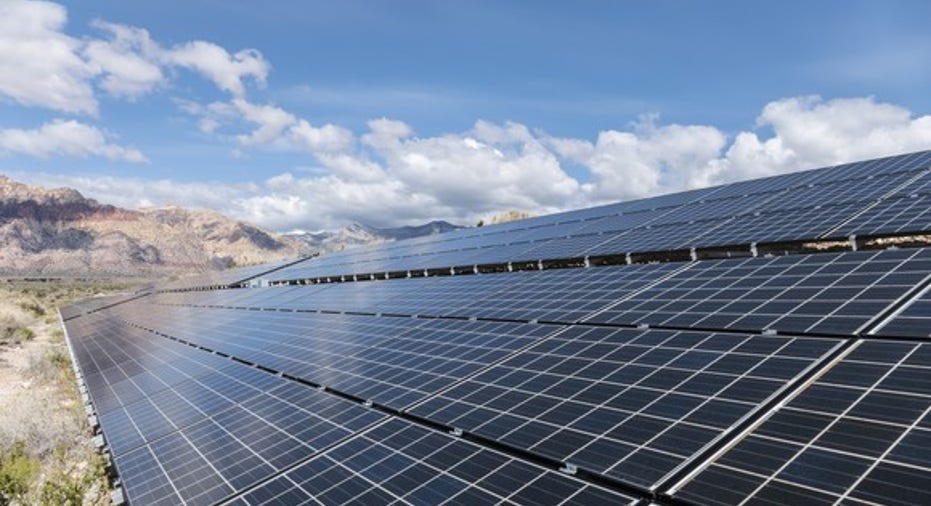 Image source: Getty Images.
Leaders of the U.S., Canada, and Mexico agreed this week to increase their renewable energy consumption in an effort to get half of North America's energy from renewable sources by 2025. It's a lofty goal, despite assertions that 37% of the region's energy already comes from renewables. But it highlights just how much of a coordinated effort the countries are taking. And it may open a trillion dollar energy market for renewable energy companies.
Cross-border transmission is big
One of the biggest things holding back renewable energy from an even larger market share is transmission lines. There's not enough transmission that goes from the windy sections of Texas or Iowa or the sunny corners of Nevada and California to population centers. Part of the agreement will be to build cross-border transmission that will allow cheap renewable energy to flow more freely to where it's needed.
To put the potential impact into perspective, the Brattle Group estimated that $130 billion in grid upgrades and transmission will be needed in the next decade to meet renewable standards in the U.S. And if those standards go up, we're talking about billions, or hundreds of billions more.
The companies that could benefit from this are transmission line builders like Quanta Services and MYR Group , which have been talking about the upgrade cycle in transmission lines for years. Maybe this will help some of that come to fruition. On the ownership side, National Grid is a major infrastructure company with transmission lines all over the world.
Image source: Getty Images.
Where the benefits in renewable energy will go
Building out transmission lines to move energy is just half the battle. Then you have to build renewable energy plants and likely energy storage capabilities to create a resilient grid.
General Electric is a major player in wind, producing some of the most popular turbines in the industry. It also has a stake in First Solar and supplies other electric components to the utility market. Since wind turbines are a small percentage of GE's revenue, I wouldn't buy the stock solely on bullishness on wind, but more renewable development would be positive for the company.
The two developers that would likely get a lot of business from a North America expansion of renewables are First Solar and SunPower , which are the two largest solar developers in the U.S. For example, SunPower just won 500 megawatts out of 1,860 megawatts auctioned in Mexico, part of the country's major expansion in renewables. If Mexico starts exporting solar or wind energy to Southern California it could expand that solar market.
But it's the opportunity that really matters for these developers. Assuming a 25% capacity factor (meaning a wind or solar project would generate electricity 25% of the time), 289 gigawatts of renewable capacity would have to be built in the U.S. to bring the country up from 33% renewables to 50% renewables. If it's assumed the value of those plants is $3 per watt, that's $867 billion in investment needed in renewable energy. That's a lot of money to be spent over the next decade and doesn't include potential energy storage investments that may be needed.
The huge opportunity in North American renewable energy
If the U.S., Canada, and Mexico are really serious about getting half of their energy from renewable sources, there will need to be a flood of investments in the industry. As much as $1 trillion of new investment may be needed, which would be a huge tailwind for those developing, building, and owning these projects.
Maybe the renewable energy revolution has legs left in North America after all.
The article A Trillion Dollar Renewable Energy Market Might Have Just Opened Up in North America originally appeared on Fool.com.
Travis Hoium owns shares of First Solar, General Electric, and SunPower. The Motley Fool owns shares of General Electric. Try any of our Foolish newsletter services free for 30 days. We Fools may not all hold the same opinions, but we all believe that considering a diverse range of insights makes us better investors. The Motley Fool has a disclosure policy.
Copyright 1995 - 2016 The Motley Fool, LLC. All rights reserved. The Motley Fool has a disclosure policy.