A Strong December Caps a Record Year for Ford Motor Company in China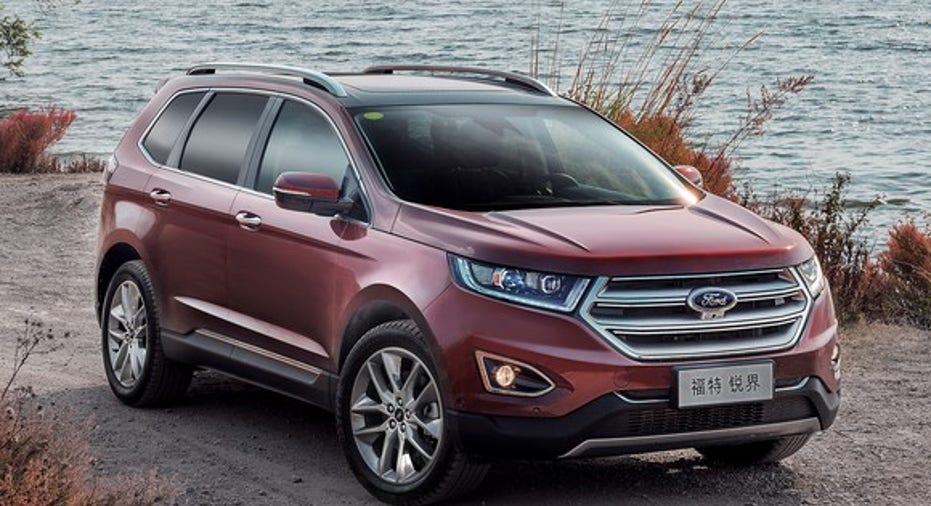 Ford Motor Company (NYSE: F) said its sales in China grew 23% in December, capping a record year for the Blue Oval in what has become the world's largest new-vehicle market.
For the full year, Ford's sales in China (including Lincoln sales) rose 14% in 2016 over a strong 2015 result.
Ford's midsize Edge crossover is available in a longer-wheelbase "3-row" version in China. Chinese sales of the Edge more than doubled in 2016. Image source: Ford Motor Company.
Ford's sales in China: The raw numbers
Ford has two joint ventures with local Chinese automakers. Jiangling Motors Corporation, or JMC), builds Ford's Transit vans, the midsize Ranger pickup, and a Ranger-based SUV called the Everest. The other, Changan Ford (CAF), builds and sells a range of Ford cars and SUVs drawn largely from Ford's global product portfolio.
Ford's sales in China also include some vehicles imported from elsewhere, including the United States. Ford reports sales of Lincoln-brand vehicles in China on a quarterly basis.
| | | | | |
| --- | --- | --- | --- | --- |
| | December 2016 | Full Year 2016 | December 2015 | Full Year 2015 |
| CAF | 115,654 | 957,495 | 96,680 | 836,425 |
| Imported Ford vehicles | 2,009 | 17,599 | 1,417 | 25,340 |
| JMC | 32,193 | 265,056 | 25,181 | 246,615 |
| Total Ford brand | 149,856 | 1,240,150 | 123,558 | 1,108,380 |
| Lincoln | | 32,558 | | 11,630 |
| Total Ford and Lincoln | | 1,272,708 | | 1,120,010 |
Data source: Ford Motor Company.
What's working (and what isn't) for Ford in China now
"We have built some great sales momentum in China, particularly in the second half of 2016, on the strength of our expanded vehicle lineup," said Peter Fleet, Ford's sales chief for the Asia Pacific region. "Record numbers of customers are choosing our 3-row Edge crossover, elegant Taurus sedan, Explorer premium SUV and Lincoln luxury vehicles."
SUVs, particularly car-based "crossover" SUVs, and big premium sedans are both hot in China right now. Crossover SUVs are a strength of Ford's global product portfolio, though one of its biggest SUV successes in China is a product unique to that market, a longer-wheelbase, seven-passenger, "3-row" version of the midsize Edge SUV. Sales of the Edge (both versions) in China rose a whopping 123% in 2016.
Ford is also doing well with a big sedan called the Taurus -- but the Chinese Ford Taurus is a different (and newer) model than the aging big sedan Ford still sells in the United States. China's Taurus, launched last year, is roughly the same size as the new Lincoln Continental and shares some underpinnings with the big luxury sedan.
The China-only Ford Taurus is a big sedan that was all new for 2016. Image source: Ford Motor Company.
Lincoln's China sales are still small, but Ford's efforts to boost the brand are showing results. Sales of 32,558 vehicles for all of 2016 might seem modest, but it's nearly triple Lincoln's 2015 result. Lincoln now has 65 dealerships in China, five of which are in its top 10 (in terms of sales) dealerships worldwide.
Analysis: December caps a good recovery for Ford in China
Ford's 2016 effort in China started off with some stumbles, as the Blue Oval's team was surprised by aggressive competition from domestic Chinese automakers, particularly in the small SUV segment. Ford's market share slipped, and CEO Mark Fields promised that the local management team would take strong corrective action.
That action included pricing adjustments (accompanied by cost cuts to preserve margins) and some strategic shifts, and it yielded good results: December marked the sixth consecutive month of strong year-over-year sales growth for Ford in China. That growth should set up a strong fourth-quarter result for Ford's Asia Pacific unit.
10 stocks we like better than Ford When investing geniuses David and Tom Gardner have a stock tip, it can pay to listen. After all, the newsletter they have run for over a decade, Motley Fool Stock Advisor, has tripled the market.*
David and Tom just revealed what they believe are the 10 best stocks for investors to buy right now...and Ford wasn't one of them! That's right -- they think these 10 stocks are even better buys.
Click here to learn about these picks!
*Stock Advisor returns as of January 4, 2017.
John Rosevear owns shares of Ford. The Motley Fool owns shares of and recommends Ford. The Motley Fool has a disclosure policy.