A Solid Start for Omnicom Group, Inc. in 2016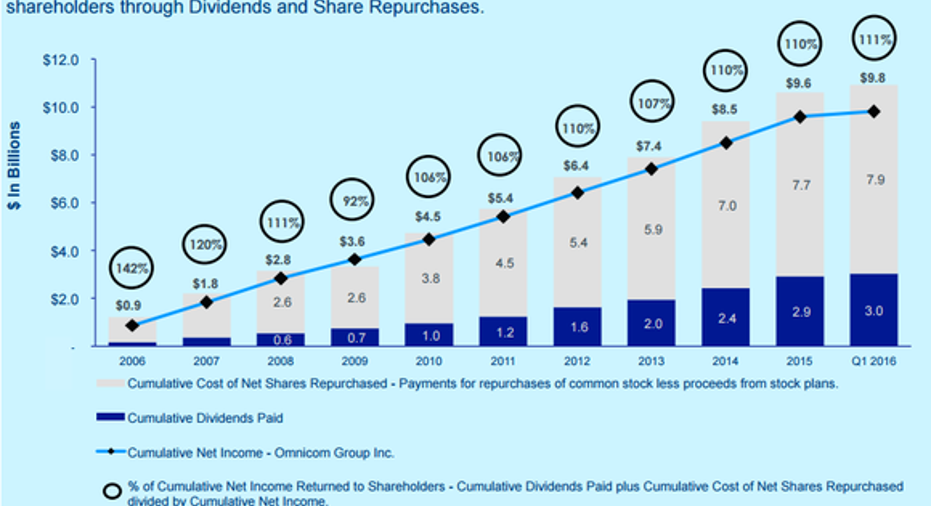 Omnicom Group released first-quarter 2016 results Tuesday morning, and shares fell a modest 1% even as the marketing and communications company grew sales and earnings despite continued pressure from foreign currency exchange.
Let's take a closer look at how Omnicom kicked off the year:
| | Q1 2016 Actuals | Q1 2015 Actuals | Growth (YOY) |
| --- | --- | --- | --- |
| Revenue | $3,499.1 million | $3,469.2 million | 0.9% |
| Net Income (Available for Common Shares) | $216.9 million | $206.3 million | 5.1% |
| Net Income Per Diluted Share | $0.90 | $0.83 | 8.4% |
YOY: YEAR OVER YEAR. DATA SOURCE: OMNICOM GROUP, INC.
What happened with Omnicom Group this quarter?
Top-line growth was driven by 3.8% organic growth -- which excludes currencies, acquisitions, and divestments -- and partially offset by a 0.1% decline in revenue from acquisitions and a 2.8% decrease from the negative impact of foreign exchange.
Advertising organic revenue climbed 7.9%, CRM fell 0.7%, public relations slumped 0.9%, and specialty communications rose 2.2%.
On a regional basis, organic revenue grew 4.5% year over year in North America, 2.2% in theU.K., 3% in Euro markets and other Europe, 5.1% inAsia-Pacific, 1.7% in Africa and the Middle East, and dropped 7.8% inLatin America.
It generated free cash flow of $345.9 million during the quarter, helping continue to fund its acquisitions and ambitious capital returns efforts.
Omnicom also maintained its long-standing streak of returning more than 100% of net income to shareholders through dividends and repurchases:
DATA SOURCE: OMNICOM GROUP.
Its DDB Worldwide acquired a controlling interest in Grupo ABC, a leading marketing and communications group in Brazil that provides advertising, CRM, public relations consulting, promotion, events, and digital marketing services to both global and local clients.
What management had to sayDuring the subsequent conference call, Omnicom CEO John Wren said:
Wren also highlighted Omnicom's recent formation of two distinct operating groups: the healthcare-oriented Omnicom Health Group and a PR-centric organization called Omnicom Public Relations group. The former, Wren says, "offers clients a single point access to our network of over 3,000 dedicated communications and scientific specialists working in the largest, strongest individual healthcare specialty units in the business." And the latter is comprised of 10 of Omnicom's leading public relations agencies with 6,000 employees. Together, these groups should afford Omnicom the flexibility tobetter capitalize on its growth opportunities and cement its industry leadership.
Looking forwardOmnicom doesn't normally provide specific financial guidance, but Wren did elaborate during the call that while currency exchange continued to pressure results in Q1, "at this point, we expect the impact of foreign exchange rates to moderate to more neutral levels in the second half of 2016." In addition, Omnicom is on track to deliver a margin improvement of 30 basis points for the full year, bringing earnings before interest, taxes, depreciation, and amortization to 13.7% of total revenue.
Though the market's muted reaction to today's results might not indicate as much, Omnicom continues to demonstrate that it has what it takes to reward investors while also maintaining its industry leadership as it navigates the shift from traditional to digital advertising. As the broader economic and political environment begins to settle, I think Omnicom investors should be more than happy with where their company stands today.
The article A Solid Start for Omnicom Group, Inc. in 2016 originally appeared on Fool.com.
Steve Symington has no position in any stocks mentioned. The Motley Fool recommends Omnicom Group. Try any of our Foolish newsletter services free for 30 days. We Fools may not all hold the same opinions, but we all believe that considering a diverse range of insights makes us better investors. The Motley Fool has a disclosure policy.
Copyright 1995 - 2016 The Motley Fool, LLC. All rights reserved. The Motley Fool has a disclosure policy.