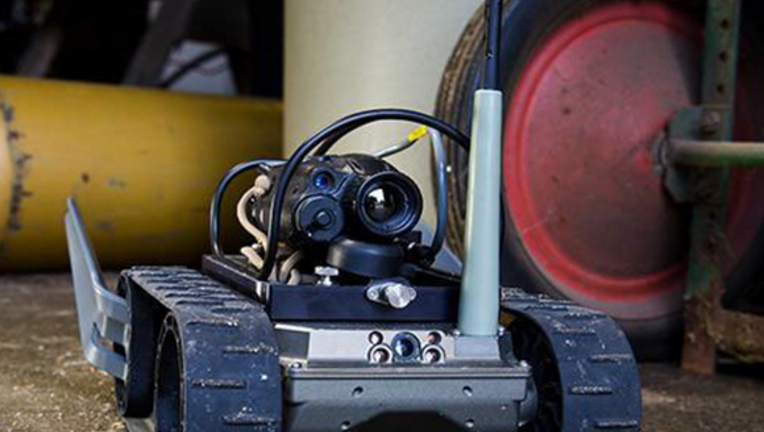 Last week was a big week for one small Pentagon contractor, as tiny iRobot Corporation snagged a smallish contract for $4 million worth of its new FirstLook 110 "tossable" robots. At a list price of about $20,000 apiece, that's enough cash to buy 200 robots.
iRobot FirstLook. Image source: iRobot.
Ordered by the Army for use in recon operations, FirstLookis one of the tiniest robots you've never seen. It weighs only five pounds, measures 10 inches long by 9 inches wide, and stands just 4 inches tall. As such, FirstLook is small enough (and tough enough) that a soldier can toss it through a window or a doorway to have a look around at what's on the other side.
Once there, FirstLook can trundle around, climbing obstacles nearly twice its own height, beaming back streaming video all the while, and showing its operator what it sees through the lenses of its four built-in cameras. In short, it gives soldiers a chance to see what they're getting themselves into -- before putting themselves in harm's way.
Now, iRobot's FirstLook contract is too small to show up on the Pentagon's regular daily reviewof contracts awarded, which doesn't start reporting till a contract reaches at least $6.5 million in value. As such, we were first alerted to the sale when it was reported in Stars and Stripes last week.
Stripes notes that "Naval Explosive Ordnance from the Naval Surface Warfare Center bought a few of iRobot Corp.'s 110 FirstLook robots for $138,790 in 2012. Veterans Affairs in Lebanon, Pa., got some for hazardous material handling a year later for $45,764. Now iRobot says the Navy has put together a $4 million purchase of robots and accessories..." The implication being that the new contract is a very big deal for iRobot -- and it is.
But it also isn't.
Crunching the numbersAccording to data from S&P Capital IQ, the entirety of iRobot revenue from defense and security sales last year (i.e., not just DoD) was just $45 million. That number was down 10% from 2013. Which was down 30% from 2012. Which was in turn down 60% from 2011 (the last year on record when iRobot was still growing its warbots business). So in one respect, $4 million in new sales represents a reversal of a long string of declines for iRobot's warbots business, and a near-9% boost to that division's revenue -- which is a whole lot more than nothing.
On the other hand, though, Stars & Stripes appears to have missed the Pentagon's own announcement, in February 2013, regarding a much larger $14.4 million purchase of FirstLook robots by the Pentagon. The fact that the Pentagon spent so much on FirstLook robots back then, and so much less right now, suggests that the point of the Stripes article -- that FirstLook appears to be growing in popularity -- may in fact be the opposite of the truth.
The upshot for investorsMake no mistake: iRobot's warbots division has been down so long that any good news at all should be welcomed by investors. The stock still costs 32 times earnings, though, and while analysts are optimistic about the company growing in the future, last time we checked, iRobot's revenue was still going down (12%), not up, in Q3.
And it's going to take a whole lot more than just one $4 million contract to change that.
The article A (Relatively) Big Contract for a (Very) Small Defense Contractor originally appeared on Fool.com.
Rich Smithdoes not own shares of, nor is he short, any company named above. You can find him onMotley Fool CAPS, publicly pontificating under the handleTMFDitty, where he's currently ranked No. 308 out of more than 75,000 rated members.Follow him on Facebook for all the latest indefense news.The Motley Fool owns shares of and recommends iRobot. Try any of our Foolish newsletter services free for 30 days. We Fools may not all hold the same opinions, but we all believe that considering a diverse range of insights makes us better investors. The Motley Fool has a disclosure policy.
Copyright 1995 - 2015 The Motley Fool, LLC. All rights reserved. The Motley Fool has a disclosure policy.