A Quick Overview: Bank of America's Stress Test Performance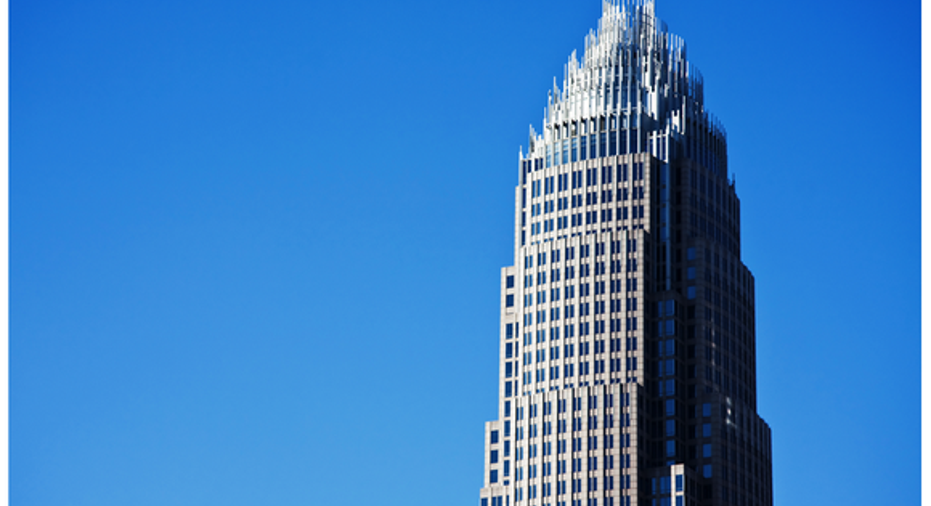 Bank of America's headquarters in Charlotte, North Carolina. Image source: iStock/Thinkstock.
Because the Brexit vote happened on the same day last week that the Federal Reserve released the results from the first round of this year's stress test, investors in Bank of America probably haven't had an opportunity to absorb how the nation's second biggest bank by assets performed on the annual ritual. To this end, I drew up one table and two charts that summarize the most important takeaways from the bank's performance.
1. Projected losses under the severely adverse economic scenario
The stress test is used by the Federal Reserve to determine whether banks with $50 billion or more in assets on their balance sheets have enough capital to survive a severe economic downturn.
For the eight global systematically important banks, of which Bank of America is one, the assumptions underlying the test combine the worst aspects of the 2008 financial crisis with the 2011 European sovereign debt crisis. These include:
unemployment rate increases to 10%
U.S. gross domestic product falls by 6.5%
stocks lose 50% of their value
commercial real estate values drop by 30%
home prices decline by 25%
the rate on the 10-year Treasury falls to an unprecedented 0.25%
short-term interest rates turn negative
a bank's largest counterparty completely defaults on its obligations
Despite the severity of these assumptions, all 33 of the banks tested this year passed, including Bank of America.
This isn't to say they weren't projected by the Fed to suffer losses, as they certainly were. The combined losses from the entire group added up to $195 billion over the course of the stress test's nine-quarter scenario. And Bank of America led the way, with $36.3 billion worth of losses.
| Bank Holding Companies with the Biggest Projected Losses on the 2016 Stress Test | Projected Loss Over 9-Quarter Scenario |
| --- | --- |
| Bank of America | -$36.3 billion |
| JPMorgan Chase | -$30.5 billion |
| Citigroup | -$27.6 billion |
| Wells Fargo | -$25.2 billion |
| Goldman Sachs | -$15.4 billion |
| Morgan Stanley | -$12.5 billion |
| HSBC | -$8.8 billion |
| TD Group | -$6.9 billion |
| Capital One | -$4.6 billion |
| BMO Financial | -$3.9 billion |
Data source: Federal Reserve.
What's interesting about Bank of America, though, is that it wasn't the losses that necessarily caused it to top the list. It was rather the fact that its revenue was so much lower than peers like JPMorgan Chaseand Wells Fargo. This gave it less ammunition, if you will, to absorb the losses before they hit its bottom line.
Over the nine quarters covered by the exercise, Bank of America was expected to generate $45.7 billion worth of pre-provision net revenue -- that is, revenue before loan loss provisions are subtracted. By contrast, JPMorgan Chase and Wells Fargo were projected to have $64.9 billion and $51 billion in PPNR, respectively.
2. Source of losses
As a universal bank, Bank of America is vulnerable to losses from both its investment and traditional banking units. Its investment bank is projected to suffer $20 billion in losses as a result of trading and counterparty defaults -- keep in mind that the Fed assumes its largest counterparty defaults.
That's a lot of money, but it pales in comparison to Bank of America's projected loan losses. Over the nine-quarter scenario, the $2.2 trillion bank is projected to lose $59.2 billion as a result of loan losses. The chart below breaks down the latter losses by loan type.
Data source: Federal Reserve. Chart by author.
As you can see, Bank of America's biggest exposure in terms of its loan portfolio lies in its credit card, commercial, and junior lien residential mortgage (i.e., home equity loans) product lines. This roughly tracks its losses from the 2008 financial crisis.
3. Capital ratio
This last chart cuts to the heart of the stress test's purpose by showing the change in Bank of America's common equity tier 1 capital ratio from the beginning of the test to the end. In short, assuming Bank of America is still able to exceed its regulatory capital requirements post-stress test, then the path will largely be clear for it to increase the amount of capital it returns to shareholders.
Data source: Federal Reserve and Bank of America. Chart by author.
As you can see, Bank of America entered the test with a common equity tier 1 capital ratio of 11.6% and exited with a 8.1% ratio. That's a meaningful drop, but the latter figure nevertheless exceeded its 5.9% regulatory minimum.
The article A Quick Overview: Bank of America's Stress Test Performance originally appeared on Fool.com.
John Maxfield owns shares of Bank of America and Wells Fargo. The Motley Fool owns shares of and recommends Wells Fargo. The Motley Fool recommends Bank of America. Try any of our Foolish newsletter services free for 30 days. We Fools may not all hold the same opinions, but we all believe that considering a diverse range of insights makes us better investors. The Motley Fool has a disclosure policy.
Copyright 1995 - 2016 The Motley Fool, LLC. All rights reserved. The Motley Fool has a disclosure policy.