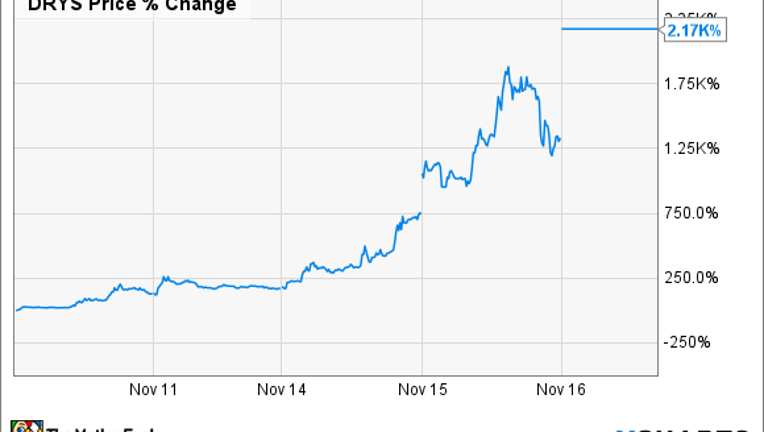 Image source: Getty Images.
Back in 1991, a nor'easter collided with and absorbed the remnants of Hurricane Grace, which, when combined with several other factors, created what has become known as "The Perfect Storm." It earned that moniker because perfect storms are a rare combination of events that collide to escalate a situation dramatically. That describes what happened in the shipping sector this week after a confluence of events fueled an epic rise in DryShips' (NASDAQ: DRYS) stock:
DRYS Price data by YCharts.
In DryShips' case, four factors combined to create that monumental upward momentum.
The shrinking supply of stock
Before its recent rapid ascent, the dry bulk shipper's stock had done nothing but sink for the past several years. In fact, even after its epic rise, the stock is still down 98% over the last three years. Weighed down with too much debt, along with sinking shipping rates, the company had been straddling the brink of bankruptcy. However, thus far it has avoided that fate by selling assets to chip away at its debt.
Meanwhile, to attract investors it has enacted several stock splits to bring shares out of penny stock territory. DryShips authorized the first one this past February, giving investors one share for every 25 they owned, which cut the number of outstanding shares from 672 million down to 26.9 million. It enacted another one in August, reducing its share count to 9.9 million and completed the third split in early November, bringing its share count down to 1.1 million. That left traders with a limited inventory to buy when the momentum started to turn.
The rise of the BDI
That momentum began rotating back in DryShips' favor after the Baltic Dry Index (BDI) ascended sharply since the start of the month. The BDI, which gauges shipping rates for dry commodity goods, had bottomed out earlier this year at a record low of 290 due to sluggish global trade. That forced most shippers to idle ships while several of DryShips' rivals filed for bankruptcy, which was a fate manyfeared was in its future as well.
However, the index bounced off that bottom and had steadily climbed due in part to a pickup in global trade as a result of China's efforts to stimulate its economy. Its rise has been picking up speed in recent weeks, bounding from 800 at the end of October to a recent high of 1,145. This rally was a pivotal fuel driving the remarkable rebounds in dry bulk shippers over the past few days with Eagle Bulk Shipping (NASDAQ: EGLE), Euroseas (NASDAQ: ESEA), Seanergy Maritime Holdings (NASDAQ: SHIP), and TOP Ships (NASDAQ: TOPS) all up by triple digits:
EGLE Price data by YCharts.
Throwing in a dash of Trump for good measure
Adding fuel to the BDI'srecent rise was Donald Trump's stunning White House win. Some hedge funds see Trump's policies fueling inflation and economic growth, especially if he makes good on his promises to cut taxes, bring back offshore cash, and invest in new infrastructure. These efforts could rekindle global trade, which stalled last year after consistently growing by 3% to 4% annually. Furthermore, inflation could drive up the price of dry bulk goods, which could increase shipping volumes and would likely lead to higher shipping rates and therefore more money flowing into DryShips' coffers (as well as those of its rivals).
Squeezing out the shorts
Finally, before the recent spike, about 30% of DryShips' stock had been sold short by investors betting the company would go bankrupt. In fact, shorts had boosted their gamble in recent weeks, implying that they were growing more confident that the company would sink under the weight of debt.
However, that bold bet blew up in spectacular fashion over the past week as a result of DryShip' breathtaking rise, forcing most short-sellers to buy back the stock. Given the limited inventory of shares due to the reverse splits, it is very likely that short sellers encountered forced buy-ins, meaning their brokers bought shares to close their position at the skyrocketing market price, which only fueled additional momentum in the stock.
This was likely a culprit driving up rival shippers as well, given their high short interest before the recent rally:
Investor takeaway
When the thinly traded, heavily shorted DryShips hit the upward momentum of rising optimism in the shipping sector, it created the perfect storm that sent shares on an unbelievable ride. In essence, the combination of bullish buying and short-covering drew in new buyers who were hoping to make a quick buck, which created a supercycle of momentum trading.
That said, the primary sentiment driving the recent rally is hope and not a noticeable change in the company's underlying fundamentals. The company continues to lose money, causing it to struggle under a weight of debt that's so great it is currently working with lenders to restructure its bank credit facilities. In fact, it has not made the final balloon payments on these facilities andhas elected to suspend principal and interest payments to preserve cash. Because of its precarious financial situation, this could end very badly for those chasing DryShips higher.
Forget the 2016 Election: 10 stocks we like better than DryShips Donald Trump was just elected president, and volatility is up. But here's why you should ignore the election:
Investing geniuses Tom and David Gardner have spent a long time beating the market no matter who's in the White House. In fact, the newsletter they have run for over a decade, Motley Fool Stock Advisor, has tripled the market.*
David and Tom just revealed what they believe are the ten best stocks for investors to buy right now... and DryShips wasn't one of them! That's right -- they think these 10 stocks are even better buys.
Click here to learn about these picks!
*Stock Advisor returns as of November 7, 2016
Matt DiLallo has no position in any stocks mentioned. The Motley Fool has no position in any of the stocks mentioned. Try any of our Foolish newsletter services free for 30 days. We Fools may not all hold the same opinions, but we all believe that considering a diverse range of insights makes us better investors. The Motley Fool has a disclosure policy.