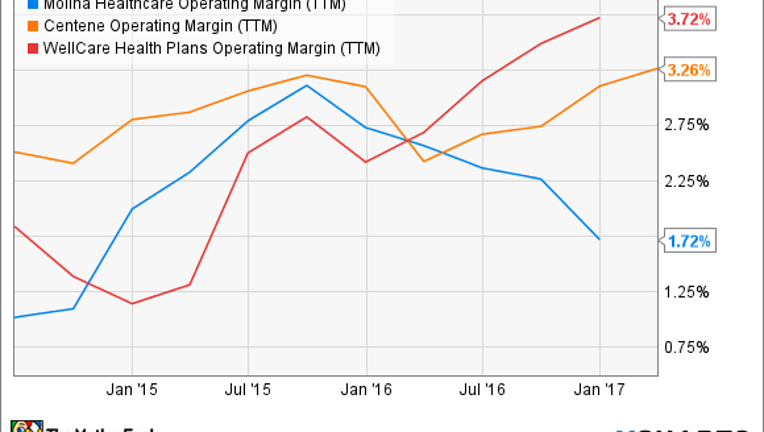 What happened
Optimism that new leadership at the top could help drive margin expansion at Molina Healthcare (NYSE: MOH) sent shares skyrocketing 15.5% today.
So what
Molina family members have been a staple of management since the Medicaid managed-care insurer was founded by emergency-room physician C. David Molina in 1980.
IMAGE SOURCE: GETTY IMAGES.
Today, Molina's board of directors ousted two Molinas from the executive ranks, citing poor financial performance. Company CEO Dr. J. Mario Molina and CFO John C. Molina are being shown the exit.
On an interim basis, longtime chief accounting officer Joseph W. White, who has been at Molina since 2003, will take their place. The company's board of directors will begin a search for permanent replacements "immediately."
The news of the C-suite shake-up came during the trading day, ahead of the company's planned release of quarterly financial results after the market's closing bell on May 2.
Now what
Perhaps, the following chart helps explain why the board of directors is taking this action. As you can see, Molina trails competitors, including Centene and WellCare Health Plans, in operating margins:
MOH Operating Margin (TTM) data by YCharts.
The industry has always operated on paper-thin profits, relying more on scale than anything else to deliver earnings per share. As competitors have seen their profit margins climb because of rising enrollment due to Medicaid expansion, Molina's profitability has dropped.
Having said this, Molina's far from a money-losing insurer. Despite reporting losses tied to its foray into selling Obamacare plans, it still delivered $0.91 in EPS last year, and if you don't count a one-time breakup fee, its EPS was still $0.53 in the first quarter.
The company's a pretty big player in its industry, and new management might be able to squeeze additional profit out of its existing members, so it's certainly a stock worth watching. However, it might be best to stay on the sidelines for a quarter or two until new management is named and a new strategy is detailed, rather than rushing in to buy shares.
10 stocks we like better than Molina HealthcareWhen investing geniuses David and Tom Gardner have a stock tip, it can pay to listen. After all, the newsletter they have run for over a decade, Motley Fool Stock Advisor, has tripled the market.*
David and Tom just revealed what they believe are the 10 best stocks for investors to buy right now... and Molina Healthcare wasn't one of them! That's right -- they think these 10 stocks are even better buys.
Click here to learn about these picks!
*Stock Advisor returns as of May 1, 2017
Todd Campbell has no position in any stocks mentioned. His clients may have positions in the companies mentioned. The Motley Fool has no position in any of the stocks mentioned. The Motley Fool has a disclosure policy.