A Look at FireEye Inc in 6 Revealing Charts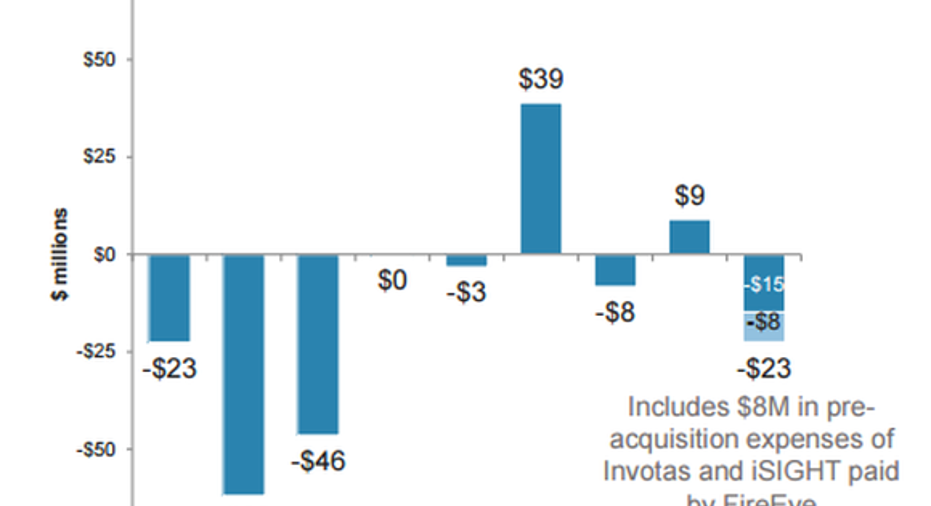 Image source: FireEye
May has not been kind to FireEye investors.
Shares of the cybersecurity company have fallen more than 25% month-to-date --most of that loss was prompted by the release of the company's first quarter earnings report. Although its business continues to grow, sales fell short of expectations during the period, and the company provided an outlook that was less optimistic than many had anticipated.
Still, there are reasons to like FireEye. The following charts present a snapshot of the trends affecting its business.
Revenue and billings growth remains strong
FireEye generated $168 million of revenue last quarter, falling short of the $172 million analysts had been expecting. However, it's worth putting that revenue into context: FireEye sales have surged over the last two years, almost doubling from the first quarter of 2014. Back then, the company generated just $74 million of revenue and $99 million of billings (a non-GAAP figure that takes into account subscription sales that will show up in future revenue). Both figures continue to post strong growth, up 34% and 23%, respectively, on an annual basis.
Image source: FireEye
A shift to subscriptions
FireEye sells physical appliances to businesses, which provide security services when attached to a network. The company also sells subscription and cloud-based products. Throughout its history as a publicly traded company, these have all played into the company's top line, providing a healthy mix of sales. Increasingly, though, FireEye's business is shifting away from appliances and toward subscription services.
FireEye utilizes a metric it calls platform revenue, which is just the amount of revenue generated from appliance and subscription sales. It essentially tracks FireEye's core business, excluding revenue from more ancillary areas such as professional services and general support. Over the last two years, appliances as a percentage of total platform revenue has tumbled, from 52% in the first quarter of 2014 to 31% last quarter.
Image source: FireEye
The biggest driver of revenue growth
Demand for FireEye appliances is falling, but the growth of subscription services is more than offsetting that decline. FireEye revenue rose 34% year-over-year last quarter, growing $42.6 million. Almost all of that additional revenue came from subscriptions.
Image source: FireEye
Continuing to add new customers
FireEye's customer base also continues to grow, and the total number of new customers FireEye adds each quarter has risen steadily over the last two years. The first quarter is traditionally the weakest for FireEye in this metric, but the 261 it added last quarter was significantly more than the 194 it added in the first quarter of 2014.
Image source: FireEye
Expenses are falling
FireEye isn't profitable, and management doesn't expect the company to become profitable anytime in the near future. But the company is making strides -- expenses as a percentage of revenue has been contracting steadily. In the first quarter of 2014, FireEye spent 88% of its revenue on sales and marketing -- that fell to just 61% last quarter. R&D costs and general administrative expenses have likewise declined proportionally.
Image source: FireEye
But cash flow remains negative
Often, companies can be unprofitable, but they can still generate positive cash flow. Unfortunately, FireEye isn't one of those companies. FireEyerecorded an operating cash flow loss of $23 million last quarter, which was worse than the $3 million loss recorded in the prior year quarter. Some of that loss was related to recent acquisitions, but FireEye's business cannot endure indefinitelyin its present state.
Image source: FireEye
For that reason, FireEye remains a speculative stock, and the recent volatility that has plagued shareholders is likely to endure for some time. But for investors willing to tolerate it, the company's booming subscription business and growing customer base could provide some upside in the long run.
The article A Look at FireEye Inc in 6 Revealing Charts originally appeared on Fool.com.
Sam Mattera has no position in any stocks mentioned. The Motley Fool owns shares of and recommends FireEye. Try any of our Foolish newsletter services free for 30 days. We Fools may not all hold the same opinions, but we all believe that considering a diverse range of insights makes us better investors. The Motley Fool has a disclosure policy.
Copyright 1995 - 2016 The Motley Fool, LLC. All rights reserved. The Motley Fool has a disclosure policy.