A history of Ringling Bros. circus, soon to close forever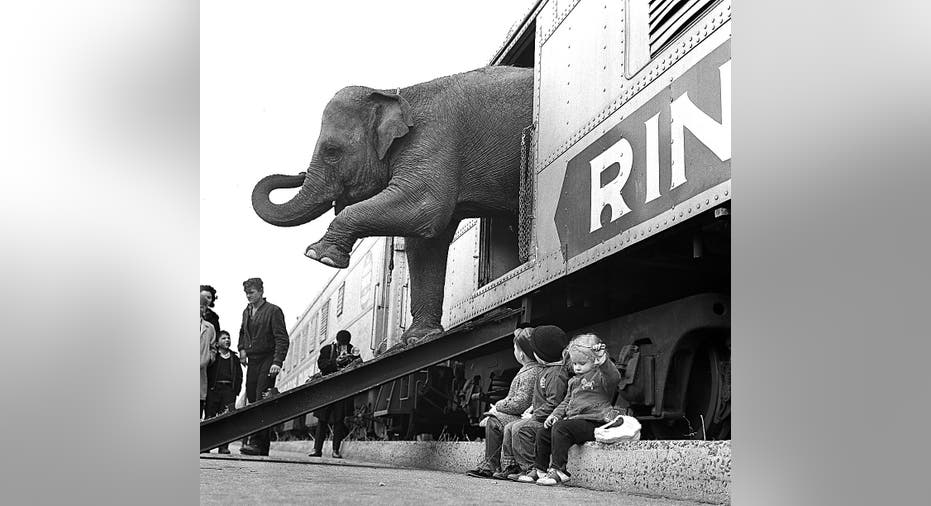 The Ringling Bros. and Barnum & Bailey Circus is drawing to a close this weekend after 146 years of performances and travel that at times have been marred by tragedy and celebrated in film, but also constant.
The circus has its roots in a spectacle that began two decades before the U.S. Civil War, equal parts freak show, zoo and museum. Traveling performances began in 1871, and 10 years later it officially became the circus that generations grew up watching. It has evolved over the years, most recently with its decision to retire its elephant acts.
Some milestones in the history of the circus:
___
— 1841 — Phineas Taylor Barnum buys Scudder's American Museum in New York City and renames it Barnum's American Museum, which was something of a zoo, museum, lecture hall and freak show. It was filled with artifacts and items from around the world. The museum later burned down. Barnum also took his show on the road as "P.T. Barnum's Grand Traveling American Museum."
— 1871 — Barnum's show begins traveling.
— 1881 — Barnum partners with James A. Bailey and James L. Hutchinson for "P.T. Barnum's Greatest Show On Earth, And The Great London Circus, Sanger's Royal British Menagerie and The Grand International Allied Shows United," later shortened to the "Barnum & London Circus."
— 1882 — The Ringling Brothers — Alf, Al, Charles, John and Otto — perform their first vaudeville-style show in Mazomanie, Wisconsin.
— 1884 — The Ringling Brothers Circus begins as a traveling performance.
— 1887 — The official Ringling touring show becomes the "Ringling Bros. United Monster Shows, Great Double Circus, Royal European Menagerie, Museum, Caravan, and Congress of Trained Animals."
— 1895 — The Ringlings decide to branch out to New England, which was already Barnum's territory. According to the Wisconsin Historical Society, the two circuses "agreed to divide the U.S. rather than compete head-to-head. The Ringlings established their headquarters in Chicago while Barnum and Bailey stayed in New York."
— 1907 — After the death of James Bailey, the Ringlings buy Barnum and Bailey. They keep the circuses separate, and the Wisconsin Historical Society wrote that by the 1910s the Ringling Bros. Circus had more than 1,000 employees, 335 horses, 26 elephants, 16 camels and other assorted animals that traveled on 92 railcars. The Barnum and Bailey Circus was roughly the same size.
— 1919 — The two circuses merge and become known as "Ringling Bros. and Barnum & Bailey Combined Shows."
— 1927 — John Ringling moves circus headquarters to Sarasota, Florida.
— 1944 — Fire breaks out at a July 6 performance in Hartford, Connecticut, killing an estimated 168 people and injuring hundreds, with many children among the victims.
— 1952 — Paramount Pictures releases "The Greatest Show on Earth," one of the most ambitious films made to date, starring Betty Hutton, Charlton Heston, Jimmy Stewart and hundreds of the real circus' cast, crew and animals. The film goes on to win the Academy Award for best picture.
— 1967 — Irvin Feld, a music and entertainment promoter, buys the Ringling circus and formally acquires it in a ceremony held at the Colosseum in Rome.
— 1985 — Kenneth Feld, Irvin's son, becomes the owner of Feld Entertainment and the circus after his father dies.
— 1999 — Ringling names its first African-American ringmaster, Johnathan Lee Iverson.
— 2016 — Feld Entertainment announces it will retire elephants from its circus shows. The animals are moved to its Center for Elephant Conservation in Polk County, Florida. In December, the circus announces its first female ringmaster, Kristen Michelle Wilson.
— 2017 — Feld Entertainment announces it will close the Ringling Bros. and Barnum & Bailey Circus. The final performance of one of the circus' two units takes place in Providence, Rhode Island, on May 7. The final performance of the other unit is planned for Sunday, May 21, in Uniondale, New York.