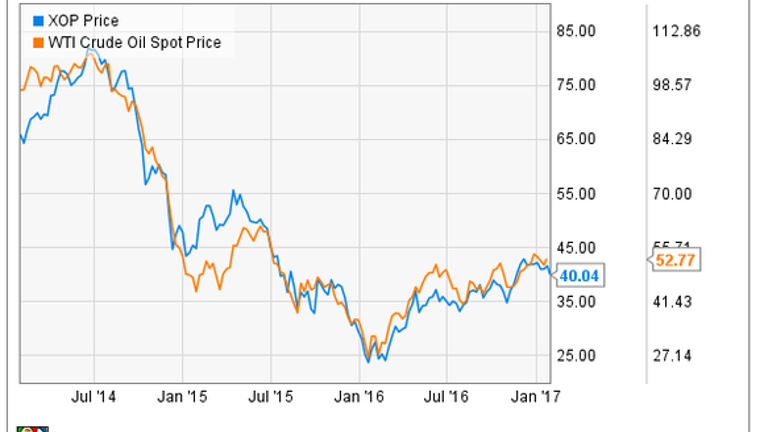 The energy sector has rebounded over the past year in lockstep with improving crude oil prices. It looks like there's more room to climb.
Image source: Ycharts.
The SPDR S&P Oil & Gas Exploration and Production ETF (NYSEMKT: XOP) tracks shares of companies that actively look for and produce oil and natural gas, and it demonstrates the sector's correlation with oil prices.
There's no guarantee that oil prices will rebound any time soon. When oil topped out at $40 per barrel in the late 1970s and then started moving lower, it took 25 years for prices to regain that level for good.
Yet long-term investors know that the energy markets are cyclical, and they tend to reward those who are patient. Energy companies could see a lot more upside in the long run.
Offer from the Motley Fool: The 10 best stocks to buy now
Motley Fool co-founders Tom and David Gardner have spent more than a decade beating the market.
In fact, the newsletter they run, Motley Fool Stock Advisor, has tripled the S&P 500!*
Tom and David just revealed their ten top stock picks for investors to buy right now.
Click here to get access to the full list!
*Stock Advisor returns as of 1/30/2017
Dan Caplinger has no position in any stocks mentioned. The Motley Fool has no position in any of the stocks mentioned. The Motley Fool has a disclosure policy.