A David and Goliath Story: Can Small-Cap Synergy Pharmaceuticals Take on Ironwood Pharmaceuticals?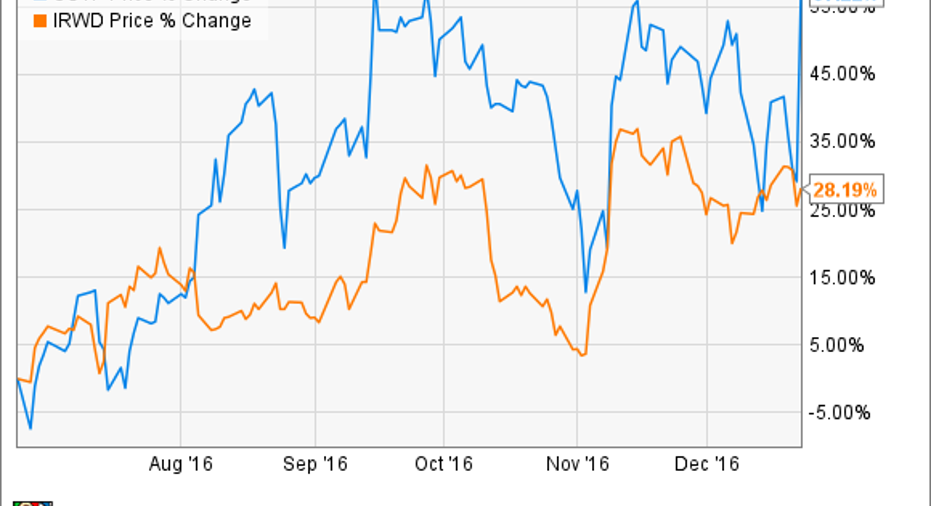 Image source: Pixabay.
The past few months have been good to investors in competing companiesIronwood Pharmaceuticals (NASDAQ: IRWD) and Synergy Pharmaceuticals (NASDAQ: SGYP), with shares of both companies up by double digits.
Although Ironwood's market cap is near twice that of Synergy, after the past month's 26% pop in Synergy's share price, some investors are worried that Synergy may be out to eat Ironwood's lunch. Does Synergy have more room to run? Or will Ironwood's market share dominance remain unchallengeable? It's time for a deeper dive.
An overview of the gastrointestinal disorders market
Ironwood and Synergy Pharmaceuticals both operate in the gastrointestinal (GI) specialty pharmaceutical space. Specifically, Ironwood (currently) and Synergy (potentially) make products indicated for the treatment of irritable bowel syndrome with constipation (IBS-C) and chronic idiopathic constipation (CIC). According to Ironwood, as many as 13 million adults suffer from IBS-C and at least 35 million adults suffer from CIC in the United States. This is a large and underserved market, as prescriptions approved by the Food and Drug Administration are only used by around 5% of IBS-C or CIC sufferers. In order to treat these conditions, doctors typically recommend changes to diet and lifestyle as a first step to tackling these gastrointestinal disorders. Should this first step prove ineffective, patients typically then move on to over-the-counter laxatives as a second step to improve their symptoms. However, these patients often continue to suffer from constipation and abdominal pain. There are currently only two prescription drugs approved for this market: Ironwood's once-daily oral Linzess and Sucampo Pharmaceuticals' twice-daily oral Amitiza.
Ironwood's Linzess
Linzess is currently Ironwood's only product and is the market-share leader within IBS-C and CIC. Ironwood and Allerganshare a co-promote agreement for Linzess in the U.S. and Europe (where it is trademarked and marketed as Constella). Since gaining approval in 2012, Linzess has been growing rapidly, with sales up 53% for year-end 2015 and 34% year over year in its latest quarter. With sales coming in at $150 million in their latest quarter, management has guided toward over $1 billion in sales of Linzess by 2020. Since its launch, Linzess has treated over 1 million unique patients. However, with more than 40 million potential patients, Ironwood still has much more room to grow. The hiccup comes in the form of Synergy Pharmaceuticals and its FDA approval-pending productplecanatide.
Synergy's plecanatide
Synergy's lead developmental product is plecanatide, a novel uroguanylin analog currently being evaluated for use as a once-daily tablet for CIC and IBS-C. In phase 3 clinical trials, plecanatide demonstrated positive top-line results in patients with CIC. Within this trial, the occurrence of diarrhea was 5.9% for the 3.0 mg dose and 5.5% for the 6.0mg dose of the drug, which compares favorably to 16% for the current market leader Linzess. Just last week, Synergy released positive top-line results from a phase 3 trial of plecanatide in patients with IBS-C. Similar to the CIC trial, the most common adverse event (AE) was diarrhea, which occurred in 5.4% of patients in 3 mg and 4.3% of patients in 6 mg dose groups compared to 0.6% of placebo-treated patients. Plecanatide, therefore, has the potential for similar efficacy to Linzess along with a much better AE profile.
Ironwood fights back
While plecanatide has demonstrated strong efficacy in clinical trials, it must still be approved by the FDA before it becomes a commercial product. To this end, Synergy has submitted plecanatide to the FDA for review with a PDUFA date for the drug in CIC set for Jan. 29, 2017. However, in the face of a potential plecanatide approval, Ironwood has not been sitting on its laurels. Indeed, Ironwood released positive topline data from a phase 3 study of Linzess in a lower dosage form (72 mcg vs the normal 145 mcg capsule) in late 2015. A lower dosage form of Linzess should decrease diarrhea rates, which is the most common AE of Linzess and one of the most important advantages of plecanatide. Ironwood has filed a supplemental New Drug Application with the FDA with an expected PDUFA date of early 2017.
Risk vs. reward
While plecanatide has found success in clinical trials, there are always risks inherent in any investment. For Synergy, with no currently approved drug on the market, the company will continue to burn through cash as it seeks FDA approval. Additionally, there is no guarantee the FDA will approve the drug, and there is no telling how much traction plecanatide could gain to take market share from the larger Ironwood and the much larger Allergan. Finally, even if approved, with only $109 million in cash and cash equivalents on the balance sheet, Synergy will undoubtedly require additional rounds of funding if it expects to commercialize plecanatide. However, for the long-term investor, I believe the combination of a superior product profile and an underserved market makes Synergy a buy.
10 stocks we like better than Synergy Pharmaceuticals When investing geniuses David and Tom Gardner have a stock tip, it can pay to listen. After all, the newsletter they have run for over a decade, Motley Fool Stock Advisor, has tripled the market.*
David and Tom just revealed what they believe are the 10 best stocks for investors to buy right now and Synergy Pharmaceuticals wasn't one of them! That's right -- they think these 10 stocks are even better buys.
Click here to learn about these picks!
*Stock Advisor returns as of January 4, 2017
David Liang owns shares of Synergy Pharmaceuticals. The Motley Fool has no position in any of the stocks mentioned. Try any of our Foolish newsletter services free for 30 days. We Fools may not all hold the same opinions, but we all believe that considering a diverse range of insights makes us better investors. The Motley Fool has a disclosure policy.