A chosen-family portrait: A group that 'needed each other'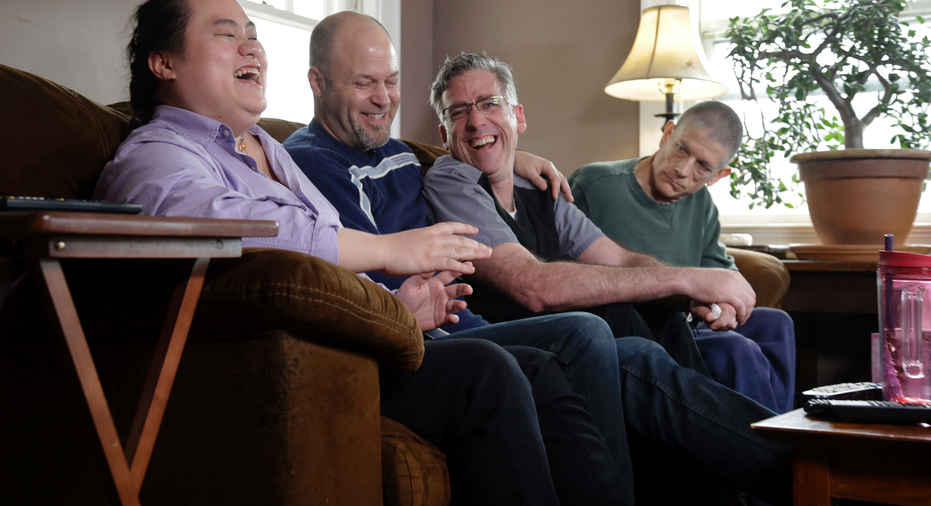 There's no shorthand to describe all the relationships that bind Wil Darcangelo's family. So he just explains it this way: "We're all kind of misfits who needed each other."
No one's insulted.
"That's awesome," laughs Lavender Darcangelo, the blind 22-year-old daughter with autism whom he and husband Jamie Darcangelo adopted last year.
With them live Jamie's former partner, a stroke victim who needs some assistance with daily life; a British expat who helps provide it; and the 72-year-old owner of the central Massachusetts home they all share.
They don't see themselves as housemates but as "chosen family," as much a part of one another's lives as any other kin.
"When it comes to chosen families, it's all the more beautiful," Lavender says, "because we chose each other."
The choices were gradual. Wil — a 48-year-old singer, actor, stained-glass artist, carpenter, activist, former substitute teacher and seminary graduate now working at a local church — moved into a studio in his friend Peter Marquis' house five years ago in exchange for carpentry work.
Then Wil met Jamie, 47, a registered nurse. With him came ex-partner Christoph Malvaney, 53, who had already suffered strokes that caused memory and other problems. Meanwhile, Lavender entered the picture as a high schooler in a rock band-slash-youth-program that Wil had started. Its guitarist, Barny Lanman, 32, joined the household as a sometime helper for Malvaney.
"Our system works out organically the way the wider system should be designed on purpose," Wil says.
Their system involves some hired health aides but also depends on the care household members provide. Without that continuity, "things can really fall through the cracks," Jamie says.
Wil has flexible work hours and can jump in when needed at home, and he says that has been crucial. So he sees value in a small but growing number of city and state laws that let workers use their allotted sick days to care not only for themselves or relatives, but for anyone they consider family.
Some business groups and employment lawyers worry the provisions are so broad they open a door to malingering. But Wil says they reflect the reality of families like his.
"I would defy anybody to be able to tell me that Barny and Peter and Christoph are any less of my family than Jamie and Lavender are," Wil says. "If they needed us, they would have us."
___
Peltz reported from New York.