A Cautious Call on Long-Term Treasury ETFs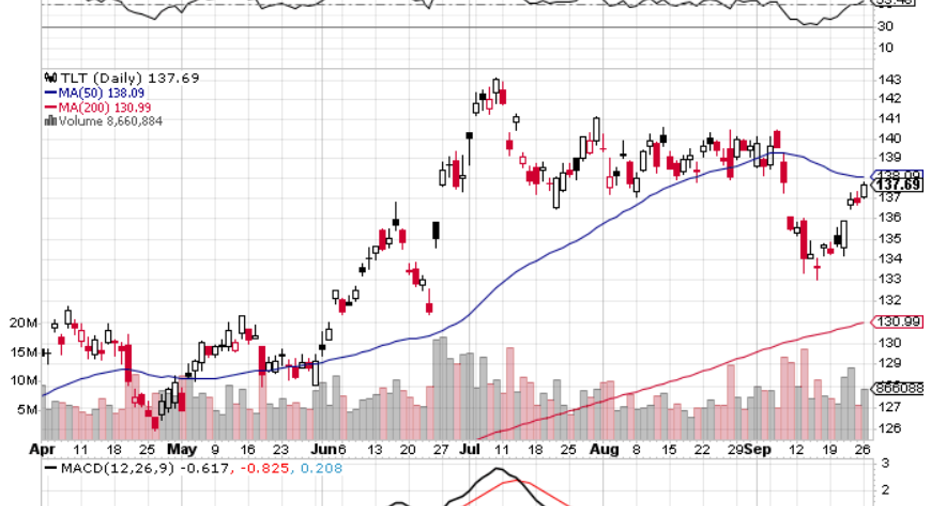 The Federal Reserve gave Treasurys and the corresponding exchange traded funds, such as the iShares 20+ Year Treasury Bond ETF (NYSEArca: TLT), a bit of a reprieve last week by not raising interest rates. However, the increasingly dividend Fed could still raise rates later this year and that has some market observers sounding a cautious tone on long-term U.S. government debt.
TLT has been a popular Treasury bond play for yield generation over the past few years after the Federal Reserve implemented near-zero interest rates and a robust bond purchasing program. However, TLT comes with a 17.72 year duration – a 1% increase in interest rates would translate to about a 17.72% decline in the fund's price.
Related: If Rates Rise, Look to These Junk Bond ETFs
The low yields in overseas markets have also helped support U.S. Treasuries as an attractive alternative source of yield for foreign investors. According to Fitch Ratings, a record $11.7 trillion of global sovereign debt has now entered sub-zero territory, reports Adam Samson for the Financial Times.
"It's time to rethink the role of U.S. Treasuries in portfolios, and specifically to be cautious of long-duration Treasuries. The risk-reward landscape for long-duration Treasuries is shifting," according to a BlackRock note posted by Amey Stone of Barron's.
Weakness in TLT should help the ProShares UltraShort 20+ Year Treasury (NYSEArca: TBT), which tries to reflect the -2x or -200% daily performance of the Barclays U.S. 20+ Year Treasury Bond Index.
Alternatives to TBT include the ProShares UltraPro Short 20+ Year Treasury (NYSEArca: TTT) takes the -3x or -300% daily performance of the Barclays U.S. 20+ Year Treasury Bond Index. Additionally, the Direxion Daily 20-Year Treasury Bear 3X (NYSEArca: TMV) tracks the -3x or -300% daily performance of the NYSE 20 Year Plus Treasury Bond Index.
SEE MORE: A Bearish ETF Idea for a Trump Win
U.S. government debt also faces the specter of losing an important catalyst that has lifted the asset class for much of this year.
"U.S. Treasuries are becoming less attractive to non-U.S. investors, as the increased cost of currency hedging is wiping out the extra yield Treasuries offer. Finally, bonds tend to have higher correlations to stocks during periods when markets are concerned about Fed tightening, damaging their traditional role as portfolio diversifiers," adds BlackRock.
For more information on the fixed-income market, visit our bond ETFs category.
iShares 20+ Year Treasury Bond ETF
Tom Lydon's clients own shares of TLT.
This article was provided by our partners at ETFTrends.