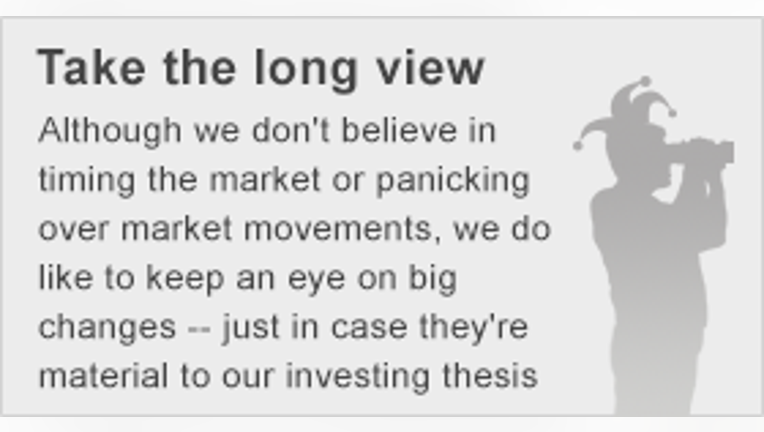 Image Credit: Vale.
What: Shares of Vale jumped 16% by 3:30 p.m. EST on Thursday. Driving the buying spree was a report that the company and its partner BHP Billiton had reached a deal with the Brazilian government to cover damages for a deadly dam spill last year.
So what: The joint venture between Vale and BHP Billiton, known as Samarco, will pay an estimated $5.1 billion in damages during the next 15 years relating to that spill. The agreement will put to rest lingering concerns about the extent of the financial impact to both companies. In fact, the obligations will be paid out by the joint venture, with Vale and BHP Billiton only responsible if the venture is unable to cover the costs.
In addition to that news, iron-ore prices have been on a tear of late, jumping 18%, to more than $50 a metric ton. That surge is very important to Vale, given that it's the world's leading iron-ore miner. Driving this rally is restocking by Chinese mills, which have started to increase their output after being on a holiday break in February.
Now what: With greater cost certainty surrounding Vale's future liabilities in Brazil, investors are breathing a sigh of relief -- especially considering that the funds will be paid out by the joint venture during the next 15 years instead of by the company in the near term. To top it off, iron-ore prices are finally starting to improve after a pretty rough stretch.
It remains to be seen if this rally is sustainable, or simply due to some initial heavy buying by the Chinese after a holiday. If it's the latter, than its quite possible that the recent price rally could come to an abrupt end.
The article A Big Weight Has Been Lifted Off of Vale SA (ADR) Stock Today originally appeared on Fool.com.
Matt DiLallo owns shares of BHP Billiton Limited (ADR). The Motley Fool owns shares of Companhia Vale Ads. Try any of our Foolish newsletter services free for 30 days. We Fools may not all hold the same opinions, but we all believe that considering a diverse range of insights makes us better investors. The Motley Fool has a disclosure policy.
Copyright 1995 - 2016 The Motley Fool, LLC. All rights reserved. The Motley Fool has a disclosure policy.