A 300-Minute Wait for Disney World's New Ride Is Brilliant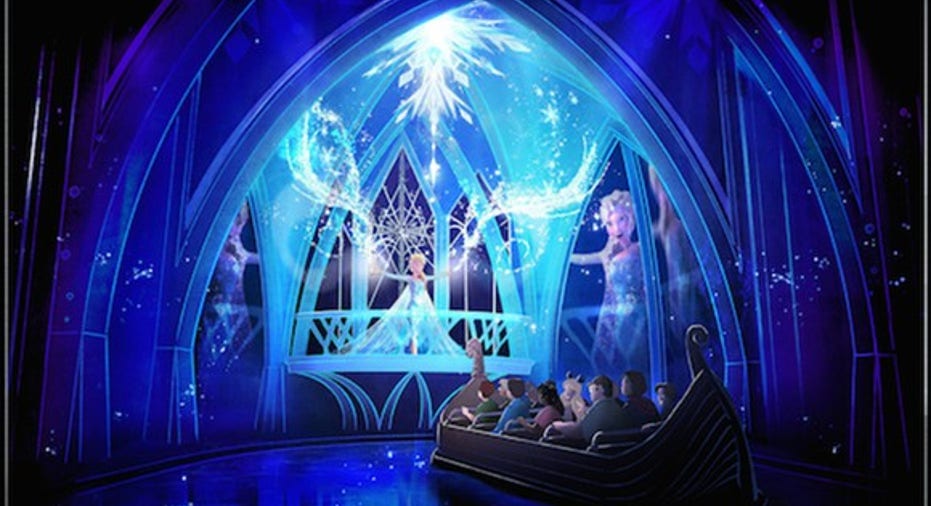 Image source: Disney.
Just when you thought that the country's fascination with Anna, Elsa, Olaf, and the rest of the characters fromDisney'sFrozen was over, along comes a new attraction to remind us that we haven't let it go.
Frozen Ever After opened at Disney World's Epcot yesterday, and it wasn't necessarily an operational success. The boat ride that replaced the iconic Maelstrom attraction in the park's Norway pavilion within the World Showcase section of the park broke down several times during the day. That's embarrassing for any debutante, but it's particularly perplexing here. Maelstrom was shut down 20 months ago for an update that probably shouldn't have taken more than a few months.
However, the fact that the opening date was bumped from early 2016 to yesterday and that there wasn't a "soft opening" period ahead of the actual official debut make yesterday's operating hiccups understandable. It all resulted in media outlets jumping at the ridiculous queue to board the ride that stretched all the way down to the neighboring China pavilion. At its worst, the ride's posted wait time was five hours -- and many of those in line weren't able to ride following the attraction's mechanical issues. Disney offered complimentary water and eventually frozen treats to those in line.
Let it go
Capacity at the original Maelstrom attraction was terrible. It could only cycle through 1,000 guests an hour, and that's apparently close to what Frozen Ever After's throughput is at the moment. This wouldn't be an issue at a small regional park, but Epcot entertains 11.8 million visitors a year, according to industry tracker TEA/AECOM. That breaks out to an average of more than 32,000 guests a day, and with the park open for 12 hours it means that a little more than a third of the park's average guest count will be able to experience Frozen Ever After on any given day. When you consider that this is the start of the peak summer season with a lot more than 32,000 guests at the park -- and that tiered pricing was introduced to the point where single-day tickets are 18% more expensive than a year earlier -- it's easy to see where the capacity and operating snafus can be frustrating.
Let's approach this from a different angle: Disney is going to make a killing here. The best way to avoid long lines for the most popular rides is to use Disney's FastPass platform. Guests can initially reserve as many as three rides a day. As you can imagine, FastPass slots for Frozen Ever After fill up fairly quickly. Disney lets guests staying at its resort hotels -- with more than 30,000 rooms and growing -- have first dibs on choosing FastPass reservations. The window then goes on to include annual pass holders and then day guests. In short, if you want a shot at a FastPass to experience the new attraction, you may want to book a stay more than a month out at one of Disney's resorts.
Another reason to book at a Disney resort hotel is that it offers Extra Magic Hours to its overnight guests. Those staying at a Disney hotel can get into select parks an hour early or stay two hours after closing. Epcot's World Showcase, for example, is open until 11 p.m. for Disney resort guests on Tuesday night, two hours later than the park closing for everybody else.
Framed in that light, yesterday's opening day fiasco is actually a big success. Folks will want to book a trip to Disney to see what would make otherwise sane families wait 300 minutes for a new ride -- and they will want to do so by putting even more money into the House of Mouse's coffers by booking a stay at a Disney World resort. That's brilliant.
The article A 300-Minute Wait for Disney World's New Ride Is Brilliant originally appeared on Fool.com.
Rick Munarriz owns shares of Walt Disney. The Motley Fool owns shares of and recommends Walt Disney. Try any of our Foolish newsletter services free for 30 days. We Fools may not all hold the same opinions, but we all believe that considering a diverse range of insights makes us better investors. The Motley Fool has a disclosure policy.
Copyright 1995 - 2016 The Motley Fool, LLC. All rights reserved. The Motley Fool has a disclosure policy.