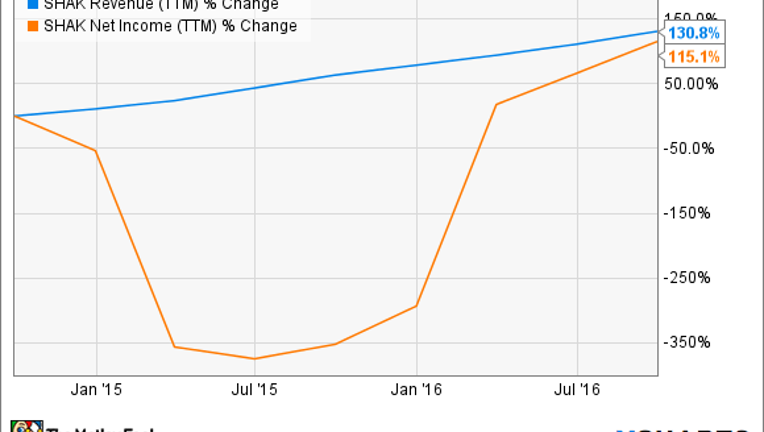 Image source: Shake Shack.
Better-burger company Shake Shack (NYSE: SHAK) recently outlined its strategy for growing sales and the bottom line in the coming year. The plan of attack revealed when third-quarter results were reported Nov. 9 centers on new restaurant developments to drive overall revenue growth and new menu items to keep diners' interest. Here is the updated company outlook and what investors can expect in the months ahead.
Growth by new Shacks
Increasing sales at existing locations is a key metric for any restaurant, Shake Shack included. But as a smaller chain, the company has also been focused on expanding into new markets.
The number of Shacks has grown from 63 at the end of 2014 to 109 this year. The New York-based chain opened its first locations in the Phoenix, Dallas, and Minneapolis metro areas this year, as well as increased locations in other new markets like Los Angeles and Las Vegas. Internationally, a first location in South Korea opened its doors, and Shake Shack's international licensees continue to grow in Japan and the Middle East.
More restaurants are on the docket in the year ahead. Management sees 21 or 22 new company-operated locations in the states and 10 internationally licensed locations cutting ribbons in 2017. CEO Randy Garutti said that most lease agreements have already been inked, and that investors should expect the openings to be more heavily weighted toward the second half of the year.
Slated for opening are first-ever Shacks in San Diego, Detroit, and St. Louis.Deepening the presence in California will be a high priority in 2017, as well as the Japan and the new South Korean locations. Expect to see several new Shack openings in those markets during the year.
Growth by new food
To drive traffic to existing locations and pique burger lovers' interest, an expansion of the menu will soon begin. The Bacon Cheddar Shack limited-time burger will come to an end by the end of the first quarter of 2017 and will be replaced with two new limited-time items, the Barbecue ShackMeister burger and a variation on the fried chicken sandwich simply called the Barbecue Chicken.
In addition to the normal lineup of shakes, 2017 will also see a rotation of seasonal shakes. The new shakes will cost an additional $0.50 more than a regular shake. Garutti told investors they continue to work up new limited-time offerings that they will test at select locations throughout the year. The breakfast pilot program will also expand to another location in Philadelphia next year.
A final area of change for the menu is the recently launched Shake Shack app. Besides giving diners the ability to find locations and menu info, the company is testing pre-order and pickup scheduling through the app at a few of its New York restaurants. Management expects to take the new feature slow, but be on the lookout for updates in the quarters ahead.
Management sees same-Shack sales growth of 2% to 3% in 2017, driven by price hikes at the first of the year with the remaining growth coming from the new menu.
Will the strategy yield results?
Thus far, the burger joint's approach to growth has been working. The slow rollout into new markets while growing its presence in existing markets with new locations and a rotating menu has more than doubled sales and profits since Shake Shack went public in early 2015.
Data by YCharts.
Riding its recent momentum with this approach, Shake Shack's management doesn't look interested in changing the recipe anytime soon. After a tough 2015 debut as a public company, it looks like an exciting time to be a Shake Shack investor.
10 stocks we like better than Shake Shack When investing geniuses David and Tom Gardner have a stock tip, it can pay to listen. After all, the newsletter they have run for over a decade, Motley Fool Stock Advisor, has tripled the market.*
David and Tom just revealed what they believe are the ten best stocks for investors to buy right now... and Shake Shack wasn't one of them! That's right -- they think these 10 stocks are even better buys.
Click here to learn about these picks!
*Stock Advisor returns as of November 7, 2016
Nicholas Rossolillo has no position in any stocks mentioned. The Motley Fool is short Shake Shack. Try any of our Foolish newsletter services free for 30 days. We Fools may not all hold the same opinions, but we all believe that considering a diverse range of insights makes us better investors. The Motley Fool has a disclosure policy.