9 Figures That Sum Up Pfizer, Inc.'s First Quarter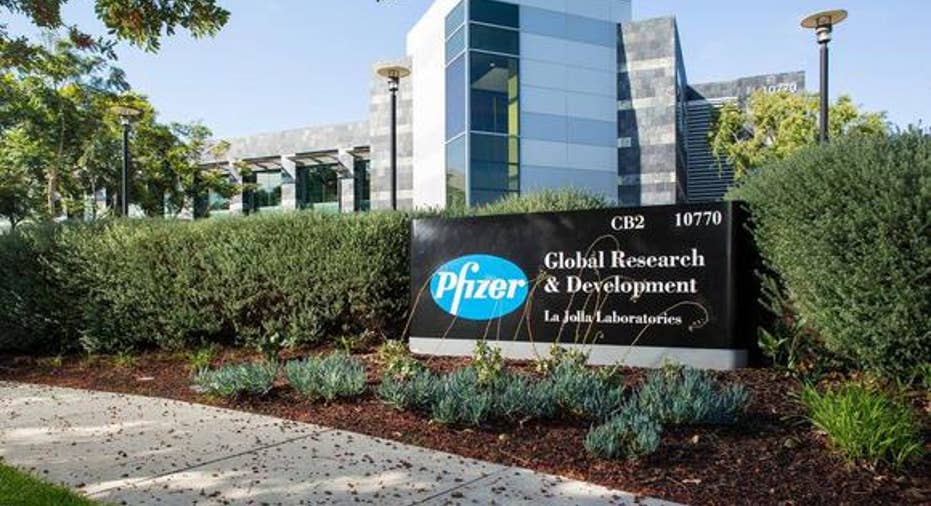 Image source: Pfizer, Inc.
After reporting rosy first-quarter financials and increasing its outlook for the year,Pfizershares are trading higher. Investors wondering if Pfizer's shares should be bought or sold on this news might want to consider these nine numbers, each of which offers additional insight into whether the company is worth owning in your portfolio.
15%. Ex-out the impact of last year's acquisition of specialty pharma Hospira, and that's the amount Pfizer reported for operational (ex-currency) sales growth. Include Hospira, and sales were up 26% to $13 billion, ex-currency.
$0.67. Realizing greater savings associated with integrating Hospira and leveraging revenue against fixed costs allowed Pfizer to report this amount in adjusted EPS. That handily outpaced industry watchers' $0.55 forecast. Future EPS should benefit from greater Hospira integration tailwinds, too. The company upped its forecast for cost savings from the Hospira acquisition from $800 million to $1 billion by 2018.
$1 billion. Thanks to rapidly growing use of its breast cancer drug Ibrance, the company's global oncology revenue reached this level in Q1. For comparison, Pfizer's global cancer sales totaled only $528 million in the same quarter a year ago.
1,029%. That's the year-over-year increase in global Ibrance sales last quarter. Ibrance clocked in at $429 million in Q1, giving the drug an annualized sales run rate of $1.7 billion. That's a pretty darn good pace for a drug that only hit the market a bit more than a year ago.
$66 million. Pfizer's revenue from biosimilar drugs, or drugs that work similarly to, but aren't exact copies of biologic medicines, came in at this amount in the quarter. Biosimilar sales got a boost from the launch of Inflectra in Europe last February. Inflectra is a biosimilar to the top-selling autoimmune drug Remicade, and its sales could be heading higher in the coming year following FDA approval last month.
$20 billion. This is Pfizer's estimate of the size of the biosimilars market in 2020. Inflectra and seven other candidates the company has in development could make it one of the biggest biosimilar drugmakers on the planet by then.
23.8%. Pfizer's hopes to acquire Allergan plcin an attempt to shift its tax address from the U.S. to low-cost Ireland were dashed by regulators last quarter, but Pfizer did manage to reduce its effective tax rate from 24.4% last year to this number last quarter.
$2 billion. This is how much more the company thinks it could report in sales in 2016 than it previously thought. Following a better-than-expected Q1 and in the wake of improving currency exchange rates, Pfizer upped its full-year revenue outlook to between $51 billion and $53 billion. Previously, management was projecting sales of between $49 billion and $51 billion.
14.2. That's Pfizer's current P/E ratio following management's decision to bump up its adjusted EPS outlook for this year. The company expects to deliver at least $2.38 in EPS in 2016, up nicely from previous expectations of $2.20.
Tying it togetherIt's been years since Pfizer could be considered by investors to be a growth stock, but now that the negative impact of losing patent protection on its megablockbuster drug Lipitor in 2011 is behind it, Pfizer seems to be back on track. Given Pfizer's improving outlook and the fact that it has envy-inspiring financial firepower that it can use to strengthen its product pipeline and reward investors, I think Pfizer is worthy of consideration as a core holding in any healthcare portfolio.
The article 9 Figures That Sum Up Pfizer, Inc.'s First Quarter originally appeared on Fool.com.
Todd Campbell has no position in any stocks mentioned.Todd owns E.B. Capital Markets, LLC. E.B. Capital's clients may have positions in the companies mentioned. Like this article? Follow him onTwitter where he goes by the handle@ebcapitalto see more articles like this.The Motley Fool has no position in any of the stocks mentioned. Try any of our Foolish newsletter services free for 30 days. We Fools may not all hold the same opinions, but we all believe that considering a diverse range of insights makes us better investors. The Motley Fool has a disclosure policy.
Copyright 1995 - 2016 The Motley Fool, LLC. All rights reserved. The Motley Fool has a disclosure policy.