9 Facts You Didn't Know About Driverless Cars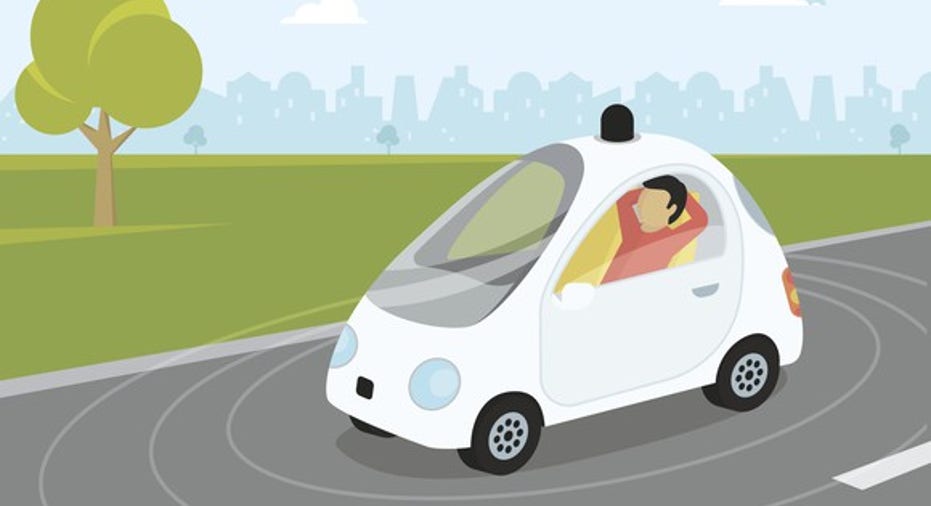 Image source: Getty Images.
Technology and automotive companies are currently in a sprint to bring the best (and the safest) self-driving technologies to market. The companies have been spurred on by high traffic fatalities, increasing support by governments, and, of course, new revenue potential.
The pace at which driverless car technology advances is astounding, which means that most of us have probably missed a few key developments if we haven't been keeping up lately. Check out these nine facts to help bring your driverless car knowledge back up to speed:
Google's Waymo just cut the cost of LIDAR by 90%. Alphabet's (NASDAQ: GOOG) (NASDAQ: GOOGL) Google recently spun out its self-driving business into its own company, called Waymo, and this month it announced that it has reduced the cost of the LIDAR technology, which is used to help self-driving cars see what's around them. According to ArsTechnica, Waymo may have reduced the price from $75,000 down to $7,500.
2018 is the year to watch. Electric-car maker Tesla Motors(NASDAQ: TSLA)released a video a couple of months ago showing a person riding around in a Tesla -- in Autopilot mode -- with the car completely in command. Tesla started adding fully autonomous hardware to its cars a few months ago and says it'll actively roll out software updates to bring full autonomy to its vehicles after they go through more testing.But CEO Elon Musk has said he wants Tesla to have a fully autonomous vehicle on the road by 2018.
Mars rover technology might find its way into driverless cars.At the Consumer Electronics Show this month,Nissan Motor Co. (NASDAQOTH: NSANY)announced that it wants to implement NASA technology used for the Mars rovers to help control fleets of self-driving cars. Nissan's Seamless Autonomous Mobility (SAM) system allows a self-driving car to call on a person for help if the car doesn't know what to do (for example, if it needs to interpret hand signals from a traffic officer). The vehicle would call SAM in such a situation, and a person would map out a quick route around the problem area. Other self-driving cars would then learn from these situations to improve their own driving knowledge. NASA used a similar system, called Visual Environment for Remote Virtual Exploration (VERVE), for the Mars rover and other vehicles, which involved humans mapping out routes around obstacles when the rover couldn't figure out what to do on its own.
Driverless cars will make you a better driver.Chipmaker and driverless car tech leaderNVIDIACorporation (NASDAQ: NVDA)recently announced its new artificial intelligence (AI) Co-Pilot system that uses external cameras and radar to tell you what's around (such as a bicyclist), and internal cameras that keep track of where you're looking. The AI Co-Pilot will drive the car by itself most of the time, but will use its data to also help humans learn how to drive better when they're controlling the wheel.
Self-driving vehicles will be big business. Boston Consulting Group estimates that the driverless car market will be worth $77 billion by 2035. Not all of that will come from sales of the vehicles themselves, though. Many companies, like Waymo, plan on making money from self-driving ride-hailing services.
Not everyone is a fan of the technology.An advocacy group for professional drivers, called the Upstate Transportation Association, is trying to get New York to ban self-driving cars for 50 years. The organization wants to protect the jobs of professional drivers, though a 50-year ban seems a bit extreme (won't the AI robots have taken over by then?). So far, New York's state government appears open to self-driving technologies on its roads. But the state does have a requirement for drivers to keep one hand on the wheel that self-driving opponents are hoping can be used to ban the tech.
Driverless cars might make traffic worse, initially. A new study by the U.K. Department for Transport found that traffic would actually get worse on Britain's roads when driverless cars take to the streets, because the vehicles will be too cautious at first. When a quarter of all cars are automated, the government agency expects road delays to tick up by 0.9%, and the percentage won't go down until about 50% to 75% of all cars are fully autonomous.
There will be slow, but steady, growth. One-quarter of all cars will be autonomous by 2040, according the Brookings Institution. And IHSbelieves we'll reach driverless car ubiquity sometime after 2050.
China could lead the autonomous-vehicle market.China is trying to revamp its trucking industry by allowing companies to test out self-driving technologies at a faster pace than many other countries. The lack of regulation in the country means that China is in a position to roll out self-driving tech faster, though it raises the question of whether accelerated development of the technology comes at the expense of safety.
Final thoughts
While there are certainly concerns around self-driving cars, there's virtually no stopping this technology now. Automakers, tech companies, and governments are all eager to bring autonomous driving to the masses, and we're likely to see the pace of innovation pick up over the coming years.
10 stocks we like better than Tesla Motors When investing geniuses David and Tom Gardner have a stock tip, it can pay to listen. After all, the newsletter they have run for over a decade, Motley Fool Stock Advisor, has tripled the market.*
David and Tom just revealed what they believe are the 10 best stocks for investors to buy right now... and Tesla Motors wasn't one of them! That's right -- they think these 10 stocks are even better buys.
Click here to learn about these picks!
*Stock Advisor returns as of January 4, 2017
Suzanne Frey, an executive at Alphabet, is a member of The Motley Fool's board of directors. Chris Neiger has no position in any stocks mentioned. The Motley Fool owns shares of and recommends Alphabet (A shares), Alphabet (C shares), Nvidia, and Tesla Motors. The Motley Fool has a disclosure policy.