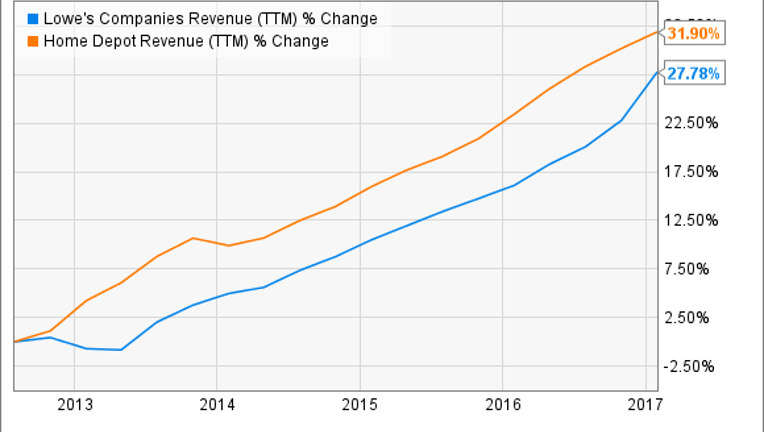 Sometime in the next year, Home Depot (NYSE: HD) will cross the $100 billion mark of annual revenue to become one of just a few retailers to reach that awesome figure.
Read on for a few little-known facts for investors to understand about the home improvement giant as it approaches this important milestone.
1. Not a Dividend Aristocrat
Only one home improvement giant is a member of the exclusive club of Dividend Aristocrats, meaning it has boosted its payout for at least 25 consecutive years. But Lowe's (NYSE: LOW) -- not Home Depot -- is that retailer.
Image source: Getty Images.
Home Depot suspended its dividend for nearly three years during the worst of the housing crisis, while its smaller rival kept up its increases. Still, income investors have little to complain about, given their latest 29% payout raise.
2. No new stores
Home Depot has added a grand total of one new store in the U.S. market since 2013, while Lowe's expanded its base by 300 locations. Yet thanks to faster same-store sales gains, Home Depot's revenue growth has outpaced Lowe's over the past five years.
LOW Revenue (TTM) data by YCharts.
3. Selection over price
In contrast to retailers like Costcothat aim to soak up market share through low prices, Home Depot's core focus is on what it calls "product authority," or delivering a wide selection of innovative products that keep do-it-yourself fans and professional customers alike returning to its locations.
That approach helps explain why gross margin is 34% of sales, compared to Costco's 13% and Target's30%.
4. An e-commerce leader
In 2011, the company tiptoed into the e-commerce segment by adding functionality for customers to buy products online and pick them up at stores. Today, nearly half of its online orders involve trips to a Home Depot location, and that sales channel is worth 6% of sales, compared to 4% for both Costco and Target. Home Depot has been pouring resources into its e-commerce infrastructure, with the latest addition being national capability for direct delivery from stores rather than fulfillment centers.
5. Soaring debt levels
Home Depot carries over $20 billion of debt on its books today -- up from just $9 billion in 2011. Despite surging profits over this period, management has opted to take advantage of low interest rates through the years, mainly to fund an aggressive stock repurchase program that's pushed its outstanding share count down by more than a third since 2007.
6. Extreme efficiency
Home Depot is one of the most efficient businesses on the market, boasting returns on invested capital of 31% last year, up from 28% in the prior year. That's good enough to put the retailer in second place among the 30 members of the Dow ranked by ROIC.
7. New markets
While its store base isn't likely to grow much over the next few years, Home Depot has big plans to extend its reach into new segments for revenue gains. The two biggest of these are professional contractors and maintenance and repair operations.
These niches add $170 billion to Home Depot's market potential, which, in addition to the consumer segment it already dominates, gives it a total addressable market of $550 billion.
8. The metric to watch
Home Depot's growth is closely correlated with broad economic figures like GDP and employment. But the most direct metric for investors to watch is private residential fixed investment, which does a good job of capturing the overall home improvement industry.
Data source: Federal Reserve Economic Data.
After peaking at a $900 billion annual pace in 2006 -- and bottoming out at below $400 billion in 2010 -- residential investment has surged to $750 billion recently. That, plus an aging stock of existing homes and favorable demographic trends, has Home Depot's management confident that they'll soon pass $100 billion in annual revenue while at the same time boosting operating margin to a record 15% and pushing return on invested capital to 35%.
10 stocks we like better than Home DepotWhen investing geniuses David and Tom Gardner have a stock tip, it can pay to listen. After all, the newsletter they have run for over a decade, Motley Fool Stock Advisor, has tripled the market.*
David and Tom just revealed what they believe are the 10 best stocks for investors to buy right now...and Home Depot wasn't one of them! That's right -- they think these 10 stocks are even better buys.
Click here to learn about these picks!
*Stock Advisor returns as of May 1, 2017.
Demitrios Kalogeropoulos owns shares of Costco Wholesale and Home Depot. The Motley Fool owns shares of and recommends Costco Wholesale. The Motley Fool recommends Home Depot and Lowe's. The Motley Fool has a disclosure policy.