8 Reasons Indian Motorcycle Is Beating Harley-Davidson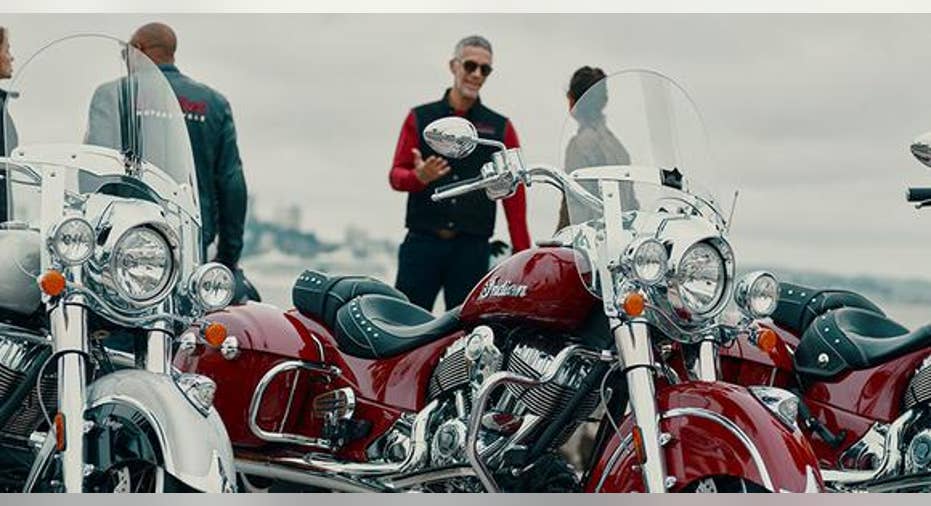 The most affordable Indian manufactured to date, the Scout Sixty shows that Polaris Industries plans to be competitive all across the motorcycle price spectrum. Image source: Indian Motorcycle.
Despite a weak economy that is impacting sales in its powersports business,Polaris Industries (NYSE: PII) isstill smoking the tires in motorcycles, giving it the horsepower to take on the industry behemoth, Harley-Davidson (NYSE: HOG).
In its just-completed first-quarter earnings report, Polaris said motorcycle sales were going full throttle at 18% year-over-year growth while the overall large-bike industry -- the 900 cubic-centimeters-and-up market -- was relatively flat. Moreover, since Harley-Davidson continues to report falling motorcycle sales, it means Polaris is stealing more market share from its rival. Harleymay still own half the U.S. market, but Polaris is quickly gaining, and it soon may be a much closer horse race.
Teasing out sales data from the various manufacturers isn't always easy, and Polaris is downright parsimonious when it comes to doling out unit sales, but here's a look at some of the major global bike makers and their reported numbers for 2015.
| Manufacturer | North America sales | Worldwide sales |
| --- | --- | --- |
| Honda Motors | 286,000 | 10.73 million |
| Harley-Davidson | 189,082* | 264,627 |
| Yamaha | 89,000 | 5.22 million |
| Kawasaki | 51,000 | 524,000** |
| Suzuki | 35,000 est. | 1.11 million (est.) |
| BMW | n/a | 136,963 |
| Ducati | 12,132 | 54,800 |
Data source: Company reports and filings. *Harley-Davidson "North America" figures are U.S., Canada, and Latin America sales. **Kawasaki worldwide figures also include ATV, UTV, personal watercraft, and general-purpose small engine sales. Honda motorcycles sales span bikes from 50 cc to 1,800 cc. Motorcycle unit sales for some manufacturers from certain markets were not readily available.
The reason Polaris is making these gains? Indian Motorcycle. Sure, it's found itself a popular vehicle in its three-wheeled Slingshot, and even its line of Victory motorcycles has mostly stemmed the losses it was incurring, but it's the Indian nameplate that Polaris resurrected from the graveyard in 2011 where it's making its mark.
Since relaunching the brand, Polaris' total revenues have increased 47% to $4.7 billion, but motorcycles have grown from accounting for 8% of the total to 15%, and sales have nearly quadrupled to $698 million annually. That may be a rounding error to Harley-Davidson, which did $1.3 billion in sales in the first quarter alone, but Polaris has already become the No. 2 motorcycle manufacturer.
With Polaris motorcycle sales growing 67% last year and Harley-Davidson's falling almost 2%, if those trends continue, Polaris will be selling more motorcycles than Harley in just three-and-a-half years. Of course, it's highly improbable Polaris can maintain the breakneck pace it's been on, but it's also clear it can dramatically narrow the gap between first place and second place in short order.
There are eight specific reasons Indian may once again rise to challenge its rival.
One of the first motorcycles that rolled out of the factory when Polaris Industries resurrected the Indian nameplate was the Chief Classic. Image source: Indian Motorcycle.
1. Indian Chief ClassicIt was important that when Polaris reintroduced the Indian Motorcycle brand, it harked back to its heritage with a bike that had the iconic lines and styling of its vintage forebears. The Indian Chief Classic was the base model upon which the other models it introduced with the 2013 lineup would be built. And although the cruiser looked back to its roots for its styling, the Classic was filled with today's technology, including its patented valanced fenders, anti-lock brakes, keyless ignition, cruise control, and Indian's massive Thunder Stroke 111 air-cooled, V-twin engine with a six-speed overdrive transmission. It was arguably the best blend of old and new in one bike.
2. Indian Chief VintageThe first of the two touring models Polaris unveiled, the Indian Chief Vintage was a soft-bagger with leather fringe, chrome fender tips, a quick-detach windshield, and swooping fenders. It was targeted right at Harley-Davidson's Heritage Softail Classic, a similarly styled and appointed bike with its own big 1,690 cc Twin Cam 103B V-twin engine. Yet the Chief Vintage hewed most closely to the original style of Indian bikes, right down to the iconic War Bonnet lamp on the bike's front fender.
3. Indian ChieftainThe second touring bike Polaris introduced, the Chieftain was perhaps the biggest deviation from the expected norm. Indian had said it would take much of the design cues from its 1950s models, yet the bike came in as a hard-bagger with a hard fairing and built-in stereo system. It had the tightest rake of the three at 25 inches and the shortest wheelbase, which allowed for great cruising and handling when opening up the 1,811 cc Thunder Stroke.
All three bikes were priced slightly above their rival Harleys, but that didn't deter buyers, who've been picking these bikes up since their introduction.
The luxury touring bike Roadmaster, at rest in the wild. Image source: Indian Motorcycle.
4. Indian RoadmasterPolaris followed up the reintroduction of the first trio of bikes under the Indian nameplate with a full-out luxury touring bike, the Roadmaster, which included everything from weatherproof storage, power-adjust windscreen, and heated seats and grips to tire pressure monitoring, Bluetooth, and an "advanced infotainment system" featuring both communication and navigation as well as telephone and Pandora integration. Cruisers like the Roadmaster continue to be among the best-selling bikes in the industry, and even Harley-Davidson says cruisers remain among its best-selling bikes.
5. Indian ScoutThe Scout was one of Indian's most popular bikes during the three decades between 1920 to 1950, becoming a preferred choice for racers and performers, and Polaris wanted it to be another top bike for the 2015 model year. Although the lightweight bike is geared to many of the same "outreach" riders Harley is going after with its Street and Sportster models, this isn't a starter bike, but rather offers a cool, muscular ride for experienced riders with its 100 horsepower and 72 foot-pounds of torque from a liquid-cooled 1,133 cc 60-degree V-Twin. Yet it was also Indian's cheapest bike when introduced, at just under $11,000.
6. Indian Chief Dark HorseMaybe Polaris recognized the popularity of Harley's line of Dark Custom bikes, but its Indian Chief Dark Horse wasn't simply ripping off its rival's styling. It was a means of taking the Indian nameplate in a new direction, as it allows owners a customizable experience with 40 aftermarket accessories, including "ape hanger" handlebars, air cleaners, and black fender trim. It may seem a bit derivative, but the stripped-down, gritty, and retro styling and $17,000 price tag had it targeted at the meat of the middle market
7. Indian Scout SixtyRevisiting the low-priced end of the big-bike market, Polaris introduced a smaller, cheaper version of the Scout, the Scout Sixty. No doubt this was in response to the success Harley had with its Street 500 and 750 bikes, the sleek, low-cost, lightweight bikes that were purpose-built for new, young, urban riders. Harley says some 70% of Street bikes sold in the first year have been to first-time Harley riders. Polaris wanted to make sure they knew there was an alternative available, and though at just under $9,000 it's slightly more expensive than the Streets, it is the cheapest Indian bike out there.
Named after the city where Indian Motorcycle got its start in 1901, the Springfield is the newest edition to the Polaris Industries motorcycle lineup. Image source: Indian Motorcycle.
8. Indian SpringfieldIf there's been one bike that could be considered the heart of Harley-Davidson, it's the Road King, one of its best-selling bikes in the touring class that comprise almost half of all its bike sales. Well, enter the Indian Springfield, Polaris Industries' newest motorcycle that seeks to go head-to-head with its rival's classic and can easily straddle both the touring and cruiser categories. With quick-detach windshields and removable saddlebags, it also comes equipped with the same Thunder Stroke 111-inch 1,811 cc engine found in Indian's other models, but also has a sub-$21,000 starting price.
How many more ways to succeed?Polaris Industries hasn't made a single misstep yet with its Indian Motorcycle models, other than manufacturing-facility glitches that kept enough supply from reaching its dealer lots to meet demand. It now has bikes all across the size and price spectrum, and with the plant issues straightened out, it will be interesting to see just how many more motorcycles Indian produces that rip up the competition.
Harley-Davidson is expecting to ship just 1% to 3% more bikes this year than it did in 2015, but shipments aren't sales, and as we've seen before, that doesn't mean more sales. It will be hard pressed to keep them flat instead of falling. Polaris Industries, on the other hand, is forecasting sales will continue growing at double-digit rates, pegging them to expand by percentage rates in the high teens -- suggesting the market-share gap between the two U.S.-based motorcycle makers will get much tighter over the next few years.
The article 8 Reasons Indian Motorcycle Is Beating Harley-Davidson originally appeared on Fool.com.
Rich Duprey has no position in any stocks mentioned. The Motley Fool owns shares of and recommends Polaris Industries. Try any of our Foolish newsletter services free for 30 days. We Fools may not all hold the same opinions, but we all believe that considering a diverse range of insights makes us better investors. The Motley Fool has a disclosure policy.
Copyright 1995 - 2016 The Motley Fool, LLC. All rights reserved. The Motley Fool has a disclosure policy.