8 Figures That Sum Up Juno Therapeutics' First Quarter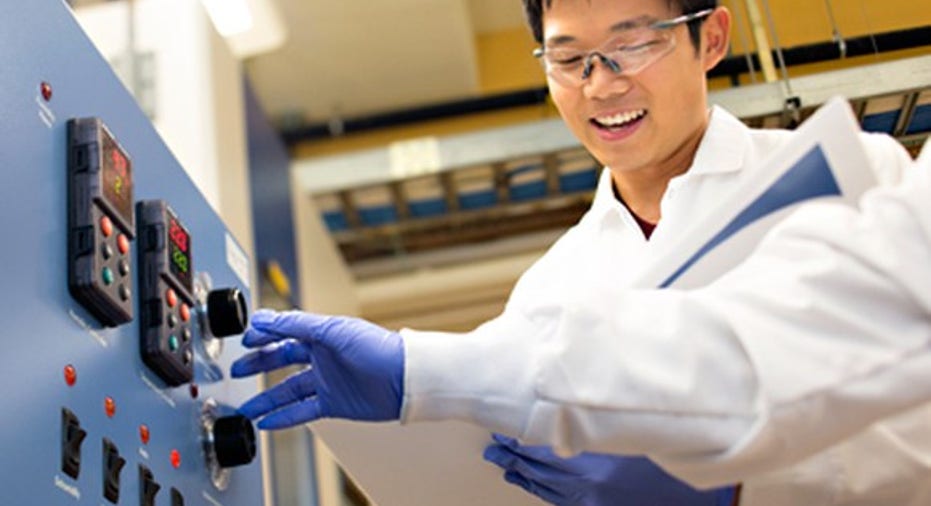 After reporting its first-quarter financials, investors might be wondering if Juno Therapeutics shares should be bought or sold. Here are eight key numbers, plus a bonus, that offer additional insight into whether this company is worth owning in portfolios.
$61 million. That's the amount of cash Juno Therapeutics burned through during the first quarter. The company's research into next-generation chimeric antigen receptor T-cell (CAR-T) therapies is exciting, but it's also very expensive. The company's cash burn was just $26.4 million in the same quarter of 2015.
Image source: Juno Therapeutics.
$80.1 million. The company spent this much money on its efforts to determine if supercharging a patient's immune system to find and destroy cancer will be effective. The majority of its R&D spending went to programs that are evaluating the potential for removing and reengineering T-cells in leukemia and lymphoma patients so that their immune systems can locate, bind to, and eradicate cancer cells expressing specific antigens, such as CD19 and CD22.
10. This is how many trials are currently under way to evaluate Juno Therapeutics' various CAR-T therapies. Studies are occurring in various cancer indications, but the most advanced study is of JCAR015 in acute lymphoblastic leukemia, or ALL. According to management, enrollment in a pivotal study that could allow for a FDA filing for approval and commercialization of JCAR015 as soon as 2017 is progressing as expected.
$50 million. In April, Celgene Corp paid this sum to Juno Therapeutics to exercise its option to develop and commercialize Juno Therapeutics' CD19 targeting CAR-T therapies outside of the United States.
$47 million.Celgene already owns nearly 10% of Juno Therapeutics, and it has the opportunity to top up its existing equity stake in every year. This year, it decided to take advantage of that opportunity, and as a result, it handed Juno Therapeutics this much money last quarter in exchange for 1,137,593 shares.
$1.13 billion.Despite its cash burn, this is how much cash Juno Therapeutics still has on its books exiting March. Yes, the figure is down from the $1.22 billion reported at the end of 2015, however, it doesn't include Celgene's $50 million opt-in payment, which occurred early in the second quarter.
$71.1 million. After all the gives and takes, this is the loss Juno Therapeutics incurred during the first quarter on a GAAP accounting basis. On a non-GAAP basis, the loss was $77.5 million, or $0.78 per share.
$220 million. Juno Therapeutics management affirmed that this is the amount of cash it expects it will go through in 2016. Cash burn could be as high as $250 million, though.
BONUS: 3. This is the number of CD19 negative pediatric patients diagnosed with ALL who were treated with JCAR018, a CD22 targeting CAR-T approach. Although JCAR018 is only in phase 1, all three of these patients are in complete remission three to six months after treatment.
Tying it togetherJuno Therapeutics hopes its CAR-T approach can significantly improve outcomes for patients with relapsing leukemia, and if it can do that in mid-stage trials, then it thinks it has a good shot at winning accelerated FDA approval without having to conduct a large, costly, late-stage study first. If such an approval in the U.S. were to lead to approvals overseas, then the company's collaboration with Celgene could pay off handsomely. After all, Celgene is among the best in biotech at commercializing cancer-fighting drugs worldwide.
That potential is exciting, but investors may want to temper a little of their enthusiasm. Cancer research is notoriously hit and miss, and reported results so far have been from small studies involving a limited patient population. Additionally, there have been incidences of life-threatening cytokine responses observed in CAR-T patients, and that could pose some questions regarding safety down the road.
Nevertheless, Juno Therapeutics' deep pockets and the potential for commercialization next year make this one of the most intriguing clinical-stage drugmakers on the planet -- and one worth tracking closely.
The article 8 Figures That Sum Up Juno Therapeutics' First Quarter originally appeared on Fool.com.
Todd Campbell owns shares of Celgene.Todd owns E.B. Capital Markets, LLC. E.B. Capital's clients may have positions in the companies mentioned. Like this article? Follow him onTwitter where he goes by the handle@ebcapitalto see more articles like this.The Motley Fool owns shares of and recommends Celgene. The Motley Fool recommends Juno Therapeutics. Try any of our Foolish newsletter services free for 30 days. We Fools may not all hold the same opinions, but we all believe that considering a diverse range of insights makes us better investors. The Motley Fool has a disclosure policy.
Copyright 1995 - 2016 The Motley Fool, LLC. All rights reserved. The Motley Fool has a disclosure policy.