70 or Older? Here's 1 Dividend Stock You Should Consider Buying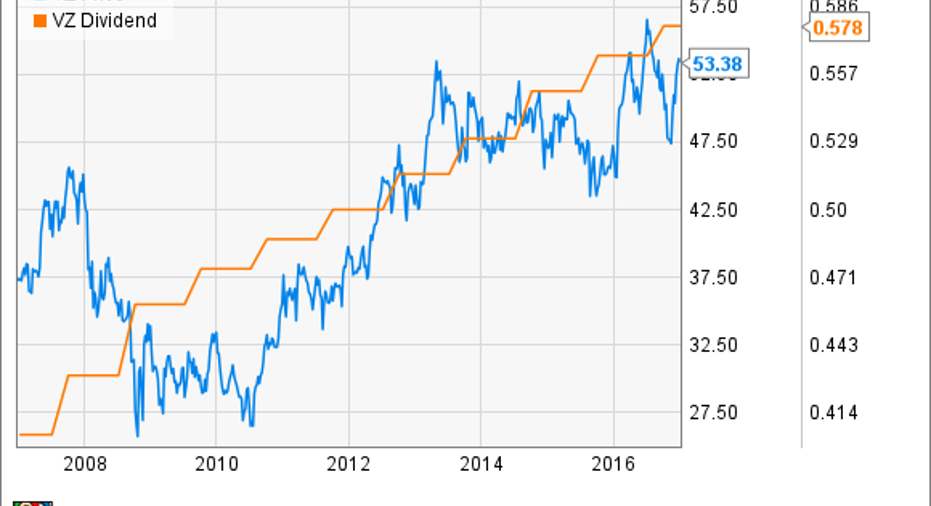 Image source: Getty Images.
If you're in your 70s, you'll likely appreciate a solid investment that can supply you with a steadily rising stream of income. One that can help support you in retirement, provide the cash to pay for the activities you enjoy, and that you can count on year after year. Fortunately, there are some stocks that fit the bill. Read on to learn about one of the best available in the market today.
Image source: Verizon Communications.
The telecom titan
Given the low-risk nature of its business and its stock's current 4.2% dividend yield, Verizon Communications (NYSE: VZ) offers investors two important benefits: capital preservation and income generation.
The telecom giant's subscription-based, utility-like business generates strong and stable cash flow that helps to insulate its stock from wild price swings. This lower volatility makes it less likely an investor will suffer a large loss should an unexpected need to sell shares arise in the near-term.
Moreover, Verizon's cash flows remain well insulated from the competition. Verizon's network consistently ranks as the best in the industry, even as rivals such as T-Mobile US (NASDAQ: TMUS) and Sprint (NYSE: S) claim that they're chipping away at its lead. That's helped Verizon continue to add postpaid wireless subscribers -- who are generally the most profitable and sought-after customers -- despite heavy promotions from T-Mobile, Sprint, and other competitors.
Looking ahead, Verizon offers investors a safe-yet-attractive play on increasing internet connectivity and rising data usage. The company is well positioned to lead the transition to 5G networks, which could provide it with exciting new opportunities in the home broadband market. Additionally, Verizon has been steadily acquiring assets to strengthen its Internet of Things technology. The company is making clear progress in the segment, with revenue growth from IoT services rising 24%, to $217 million, in the third quarter. And although the business is currently small (by Verizon's standards), the massive potential of the Internet of Things could help this segment develop into a significant source of Verizon's revenue and profits in the years ahead.
Together, these growth opportunities ought to help Verizon improve its already impressive cash flow generation, which should, in turn, allow the telecom titan to continue to do what it's done consistently over the past decade: reward its shareholders with steadily rising stream of dividend income.
As such, 70-year-old investors may wish to consider adding some Verizon shares to their diversified portfolios, as a means to meet their income-generation needs.
10 stocks we like better than Verizon Communications When investing geniuses David and Tom Gardner have a stock tip, it can pay to listen. After all, the newsletter they have run for over a decade, Motley Fool Stock Advisor, has tripled the market.*
David and Tom just revealed what they believe are the 10 best stocks for investors to buy right now... and Verizon Communications wasn't one of them! That's right -- they think these 10 stocks are even better buys.
Click here to learn about these picks!
*Stock Advisor returns as of Nov. 7, 2016
Joe Tenebruso has no position in any stocks mentioned. The Motley Fool recommends T-Mobile US and Verizon Communications. The Motley Fool has a disclosure policy.