7 Things on Investors' Minds Heading Into Pfizer's Q1 Report Tomorrow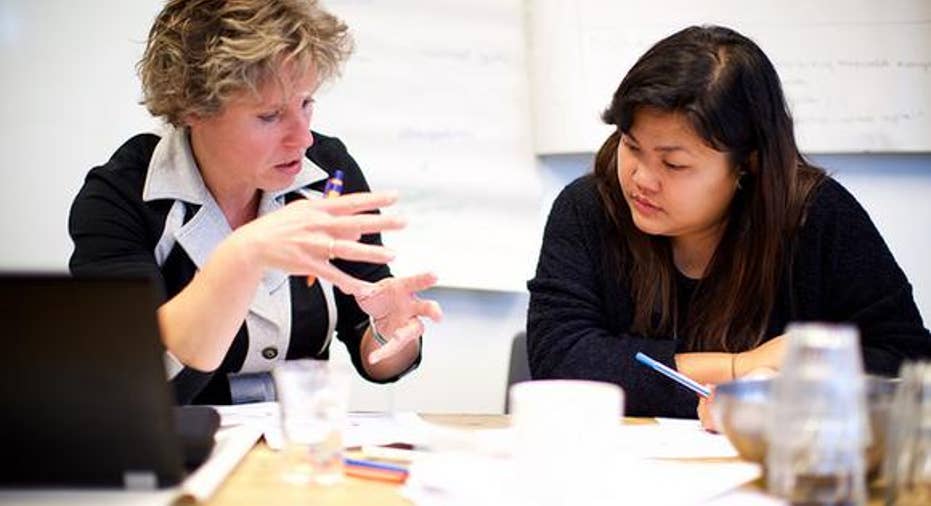 Image source: Pfizer.
Earnings season is in full swing with a number of Big Pharma giants, like Johnson & Johnsonand GlaxoSmithKline, already opening their books to Wall Street and investors in the first quarter. Tomorrow,Pfizer reports its first-quarter operating results before the opening bell.
For what it's worth, Wall Street expects Pfizer to report $12 billion in revenue, a nearly 11% increase from the prior-year period, with earnings per share of $0.55, a modest improvement from the $0.51 in EPS it recorded in Q1 2015. Although past performance is no guarantee of future results, Pfizer has surpassed Wall Street's EPS estimates in each of the past 12 quarters -- and I'd say the company has a good chance of again leapfrogging the consensus.
Seven things on investors' minds heading into Pfizer's Q1 report But there's more on the minds of Wall Street and shareholders than whether Pfizer can meet or beat sales and EPS expectations. Here are seven details that I'd say are far more intriguing heading into tomorrow's quarterly results:
Image source: Pixabay.
1. Adverse currency effectsIn 2015, Pfizer reported a whopping $3.8 billion (minus 8%) unfavorable impact from currency translation. This huge adverse effect came about because the U.S. dollar had been precipitously increasing in value versus a number of foreign currencies, including the euro. Multinational businesses that operate overseas have witnessed quite a bit of sales and profits disappear when changing their foreign earnings back into U.S. dollars. However, the dollar has been easing recently, likely leaving some investors to wonder if Pfizer's currency translation prospects have improved.
As a quick side note, adverse currency translation doesn't affect Pfizer's underlying (i.e., operating) business model, but it would sure make its results look at lot nicer if it wasn't losing billions annually to currency effects.
2. GuidanceIn addition to consistently topping Wall Street's earnings expectations, shareholders are going to be curious to see if Pfizer narrows or ups its full-year guidance provided in early February. Prior forecasts had called for $49 billion to $51 billion in revenue, full-year adjusted EPS of $2.20 to $2.30, and adjusted cost of sales of 21% to 22%. Practically everyone knows how critical cost-cutting has been for Pfizer over the past few years, so it'll be interesting to see if Pfizer's initial 2016 guidance offered in February was conservative.
Image source: Pfizer.
3. Ibrance's dominanceIn terms of newly launched products, advanced breast cancer drug Ibrance was an absolute beast in 2015. Pfizer is working on additional clinical studies to expand its use within breast cancer as well as other solid tumors in future years. But what investors will be interested in is just how quickly Ibrance expanded in Q1.
After reporting $723 million in full-year 2015 revenue and $315 million in Q4 2015 sales, I'd personally be looking for a figure approaching the $350 million to $375 million range in Q1 2016. If Ibrance growth surpasses 20% from the sequential fourth quarter, Pfizer's stock may see a nice bump higher (as could its full-year sales and EPS estimates). Also, pay attention to any commentary suggestive of Ibrance's overall market share.
4. Prevnar's European growth Next up, Wall Street and investors are going to be curious to see how well Pfizer's Prevnar vaccines performed.
For those who may not recall, Prevnar 13 is now the best-selling vaccine in the world, logging $6.25 billion in sales in 2015. Sales of the vaccine took off after the Centers for Disease Control and Prevention made it a recommended pneumococcal vaccine for adults aged 65 and up in late 2014. Although Pfizer has suggested that it's hit the low-hanging fruit in the U.S. (i.e., the 30% of adults aged 65 and over who have been regularly getting a pneumococcal vaccine), management has also alluded that a major opportunity to grow sales lies in Europe. I'd suggest paying attention to how well Prevnar sales held up in the U.S., but take very close note of its growth in the EU.
5. Did mature drug sales stabilize?One of the key drivers for Pfizer going forward is whether its global established products, or GEP, business sees a stabilization in revenue. Pfizer's GEP is made up of mature products like Lipitor that have come off patent or branded therapies that will soon be exposed to generic competition.
Although sales totals for Pfizer's GEP have been shrinking, the upside is this segment requires little to no marketing costs since these are well-known products. Additionally, in many instances, Pfizer has the opportunity to grow GEP sales in overseas markets where exclusivity may still be valid. Toward the end of 2015, Pfizer's GEP, with the help of Hospira's legacy injectables, began to show signs of stabilization and improvement. The question in Q1 will be whether this stability in its GEP continued.
Image source: Flickr user Sebastiaan ter Burg.
6. What now in M&A?The 800-pound gorilla in the room during Pfizer's Q1 report is likely to be "now what?" after the U.S. Treasury released new tax inversion laws that effectively killed the pending merger between Pfizer and Allergan. The $160 billion deal (when announced) would have allowed Pfizer to redomicile its headquarters to Ireland, where Allergan is based. Ireland's corporate income tax rate is substantially lower than that of the U.S., which could have led to well over $1 billion in annual tax savings. Having paid a $150 million breakup fee to Allergan following the merger termination, shareholders have to be wondering what's next.
I'd opine that Pfizer is more than likely still eager to make a deal happen, even without Allergan in the picture. Pfizer's always sought out needle-moving transactions, so a large- or megacap drug developer could be on its radar. Perhaps its quarterly report and conference call will shed some light on Pfizer's M&A plans.
7. How will Pfizer grow shareholder value?Lastly, Pfizer has made it clear on numerous occasions that boosting shareholder value is a key priority (as it should be for any publicly traded company). What Wall Street and investors want to know is, besides Prevnar, Ibrance, and a handful of other fast-growing products, how will Pfizer improve shareholder value?
Shareholder buybacks and a beefier dividend have always been in the cards for Pfizer. Between the beginning of fiscal 2011 and through the end of 2015, Pfizer returned nearly $78 billion to investors via buybacks and dividends. That's certainly no small sum, and it could be a big reason why Pfizer's share price held up so well while it trudged through the patent cliff.
Also of interest is whether a split of its GEP is still on the table. Pfizer has repeatedly said that it wasn't going to make a decision on whether to spin off its GEP until 2018, but I'd wonder if the Allergan deal termination may have changed its tune. I believe value could be unlocked through a spin-off, but whether that's in the cards remains to be seen.
Circle those calendars, folks, because we're less than 24 hours away from Pfizer's Q1 report.
The article 7 Things on Investors' Minds Heading Into Pfizer's Q1 Report Tomorrow originally appeared on Fool.com.
Sean Williamshas no material interest in any companies mentioned in this article. You can follow him on CAPS under the screen nameTMFUltraLong, track every pick he makes under the screen name TrackUltraLong, and check him out on Twitter, where he goes by the handle@TMFUltraLong.The Motley Fool owns shares of and recommends Johnson & Johnson. Try any of our Foolish newsletter services free for 30 days. We Fools may not all hold the same opinions, but we all believe that considering a diverse range of insights makes us better investors. The Motley Fool has a disclosure policy.
Copyright 1995 - 2016 The Motley Fool, LLC. All rights reserved. The Motley Fool has a disclosure policy.