7 Reasons AbbVie's Stock Could Soar in 2017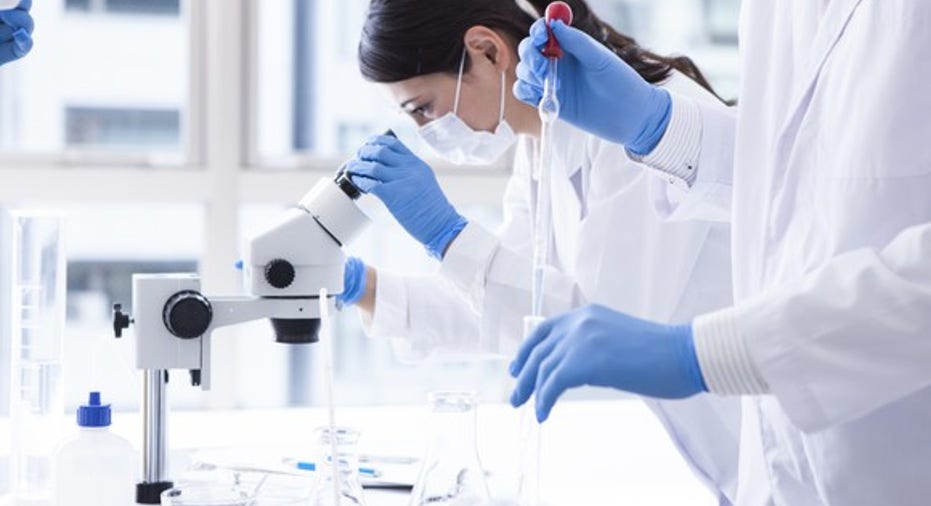 AbbVie (NYSE: ABBV) CEO Richard Gonzalez had a good story to tell at the J. P. Morgan Healthcare Conference on Wednesday. His company reeled off solid revenue and earnings growth in 2016 and rewarded shareholders with one of the highest dividends around.
That's the past, though. What about 2017? Here are seven reasons Gonzalez highlighted that could propel AbbVie's stock higher this year.
Image source: Getty Images.
1. Imbruvica
There are several potential catalysts for AbbVie and partner Johnson & Johnson (NYSE: JNJ) this year with Imbruvica. The two companies hope to receive U.S. regulatory approval for an additional indication for the drug as a second-line treatment ofmarginal zone lymphoma (MZL). AbbVie and J&J also plan to submit for U.S. approval of Imbruvica as a second-line treatment of chronic graft-versus-host disease (GVHD).
In addition, Gonzalez noted that data is expected to be announced this year from a late-stage study of Imbruvica as a potential first-line treatment of mantle cell lymphoma (MCL). Interim data from other clinical studies evaluating the drug in treating other non-Hodgkin's lymphomas could also be reported in 2017.
2. Venclexta
Venclexta has already won approval as a second-line treatment for chronic lymphocytic leukemia (CLL), for people who have a chromosomal abnormality called 17p deletion. However, Gonzalez acknowledged that this is a pretty limited indication.
AbbVie should announce results from a late-stage study of Venclexta as a first-line treatment of relapsed/refractory CLL. If these results look good, the company could submit for regulatory approval in 2017.
3. Next-gen HCV
In a question-and-answer session following his presentation at the J. P. Morgan conference, Gonzalez admitted that the launch of AbbVie's first-generation hepatitis C virus (HCV) drug Viekira was somewhat disappointing. He hopes for better performance from the company's next-generation HCV combo in 2017.
AbbVie reported positive results in 2016 from a late-stage study ofitspan-genotypic HCV regimen of glecaprevir/pibrentasvir. The companysubmitted for U.S. approval in December. Assuming the next-generation combo gets a green light from the FDA, AbbVie will launch the product later this year.
4. Elagolix
Elagolix holds the potential to open the door for AbbVie to an entirely new market. AbbVie reported good results from a couple of late-stage studies of the drug in treatingendometriosis in October 2016.
Gonzalez said that the company expects to file for regulatory approval of Elagolix this year. AbbVie thinks it will be able to launch the drug commercially in 2018.
5. Rova-T
AbbVie picked up Rova-T with its acquisition of Stemcentrx in 2016. Gonzalez touted the potential for the drug to reach peak annual sales of up to $5 billion. This year should shed some light on whether or not that goal is really attainable.
Final data for the primary outcome measure from a phase 2 study of Rova-T as a third-line treatment of small cell lung cancer is expected in the first half of 2017. Gonzalez indicated that AbbVie expects to file for approval this year based on the results of this study. The company also plans to start a late-stage study of Rova-T as a first-line maintenance therapy for small cell lung cancer.
6. Risankizumab
Gonzalez thinks that Humira could be getting some help in the autoimmune disease market in the not-too-distant future. Several clinical studies are in progress for pipeline candidaterisankizumab.
Results from a late-stage clinical study of risankizumab in treating psoriasis will be announced this year. AbbVie also expects to announce results from a mid-stage study evaluating the humanized monoclonal antibody in treating psoriatic arthritis. If all goes well, the company could launch risankizumab for its first indication in 2019.
7. ABT-494
Another promising autoimmune disease treatment in AbbVie's pipeline is ABT-494. Gonzalez thinks the JAK1 selective inhibitor could launch in 2019 as a treatment of rheumatoid arthritis.
However, the story for ABT-494 in 2017 will be about other potential indications. AbbVie should announce results this year from a couple of mid-stage studies evaluating ABT-494 in treating Crohn's disease and atopic dermatitis.
Plus more
Rich Gonzalez said that these seven products plus already approved multiple sclerosis drug Zinbryta could combine to deliver AbbVie peak annual revenue of more than $25 billion. That doesn't count that other little drug the company markets -- Humira. Gonzalez estimated that, by 2020, Humira could generate sales of over $18 billion.
However, Gonzalez also noted that "not everything has gone as planned" in the past. It probably won't in the future, either. I suspect AbbVie might have a tougher challenge meeting its projections for Rova-T than the company anticipates.
On the other hand, AbbVie could get a helping hand from Uncle Sam. Gonzalez said that he's "never been more hopeful" than he is now about the prospects for meaningful corporate tax reform, particularly on the issue of repatriating money parked overseas.
AbbVie projects that it will continue to deliver average annual earnings growth in the double-digit percentages. That sounds very attainable. I expect the stock will again be a winner in 2017.
10 stocks we like better than AbbVie When investing geniuses David and Tom Gardner have a stock tip, it can pay to listen. After all, the newsletter they have run for over a decade, Motley Fool Stock Advisor, has tripled the market.*
David and Tom just revealed what they believe are the 10 best stocks for investors to buy right now... and AbbVie wasn't one of them! That's right -- they think these 10 stocks are even better buys.
Click here to learn about these picks!
*Stock Advisor returns as of January 4, 2017
Keith Speights has no position in any stocks mentioned. The Motley Fool recommends Johnson and Johnson. The Motley Fool has a disclosure policy.