7.0 Magnitude Earthquake Shakes Peru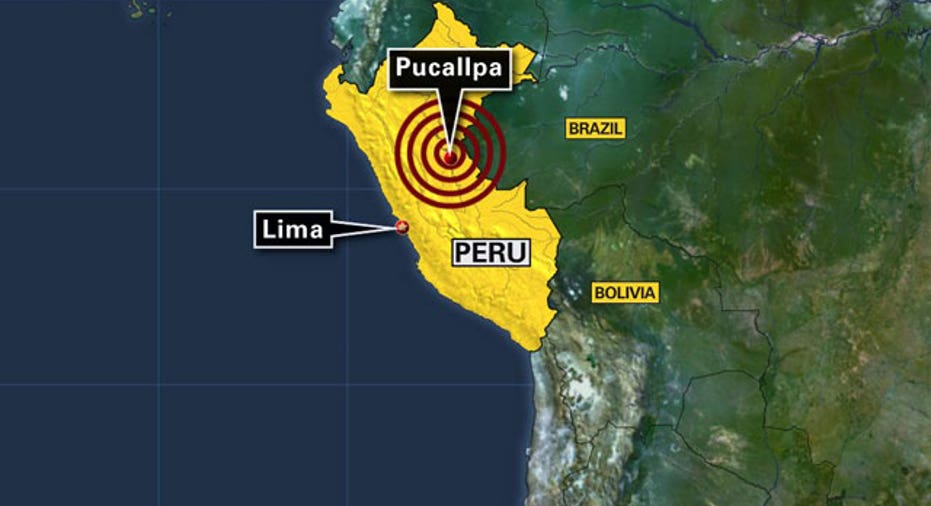 A strong earthquake struck a remote Amazon region of Peru Wednesday, shaking buildings far away in the capital and in neighboring Brazil, although no injuries or damage were reported.
The 7.0-magnitude quake's epicenter was near the town of Pucallpa, which lies some 600 km from Lima in a sparsely populated central-eastern region close to the Brazilian border, the U.S. Geological Survey (USGS) said.
``There have been no damages reported, either to structures or to people,'' said Javier Urrelo, head of the government's civil defense agency in the Ucayali region, where Pucallpa is located.
Energy companies in the area, which produces some oil and natural gas, said their facilities were operating normally.
It was the most powerful earthquake to hit the Andean country since a 7.9-magnitude temblor killed more than 500 people and destroyed thousands of houses in 2007.
One seismologist said the depth of Wednesday's quake -- 145 km (90 miles) -- meant damage was unlikely.
Across the nearby border in the Brazilian city of Cruzeiro do Sul, journalist Nelson Liano was in a supermarket at the time of the quake and said some goods fell off the shelves. ``It was that sensation when you're on a boat and it rocks,'' he told Reuters.
In Peru's coastal capital of Lima, office buildings shook and mobile phone services were interrupted.
Local radio bulletins said the quake caused alarm across central Peru, sending panicked students and workers rushing out of classrooms and offices.
Earthquake-prone Peru is a leading metals exporter, but the region hit on Wednesday is not a mining area.
Leading Peruvian miner Southern Copper, which is controlled by Grupo Mexico, said its operations in southern parts of the country were not affected.
Energy companies are more active in the region where the quake hit. Pucallpa is the terminus for an oil pipeline from the Ganso Azul fields, but operators said it was transporting fuel normally.
A source at Maple Energy Public Ltd Co said its oil refinery in the town was also functioning properly, and U.S.-based Duke Energy said its nearby gas plant was operating normally.
Spain's Repsol and Brazil's Petrobras also operate in the area. Officials from the two firms were not immediately reachable for comment. (Additional reporting by Bruno Marfinati, Raymond Colitt and Alexandre Caverni in Brazil; Writing by Helen Popper; Editing by Paul Simao and Kieran Murray)