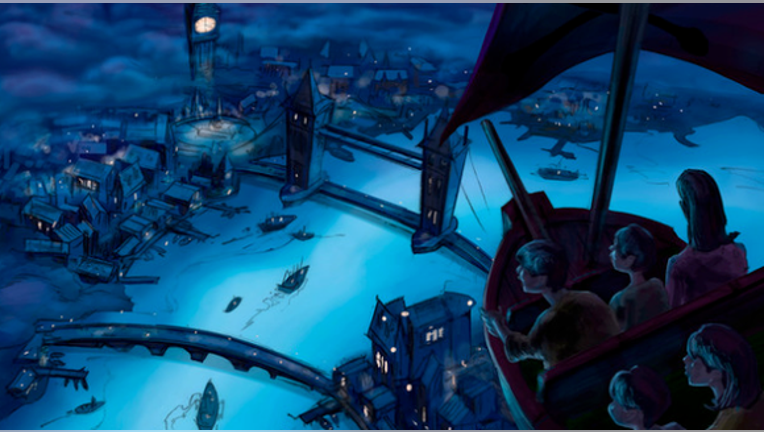 When Walt Disney (NYSE: DIS) reported fourth-quarter results last week, the stock went for a bit of a roller coaster ride in after-hours trading. Worse-than-expected results from the company's media networks business initially sparked a sell-off, but shares rose nearly 3% after management expressed bullishness for the segment.
As investors digest the earnings report, here's a close look at some of the most insightful takeaways from the quarter.
Image source: Walt Disney.
Disney is growing where it counts: Importantly, Disney's earnings per share was up 16% year over year. The $5.73 per share the company earned was a record for the company. This solid EPS growth, paired with the inherent sustainability of Disney's business, continuesto make the stock's price-to-earnings ratio of 17 look conservative.
Share repurchases are driving EPS higher: Disney's ongoing share repurchase program played a significant role in the company's EPS growth in Q4. This is evident in the gaping difference between Disney's 17% year-over-year EPS growth and its 10% net income growth during the same period. By reducing shares outstanding between the fourth fiscal quarter of last year and Disney's fourth quarter this year, EPS benefited.
ESPN had another tough quarter: Disney's media networks segment, which is driven primarily by ESPN, saw revenue decrease 3% year over year and operating income decline 8%.
Disney said ESPN's decrease in operating income was driven by "lower advertising and affiliate revenue and higher programming and production costs" as impressions, rates, and subscribers declined.
ESPN accounts for the bulk of Disney's media networks' operating profits. Image source: ESPN.
These results from Disney's media networks segment didn't help ease investor concerns about ESPN's ability to maintain pricing power and subscriptions in an evolving media landscape. Some investors worry cord-cutting trends will eventually eat into ESPN's ability to garner industry-leading affiliate fees per subscriber.
Management isn't worried about ESPN: Despite clear headwinds in Disney's media networks business, Disney CEO Bob Iger said during the company's earnings call that the company is taking "a more bullish position on the future of ESPN's [subscriber] base."
Iger went on to explain he believed that, "to some extent," causes for declining subscribers "have abated." The launch of new digital services for ESPN, such as new over-the-top pay TV providers like DirecTV NOW, "are going to offer ESPN opportunities that they haven't had before to reach more people," Iger explained.
Expect "modest" earnings growth next year: As Disney goes into 2017, management notably forecasted "modest EPS growth" even as the company's studio entertainment segment faces off against some very tough comparisons. Management noted its parks and resorts segment, in particular, is "positioned for continued growth in 2017 due in part to the opening of Avatar Land at Walt Disney World and a full year of results from Shanghai Disney Resort."
Rendering of Peter Pan's Flight at Disney's Shanghai resort. Image source: Walt Disney.
Management anticipates "more robust" earnings after 2017: Looking out to "fiscal 2018 and beyond," management said it expects a 2018-slate of four new Marvel movies, three new animated films, and two new Star Wars releases will give EPS a further boost.
Overall, Disney's fourth quarter results continued to highlight a company in transition. ESPN challenges persisted, but management remains confident in the long-term outlook for the underlying business.
While investors should continue to keep an eye on ESPN in the coming quarters, there's no reason to be concerned yet. A conservative stock price, Disney's existing content, and the company's ability to consistently generate studio and cable content, more than make up for worries that could easily prove to be shortsighted anyway.
Forget the 2016 Election and find out why Walt Disney is one of the 10 best stocks to buy nowDonald Trump is the new president, and you're naturally wondering how best to protect your portfolio and profit in the process. Well, Motley Fool co-founders Tom and David Gardner have spent more than a decade beating the market. (In fact, the newsletter they run, Motley Fool Stock Advisor, has nearly tripled the market!*)
With their record of winning in up and down markets, David and Tom know how to invest profitably no matter who occupies the White House.
Tom and David just revealed their ten top stock picks for investors to buy right now. Walt Disney is on the list-but there are nine others you may be overlooking.
Click here to get access to the full list!
*Stock Advisor returns as of November 7, 2016
Daniel Sparks owns shares of Walt Disney. The Motley Fool owns shares of and recommends Walt Disney. Try any of our Foolish newsletter services free for 30 days. We Fools may not all hold the same opinions, but we all believe that considering a diverse range of insights makes us better investors. The Motley Fool has a disclosure policy.