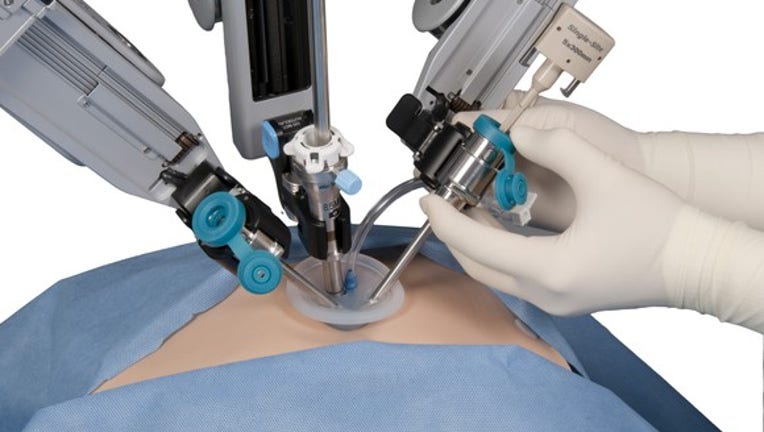 Robotic surgery pioneer Intuitive Surgical, Inc. (NASDAQ: ISRG)reported earnings last week, and -- as is typically the case with earnings reports -- all eyes were on revenue, profit, and whether or not the company beat analysts' estimates. While analyzing these metrics is an important part of determining the success or failure of a given quarter, a review of management commentary in the earnings release and conference call can provide investors with much-needed perspective and provide insight regarding what to expect from the future. In these forums, Intuitive Surgical's management gave its take concerning share repurchases, technological advances, and increased spending estimates for the coming year.
Intuitive Surgical's da Vinci SI Dual Console HD System. Image source: Intuitive Surgical, Inc.
Significant share repurchase
In December 2016, Intuitive Surgical announced that it had increased its stock repurchase plan to $3 billion. In the earnings press release, it revealed that it is exercising the bulk of that authorization:
The company ended the quarter with $4.8 billion in cash and no debt on its balance sheet,so while it possesses the means to execute on this promise, this is a significant reduction in its war chest. Buybacks can be a great way to allocate capital, as they reduce the amount of outstanding shares, which increases the value of those that remain. All too often, however, repurchases near all-time highs can backfire if share prices fall. How this will play out remains to be seen.
Why the buyback?
On the conference call, CEO Gary Guthart had this to say:
There is more than one way to return excess capital to shareholders. Some would argue that a dividend might be a better option, but that often marks a more permanent obligation than what the company's board and management deemprudent. The share buyback, on the other hand, carries with it no expectations for indefinite continuation, which gives management more flexibility regarding future investments of capital. Personally, I believe that the company's management is in the best position to decide how to allocate capital, so I support the decision.
Intuitive Surgical's da Vinci SP single site docking. Image source: Intuitive Surgical, Inc.
Technological advances
Intuitive Surgical has a newer version of its surgical robot, the da Vinci SP (the SP for single-port), in trials to be approved for additional procedures and eventually for release. Guthart explained the path forward for the system:
The system is designed for getting into tight spaces and expanding the areas that surgeons can access with robotics.Transoral surgeryinvolves removal of cancer from difficult to reach areas of the mouth and throat, and urologic applications concern areas such as the urinary tract and male reproductive organs. This marks the next evolution in the surgical robot space -- a necessary step, as competition in the space will eventually materialize.
Potential new technology
In September of 2016, the company revealed a joint venture with Fosun Pharma (its China partner) to produce devices to diagnose and provide low-cost treatment for lung cancer.Guthart provided an update on the developing technology:
It's a brilliant move: This platform will be separate and distinct from any existing da Vinci platform, opening an entirely new addressable market.
Increased R&D spending
Intuitive believes that the potential market created by the aforementioned technologies is considerable, and it announced it is accelerating the process of getting to market by increasing its R&D budget significantly for 2017:
Considering its annual R&D expenditures for 2015 and 2016 were $197 million and $239 million, respectively, adding an additional $80 million amounts to a budget increase of between 33% and 40%. This marks a significant departure from historical spending patterns and might raise the question...
Why so much?
Regarding the significant increase in spending in 2017, Guthart further explained:
This appears to be an indication that the release of the Sp platform will likely occur later in 2017 or 2018. These appear to be reasonable and necessary expenditures when taken in the light of a pending new product release.
Foolish final thoughts
Financial metrics taken in a vacuum may not provide the information necessary to make an informed investment decision. Each of these quotes, when taken in conjunction with the earnings release, provides investors with much-needed clarity and a better understanding of management's mindset and strategic thinking for navigating the future.
Having been an investor in Intuitive Surgical company for many years, the additional clarity afforded by this information confirms my thesis and belief that Intuitive Surgical will remain the leader in the surgical robotics industry, even with the potential for future competition.
10 stocks we like better than Intuitive Surgical When investing geniuses David and Tom Gardner have a stock tip, it can pay to listen. After all, the newsletter they have run for over a decade, Motley Fool Stock Advisor, has tripled the market.*
David and Tom just revealed what they believe are the 10 best stocks for investors to buy right now... and Intuitive Surgical wasn't one of them! That's right -- they think these 10 stocks are even better buys.
Click here to learn about these picks!
*Stock Advisor returns as of January 4, 2017
Danny Vena owns shares of Intuitive Surgical. The Motley Fool owns shares of and recommends Intuitive Surgical. The Motley Fool has a disclosure policy.