6 Must-Read Quotes from Microsoft's Earnings Call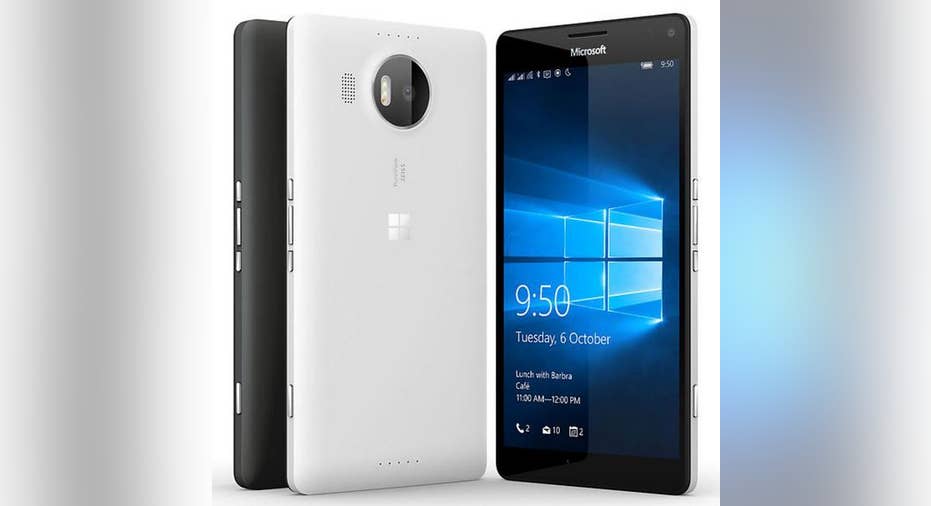 Falling demand for Microsoft's Lumia phones weighed on its revenue outlook. Source: Microsoft
Microsoft shares fell more than 7% last month, following the release of the company'sfiscal third-quarter earnings report. The maker of Windows and Office posted revenue that was roughly in line with analyst estimates, but its earnings and outlook fell short.
In the company's subsequent earnings call, CEO Satya Nadella and CFO Amy Hood touched on several key factors driving Microsoft's business. What follows is six of the most important quotes from that earnings call (via Thomson Reuters).
There are more than 70 million workers using Office 365 on a monthly basis, and 22 million consumers subscribingMicrosoft's commercial cloud services have emerged as a key drive for the company's business. Office 365, the cloud-based alternative to Microsoft's traditional Office software suite, has been growing particularly rapidly in recent quarters. In Microsoft's fiscal first quarter (which ended last September), management noted that there were 60 million workers using Office 365 on a monthly basis. Last quarter, Microsoft said there were 20.6 million consumers subscribed to Office 365. During the earnings call, Nadella provided an update.
Cybersecurity is benefiting the Office businessMicrosoft offers Office 365 at several different price points. Last year, Microsoft introduced E5, a premium version of Office 365 that included unique security features. During the call, Nadella touched on how the company's interest in cyber security is benefiting its Office business.
Enterprise customers are interested in Windows 10Microsoft's latest operating system, Windows 10, is currently powering more than 270 million machines. But Microsoft's ambitions are far more broad: the company hopes to hit 1 billion Windows 10 users. To get there, Microsoft will have to convince enterprise customers to make the switch. During the call, Nadella quantified enterprise interest in the operating system.
On that disappointing guidanceMicrosoft's revenue guidance came in a little weaker than some analysts had anticipated. Management was asked to provide more color about the factors that have accounted for that disappointment. Hood cited weak sales of Microsoft's traditional software products (including Office), poor Lumia sales, and some weakness in particular geographies.
Opening Office up to developersOffice is ubiquitous, but Microsoft believes it can strengthen it even further by allowing developers to take advantage of the data it often contains. Early in the call, Nadella cited the example of Starbucks giving a customer the ability to send the gift of a cup of coffee over email. Later, he added additional color on how the company views the larger opportunity Office development presents.
Taking on Amazon Web ServicesIn addition to Office 365, Microsoft offers several other major enterprise cloud services. One of the most important is Azure, Microsoft's cloud computing solution. Azure faces several different competitors, but the most fearsome may be Amazon Web Services (AWS). AWS has enjoyed impressive growth in recent years, and generated nearly $9 billion in sales over the past 12 months. Meanwhile, it's profitable: it posted adjusted operating income of $604 million last quarter.
During the call, Microsoft was asked about AWS and how it compares to Azure. Nadella offered up what he believes are Azure's key advantages over Amazon's offering: A better solution for firms that want a hybrid solution that blends their own servers with Microsoft's cloud.
The article 6 Must-Read Quotes from Microsoft's Earnings Call originally appeared on Fool.com.
Sam Mattera has no position in any stocks mentioned. The Motley Fool owns shares of and recommends Amazon.com and Starbucks. The Motley Fool owns shares of Microsoft. Try any of our Foolish newsletter services free for 30 days. We Fools may not all hold the same opinions, but we all believe that considering a diverse range of insights makes us better investors. The Motley Fool has a disclosure policy.
Copyright 1995 - 2016 The Motley Fool, LLC. All rights reserved. The Motley Fool has a disclosure policy.