5 Ways Disney World Is Milking More Money Out of Its Visitors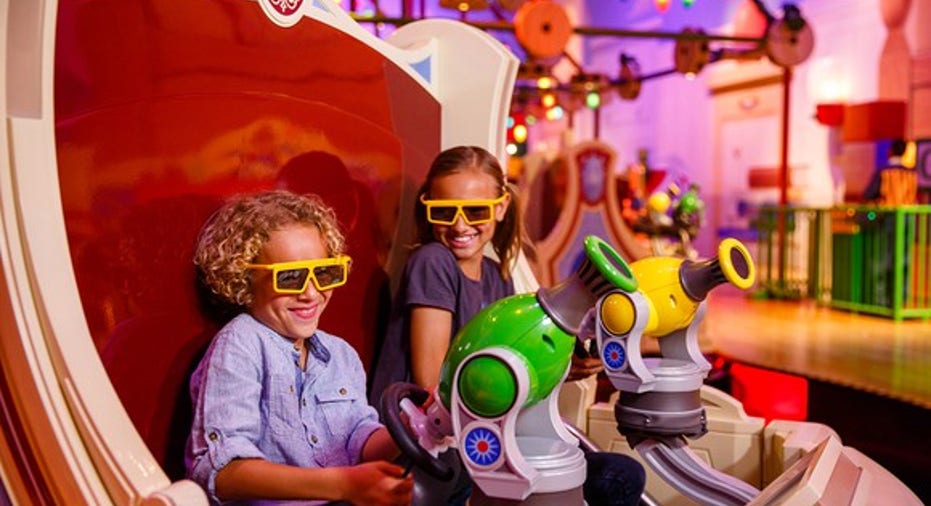 Image source: Disney.
Attendance has been sluggish atDisney's(NYSE: DIS)largest theme park resort this year, but Disney World is finding ways to boost its top line by generating more revenue from its visitors. The resort's latest premium offering -- Express Transportation -- rolled out last week.
The new service allows guests with park-hopper tickets -- premium-priced passes that allow visitors access to multiple theme parks on the same day -- the right to pay for an expedited park-to-park bus service. Disney World already offers complimentary bus, boat, and monorail transportation that takes guests around the massive resort, but they have to exit the park -- only to queue up for security clearance and admission scans at the next park -- to make that happen. Express Transportation picks up guests within the actual theme park and transports them through backstage areas to drop-off and pick-up hubs inside another park.
It's a brilliant deal, and at $15 a day for park-hopper or annual pass holders, it's a decent deal considering the time, walking, and check-in aggravation that's bypassed. Folks with park-hopper tickets can pay $24 for an entire week of access to Express Transportation.
Disney is making it easier to get from park to park for folks willing to pay a reasonable price, and it also stands to benefit from keeping guests on its property. Getting from park to park can be a chore sometimes, and it's often tempting to just head offsite for cheaper dining options. Express Transportation should spur an uptick in the sale of park-hopper tickets as well as keep guests on its property longer.
It's a win-win, and it's not going to be as controversial or head-turning as some of the other offerings Disney World has rolled out this year. With attendance declining through the March and June quarters before bouncing back slighting during the summer, Disney has been ramping up its premium-priced perks to get folks to spend more at the House of Mouse. Some are brilliant -- like the Express Transportation that kicked off last Wednesday -- and others have been outrageous. Let's look at some of the other services that have been introduced in 2016 to encourage visitors to spend more at Disney World.
Cabana rentals
Disney World's Magic Kingdom is the only theme park in the world that attracts more than 20 million guests a year, and last month, it swiped a page out of your local water park or high-end resort by offering up cabanas for visitors.
The Magic Kingdom cabanas aren't cheap, at $649 for the day, but that includes shady respite and cozy private lounge seating for as many as eight guests with complimentary beverages, charging stations, and storage. It's Disney's most extremely priced new perk, but with just a few cabanas available each day in the heart of Tomorrowland, it can afford to be selective.
Pay up for premium parking
Parking at any of Central Florida's leading theme parks isn't cheap, and until March of this year, it was basically $20 to enter one of Disney World's four theme park parking lots. Then Disney began to square away its primo parking spaces, offering them up to folks willing to pay $35 for a shorter walk to the park entrance.
Disney wasn't breaking new ground with this move. It's actually the last of the major area park operators to offer different pricing tiers.
Exclusive park access
Disney has offered guests staying at its resorts access to its gated attractions before and after the parks open to day guests for decades, but it raised the bar earlier this year when it rolled outDisney After Hoursin April. Magic Kingdom guests paying $149 would have access to roughly two dozen rides and character greeting stations for three hours after the official park closing on select nights. Bottled sodas and ice cream novelties were also included in the late-night event.
Disney would go on to offer cheaper morning-access events at the Magic Kingdom and Disney's Hollywood Studios. Those offerings had shorter operating hours of exclusivity, but they did include breakfast. Disney recently announced that it's bringing back Disney After Hours come January, now calling it Disney After Dark at a slightly less insane price of $119 per person.Annual pass holders and Disney Vacation Club members can buy their way in at a discounted rate of $89.
Tiered one-day pricing
Disney shifted toon-demand pricingfor its single-day tickets in February. It split up its operating calendar into three distinct seasons, and now it costs as much as 18% more to visit a Disney World park during seasonally potent periods than it does during the value season lull.
Disney justified the shift as a way to reduce crowding on its busiest days, but we'll see if the park hits capacity later this month, as it did during last year's holiday season. Most visitors aren't on single-day tickets, so let's not assume that if the parks hit capacity later this month, Disney is generating 18% more per visitor. However, the shift will likely nudge infrequent visitors to consider multiday tickets, or even annual passes. There's always a method to the Mouse's madness.
10 stocks we like better than Walt Disney When investing geniuses David and Tom Gardner have a stock tip, it can pay to listen. After all, the newsletter they have run for over a decade, Motley Fool Stock Advisor, has tripled the market.*
David and Tom just revealed what they believe are the 10 best stocks for investors to buy right now...and Walt Disney wasn't one of them! That's right -- they think these 10 stocks are even better buys.
Click here to learn about these picks!
*Stock Advisor returns as of Nov. 7, 2016.
Rick Munarriz owns shares of Walt Disney. The Motley Fool owns shares of and recommends Walt Disney. Try any of our Foolish newsletter services free for 30 days. We Fools may not all hold the same opinions, but we all believe that considering a diverse range of insights makes us better investors. The Motley Fool has a disclosure policy.