5 Top Biotech Stocks to Buy on Sale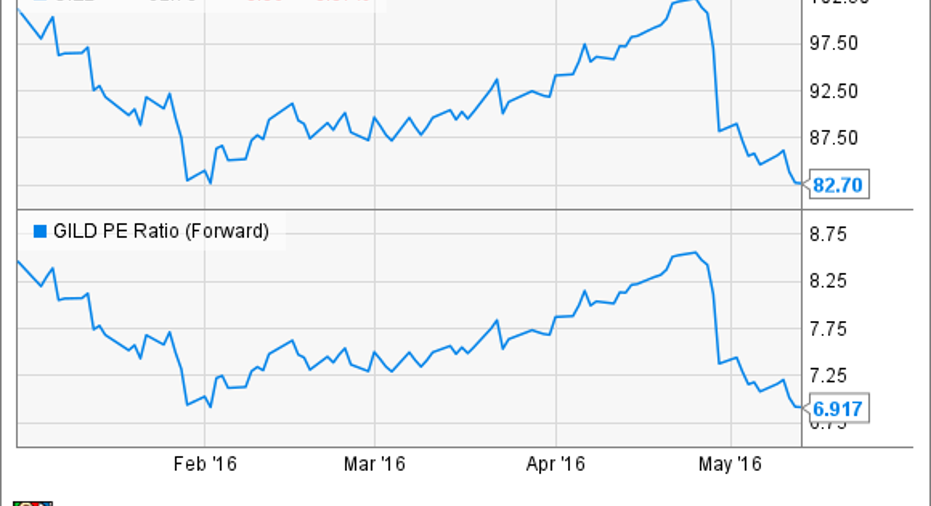 Even though 2016 got off to a rough start, the average stock in the S&P 500 is trading at about 23.8 times trailing earnings -- far above its historical average of about 16.7 since its inception.So you might be surprised to learn the average stock in the iShares Nasdaq Biotechnology Index with profits to report is trading at just 20.7 times trailing earnings,which is significantly cheaper than the broad market.
Biotechnology is generally considered a high-growth industry, and a lower-than-average trailing multiple suggests there are plenty of biotech stocks to buy on sale. Yet just one of my favorites, Gilead Sciences , looks cheap based on trailing earnings right now.
Looking forward, however, I'd sayCelgene, Celldex, Jazz Pharmaceuticals , Vertex Pharmaceuticals , and Gilead are the top five biotech stocks to buy when they go on sale.
Let's walk through some recent developments, and you'll see they're positioned for market-thumping long-term gains.
1. Celgene: Make the Revlimid fears your friend
Investors fear generic competition for Celgene's Revlimid, which is widelyexpected to begin in 2022(five years ahead of the drug's "patent cliff"). This has kept the stock on sale for a long time, but this biotech's value proposition is looking better than ever. Sales of Otezla, which earned approval for the enormous psoriasis indication in 2014, are just beginning to rocket upward. First-quarter sales of the drug popped 224% from the same period of last year to $196 million. Total first-quarter sales grew 21% over last year to $2.5 billion.
The company has been using its massive cash flows to assemble what may be the most promising collection of potential growth-drivers in the industry through outright acquisition and collaboration agreements. Management has reiterated a total sales target of more than $21 billion in 2020, and the company is on pace to reach it.
A forward multiple of 22 times this year's expected earnings isn't cheap compared with the broad market. However, for a company on track to more than double sales over the next several years, it's hanging on the clearance rack.
2. Celldex: Shaking off a failed first attempt
This biotech is also on sale, though it's in a different department from Celgene. Celldex is still in the clinical stage, and without a product to sell, it's pretty volatile. General negative sentiment toward smaller biotechs, along with a failure in its first registrational trial with Rintega, has beaten it into the dirt.
What the market seems to have missed is the rest of its pipeline and its balance sheet. It finished the first quarter with $254 million in cash and a book value of $302 million. With a market cap of just $369 million, this company has had its cancer pipeline severely undervalued.
One of several promising candidates in the Celldex lineup,Glembatumumab Vedotin, is in trials for triple-negative breast cancer, an indication with over 170,000 patients worldwide and a dearth of treatment options. If the trial is successful, it could support applications in the U.S. and EU.
If eventually approved, Glembat has blockbuster potential written all over it, and it's just one of the company's clinical-stage assets.
3. Gilead: Settling in
Gilead has been trading at a low multiple for several quarters, and it just got a lot cheaper thanks to an overreaction to its first-quarter earnings report. Harvoni sales fell 15.7% year over year during the three months ended March,and Wall Street reacted as if the world had ended:
Total product sales for the company actually rose 3.7% compared with the same period last year. Five of its blockbuster antivirals rose significantly, including Sovaldi. Sales of the drug, which is one of two ingredients in Harvoni, rose 31.3% to $1.28 billion.
Gilead still dominates the hepatitis C space, and will continue to for some time. With a pan-genotypic hepatitis C treatment under review at the FDA, and a recent approval for another promising HIV treatment, Odefsey, I think Gilead is just settling into slower but steady-growth stage.Harvoni may have peaked, but this stock, at about seven times forward earnings, will eventually provide market beating returns. In the meantime it's shoveling massive amounts of cash to shareholders in the form of dividends and buybacks.
4. Jazz Pharmaceuticals: treating underserved niches
Jazz Pharmaceuticals' drugs, aimed at underserved patient populations, are performing well -- and about to perform even better. First-quarter sales rose 8.6% to $336 million, largely on the back of Xyrem, the only FDA-approved narcolepsy treatment for both excessive daytime sleepiness and emotion-triggered fainting.
Sales will soon be boosted further by the recent FDA approval of a drug that's been available in the EU for a couple of years: Defitelio, a treatment of veno-occlusive disorder with kidney or lung dysfunction following stem-cell transplants. Approval for this life-saving treatment came at the end of Marchand should begin contributing to sales in the quarters ahead.
Jazz Pharmaceuticals stock is valued at about 16 times this year's earnings projections and less than 13 times next year's estimates, so it seems the market has not recognized its growing sales and recent expansion.
5. Vertex Pharmaceuticals: Full steam ahead
As Gilead was crushing Vertex's hepatitis C program, Vertex was also pushing its cystic fibrosis game-changers forward. The company hasn't stopped pushing, but it's finally approaching sustainable profitability.
The company's Orkambi and Kalydeco are the only treatments that address the underlying cause of cystic fibrosis, and Vertex will probably have this field all to itself for years to come.So far, roughly one-third of the developed world's patients are eligible to receive the company's approved treatments, and Vertex is pushing hard to reach them all.
Although Vertextripled first-quarterproduct sales over Q1 2015,total revenue of $398 million wasn't enough to produce a profit. Don't worry, though: Sustainable profitability is widely expected by the end of the year.
A forward multiple of nearly 50 times earnings expected this year hardly suggests the biotech stock is on sale, but look at its price compared to 2017's projected earnings. With about two-thirds of cystic fibrosis patients not yet eligible for Vertex's treatments, and a growing pipeline in additional indications, this biotech stock is trading at a bargain-basement price.
While Gilead is the only company that looks cheap on the surface, all five of these biotech stocks are incredibly cheap in one way or another. Each is poised to bring in big gains -- if you're willing to hang on for the long run.
The article 5 Top Biotech Stocks to Buy on Sale originally appeared on Fool.com.
Cory Renauer has no position in any stocks mentioned. You can follow Cory on Twitter @coryrenauer or connect with him on LinkedIn for more healthcare industry insight. The Motley Fool owns shares of and recommends Celgene, Gilead Sciences, and Vertex Pharmaceuticals. The Motley Fool recommends Celldex Therapeutics. Try any of our Foolish newsletter services free for 30 days. We Fools may not all hold the same opinions, but we all believe that considering a diverse range of insights makes us better investors. The Motley Fool has a disclosure policy.
Copyright 1995 - 2016 The Motley Fool, LLC. All rights reserved. The Motley Fool has a disclosure policy.