5 Things United Technologies' Management Wants You to Know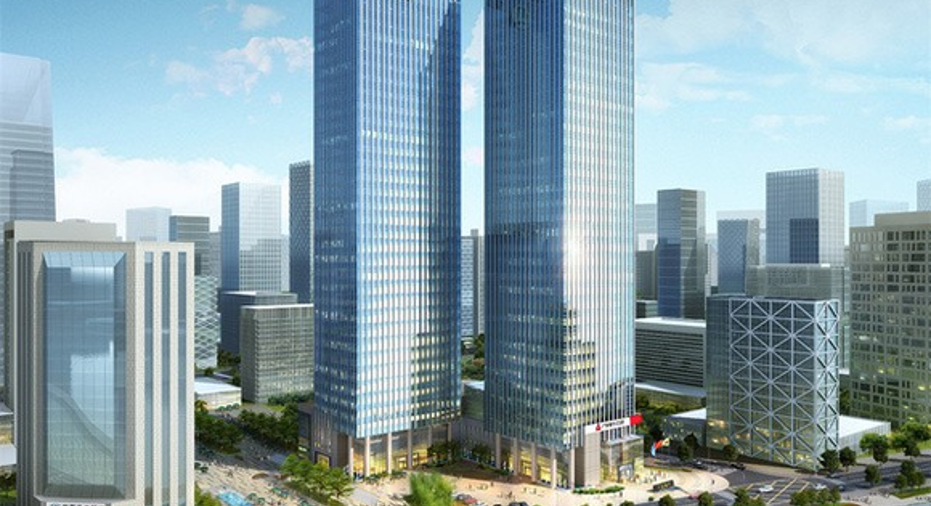 Anyone following or invested in United Technologies Corporation (NYSE: UTX) knows that it faces near-term headwinds as the management team engages in positioning the company for long-term growth. So, it's important to monitor how well management is achieving their strategic aims, and how what they said might have a direct relevance to peersIngersoll-Rand Plc (NYSE: IR) and Watsco Inc. (NYSE: WSO). With this in mind, let's take a look at five key takeaways from the recent investor and analyst meeting.
1. Geared Turbofan update
Although the meeting focused on the Otis elevator and climate, controls, and security (CCS) segments, it would have been remiss of CFO Akhil Johri not to discuss the biggest talking point for the company in 2017, namely Pratt & Whitney's Geared Turbofan (GTF). He claimed there was "no new news"; presumably this means the plans to produce 350 to 400 are still in place for 2017.
A Geared Turbofan in production. Image source: United Technologies.
He then reiterated that the two GTF problems identified previously (the combustor liner and oil seals) were merely durability issues created by usage in harsh conditions. He described them as "teething issues" that had nothing to do with the architecture of the gear, and said plans are already in place to resolve them in 2017. In a sense, "no new news" is actually good news, and plans remain on track.
2. On selling Watsco Inc. stock
Johri also disclosed that the intended sale of United Technologies' stock in Watsco -- a stake originally picked up to support the commercial relationship between the companies -- is being made purely to prevent any volatility from mark-to-market accounting. He stressed that United Technologies' "operating relationship with Watsco is still intact." The latter is the largest single distributor for United Technologies' Carrier. Clearly, the relationship is important to both companies.
As for the share sale, it's hard not to think that United Technologies is preparing some firepower for potential acquisitions -- possibly in the aerospace sector, where it can hope to cross-sell new solutions into the new aircraft programs it's been winning in recent years.
3. Why CCS growth was weak in 2016
CEO Greg Hayes had previously expressed his opinion that CCS could and should pick up its revenue-growth rate, so CCS President Bob McDonough's color on what happened with its heating, ventilation and air conditioning (HVAC) operations (primarily Carrier) in 2016 was very useful. For the record, HVAC generates roughly half of CCS revenue.
Willis Carrier invented modern air conditioning and then created the company that bears his name. Image source: United Technologies.
McDonough argued that regulatory changes favored Carrier in 2015, leading to it generating strong market-share gains; however, 80% of those gains were given back last year, as McDonough acknowledged. But he believes HVAC operations will gain market share in 2017, and the fact that CCS equipment orders were up 2% in the fourth quarter -- for the first time in 2016 -- suggests improvement.
Given that Ingersoll-Rand's Trane had a strong year in 2016, it's possible that that company could suffer some market-share erosion in 2017 if Carrier gets back to its winning ways -- something for investors in both companies to look out for.
Of course, investors will want to know more about the drivers of CCS revenue improvement in the future, and McDonough argued that a raft of new HVAC products generated by increased engineering and development expenditures (up 15% from 2012 to 2016) would drive currency-adjusted organic sales growth in the low single digits in 2017. Again, that's something for Ingersoll-Rand investors to look out for.
4.Otis progression in China
Reestablishing equipment market share for Otis is a key aim for the company, and Otis president Philippe Delpech outlined excellent progression toward that end in the Chinese market. Otis unit sales grew by 4% in China in 2016, when the overall market declined 5% in terms of unit sales. Of course, this wasn't achieved without significant pressure on Otis' margin due to pricing pressures. No matter: The immediate aim was to increase new-equipment sales in order to drive service revenue in the future, and that's something the company is doing well.
Otis hopes to win new equipment orders in China, as it did in this project in Changsha. Image source: United Technologies.
5. How Otis can grow
There are three other key ways Otis can grow sales and earnings. First, Delpech disclosed that new product launches would increase; Otis plans to release four times as many new products as it did in 2014. Second, it plans a reduction in supply-chain costs as suppliers are forecast to be reduced by 20% in 2017, following a 10% reduction in 2016.
Third, the plan to introduce digital solutions (in the form of mobility and apps) in order to better serve customers will likely lead to greater customer retention and reduced overhead. For example, the plan calls for 16,000 new mobility devices to be deployed in 2017, compared to just 1,300 in 2016.
Does it all add up?
All told, it was a positive update, and United Technologies remains on track with its aims, but questions remain. Pricing conditions for Otis in China remain a concern, and CCS needs to demonstrate it can pick up the pace of organic growth. Meanwhile, GTF production remains a talking point.
That said, management is pretty much doing what they said they would do. And given the stock's valuation and future prospects, I believe the stock remains a good value.
10 stocks we like better than United TechnologiesWhen investing geniuses David and Tom Gardner have a stock tip, it can pay to listen. After all, the newsletter they have run for over a decade, Motley Fool Stock Advisor, has tripled the market.*
David and Tom just revealed what they believe are the 10 best stocks for investors to buy right now... and United Technologies wasn't one of them! That's right -- they think these 10 stocks are even better buys.
Click here to learn about these picks!
*Stock Advisor returns as of February 6, 2017
Lee Samaha owns shares of United Technologies. The Motley Fool recommends Watsco. The Motley Fool has a disclosure policy.