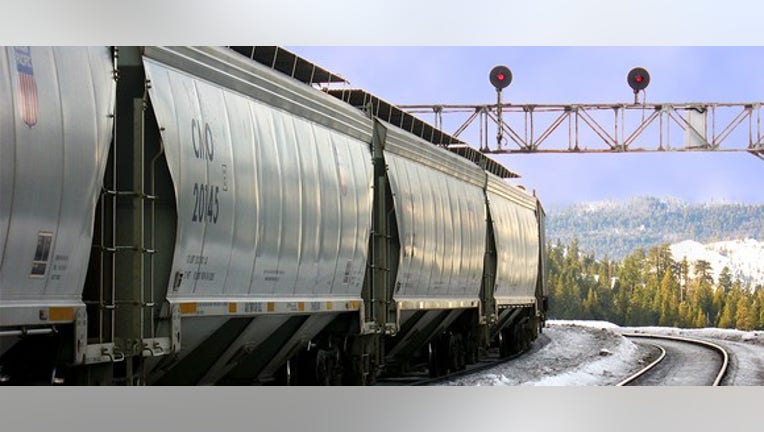 Image source: Union Pacific.
AfterUnion Pacific reported itsfirst-quarter results, its management team shared some important information with investors during the conference call. Here are the key takeaways for long-term shareholders.
1. Low crude oil prices continue to take a toll.
With the railroads becoming more dependent upon commodities to fuel growth in recent years, they've also grown increasingly exposed to downturns in the energy industry. And with crude oil prices down more than 50% over the past two years, Union Pacific's profits have likewise come under pressure. There's been a sharp reduction in demand for crude-by-rail shipments, as well as drilling related materials such as frac sand, which saw a 49% decline in carloadings during the first quarter. These headwinds are likely to continue to weigh on Union Pacific's results in the quarters ahead, as management expects demand for crude shipments and drilling-related mineral volumes to remain weak for the rest of the year.
2. The downturn in coal demand also remains troublesome.
Coal shipments fell even more than oil-related deliveries as warm winter weather, low natural gas prices, and a weak export market all contributed to lower demand for coal. But while declining U.S. production could lead to a recovery in oil prices in the coming years, coal rail shipments are likely to remain in a secular decline. The U.S., along with many other nations, is abandoning coal in favor of cleaner-burning natural gas -- and, increasingly, alternative energy sources such as wind and solar -- for its electricity production. This is a long-term global trend that will likely remain a drag on Union Pacific's results for the foreseeable future.
3. To meet these challenges, management is focused on slashing costs.
To offset its lower shipment volumes, Union Pacific is thinning its employee head count and placing locomotives into storage. By the end of the first quarter, the company had reduced its active locomotive fleet by 15% and its total workforce by 11% compared to the year-ago period. Management is also seeking to improve efficiency and productivity as part of its companywide initiative to drive Union Pacific's operating ratio -- a key metric defined as operating expenses divided by operating revenues -- to 55% from its current level near 65%. In fact, management believes these efforts will not just alleviate short-term earnings pressure caused by lower volumes, but also help to fuel long-term profit growth, cash flow generation, and shareholder returns.
4. Despite the revenue decline, Union Pacific's cash generation remains strong.
Union Pacific's operating cash flow exceeded $7 billion in both 2014 and 2015. With the first quarter of 2016 surpassing $2 billion, the company is on track to hit that mark again this year.
5. And management is committed to passing on that cash flow to investors.
In Q1 2016, Union Pacific paid $465 million in dividends and repurchased 9.3 million of its shares for $706 million. Even more significant is that, since initiating its share buyback program in 2007, Union Pacific has repurchased almost 27% of its outstanding shares. That's a trend that should continue, and investors can expect to be rewarded with additional share buybacks -- as well as a rising dividend stream -- in the years ahead.
The article 5 Things Union Pacific Management Wants You to Know originally appeared on Fool.com.
Joe Tenebruso has no position in any stocks mentioned. The Motley Fool has no position in any of the stocks mentioned. Try any of our Foolish newsletter services free for 30 days. We Fools may not all hold the same opinions, but we all believe that considering a diverse range of insights makes us better investors. The Motley Fool has a disclosure policy.
Copyright 1995 - 2016 The Motley Fool, LLC. All rights reserved. The Motley Fool has a disclosure policy.