5 Things to Watch When Whole Foods Reports Earnings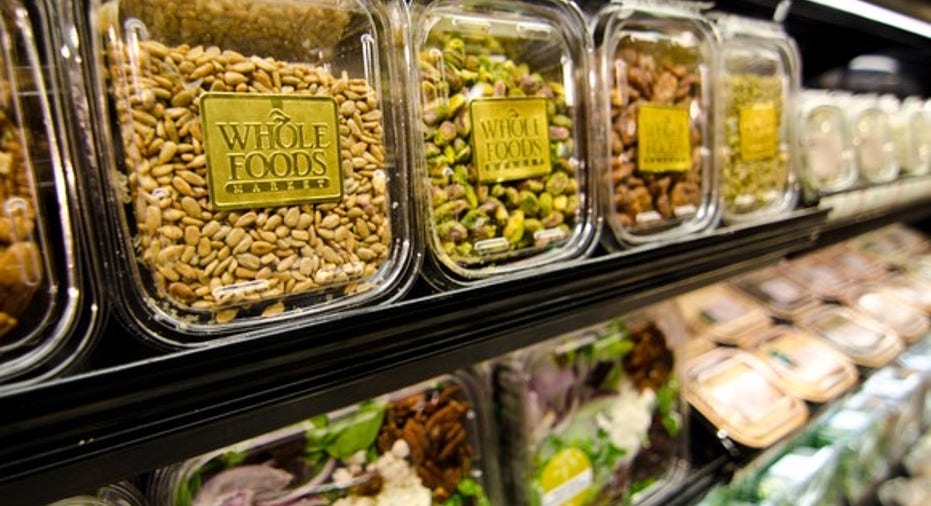 When Whole Foods Market (NASDAQ: WFM) reports fiscal first-quarter 2017 earnings on Wednesday after the markets close, investors will be searching avidly for signs that the grocer can break out of its doldrums in 2017. For shareholders trying to gauge the potential for shares to rise in 2016, the following five themes may be helpful in the context of Wednesday's report.
Image source: Whole Foods Market.
1. A revenue bar that's set very low
Whole Foods' management forecasts middling revenue growth in fiscal 2017 of 2.5% to 4.5%. Increased square footage will be one driver of top-line expansion. While a far cry from the days when Whole Foods increased its total square footage at a rate north of 10% annually, this year's projected 6% increase in retail space (equating to roughly 30 new stores) should provide enough momentum for the company to exceed last year's total revenue increase of 2.2%.
Because Whole Foods has set a low bar, essentially matching last year's revenue increase at the bottom end of its projected range, a first-quarter revenue gain of 3% or above will likely be well-received by investors. Conversely, flat or declining sales may portend a tougher 2017 ahead.
2. Comparable sales: traffic versus basket size
Whole Foods' other major driver of revenue improvement, comparable-store sales (or comps), has been in decline since 2015. After several quarters of slowing growth, comps actually turned negative in 2016, decreasing by 2.5%.
The organization's fiscal 2017 outlook calls for comps growth of negative 2% to 0%, so while investors shouldn't expect comps to come roaring back in the first quarter, even nominal growth would be a positive sign for the year ahead.
It may be equally or more important to understand how the upcoming comps number breaks out. Last quarter, Whole Food's negative 2.6% comps were comprised of a 4.2% drop in traffic, and a 1.6% increase in average basket size.
Thus, the company saw fewer customer visits, but realized higher sales per transaction during the quarter. A marginal comps improvement in Q1 2017 will be more palatable if it's made up of gains in both traffic and basket size.
3. The indirect impact of deflation
The effect of food deflation on grocery store revenue and profits was likely the biggest story in the grocery industry in 2016. A host of factors reduced grocers' food costs last year, from higher crop yields to the strong U.S. dollar (which curbs food exports, increasing domestic supply).
Rather than being positive for grocery chains, deflation typically hurts revenue, as corporations pass on cost savings to customers in the form of promotions and discounts, often engaging in rounds of competitive price lowering. Whole Foods rival Krogersuffered a stock price decline last year as deflationary pressures affected its top-line results.
So far, Whole Foods has enjoyed some insulation from this phenomenon, as in many cases it sources perishables, dairy, and meat within long-term contractual arrangements enforcing the company's quality standards, which protects farmers' pricing and stabilizes Whole Foods' costs.
However, if deflation persists and strengthens in 2017, Whole Foods may find itself having to respond to competitors and discount more aggressively than it would like, especially if traffic remains weak.
This indirect impact from deflation would negatively affect not only Whole Foods' revenue but also its operating margin. Investors should look to Wednesday's earnings conference call for management's discussion on deflation and its possible effects during the current fiscal year.
4. Promotions and digital strategies are maturing
On an earnings conference call in November 2015, CEO John Mackey laid out a nine-point plan which he promised would "rebuild traffic and sales and create a solid foundation for [our] profitable long-term growth."
Two of those plan points -- increased yet targeted promotional activity, and the evolution of digital strategies to drive sales -- are beginning to show evidence of tangible revenue contribution.
Last year, the company installed a new unified point-of-sale system across its entire system, which will facilitate targeted offers and the redemption of digital coupons at checkout for customers.
Whole Foods also rolled out its affinity program in the Dallas/Fort Worth metro area to 50,000 customers in 2016. While this loyalty program has been years in the making, a successful test in Dallas will pave the way for a nationwide rollout in the coming quarters. The app-based program is a platform for the company's emerging digital ecosystem, which includes online ordering and grocery delivery through Whole Foods' partnership with Instacart.
The company's earnings conference call will probably provide the venue for a discussion of promotional experimentation in the first quarter -- both digital and traditional. For the first time during the 2016 Thanksgiving season, Whole Foods distributed a nationwide direct mail promotional piece, to 12 million homes. Expect further investment in multiple promotional channels in 2017.
5. 365 concept numbers
Finally, investors should anticipate an update on the returns of the first 365 by Whole Foods concept locations, which offer less expensive items in a streamlined shopping environment.Whole Foods opened three initial 365 stores last year, and has a total of 23 new leases in the pipeline.
Management has promised that the new units will have a higher return on invested capital than the typical Whole Foods store. And a lower labor component should boost margins. While the company didn't provide any hard numbers last quarter on this retail experiment, we're likely to see more detail Wednesday on the viability of the concept, which could be an extremely important anchor in the next phase of Whole Foods' growth.
10 stocks we like better than Whole Foods MarketWhen investing geniuses David and Tom Gardner have a stock tip, it can pay to listen. After all, the newsletter they have run for over a decade, Motley Fool Stock Advisor, has tripled the market.*
David and Tom just revealed what they believe are the 10 best stocks for investors to buy right now... and Whole Foods Market wasn't one of them! That's right -- they think these 10 stocks are even better buys.
Click here to learn about these picks!
*Stock Advisor returns as of February 6, 2017
John Mackey, CEO of Whole Foods Market, is a member of The Motley Fool's board of directors. Asit Sharma has no position in any stocks mentioned. The Motley Fool owns shares of and recommends Whole Foods Market. The Motley Fool has a disclosure policy.