5 Things Realty Income Corporation's Management Wants You to Know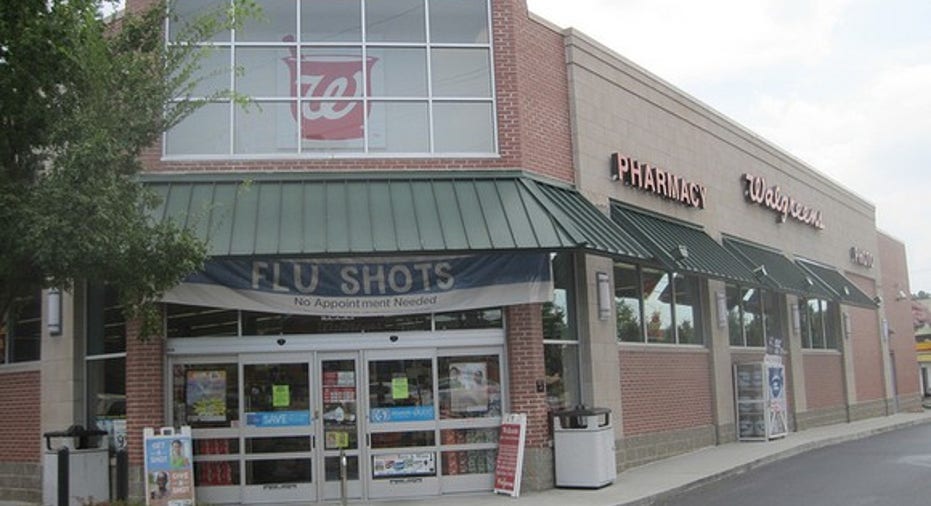 Realty Income specializes in free-standing retail properties, such as Walgreens, its largest tenant.
Realty Income Corporation reported first-quarter earnings that were on target and didn't feature any big surprises. As I said at the time, Realty Income has a history of predictably solid earnings, which make the stock a fantastic long-term investment. However, there's always more to the story than a company's top- and bottom-line numbers, so here are some highlights from Realty Income's recent conference call that you may be interested to know.
Why did occupancy fall?Realty Income started the year with 98.4% of its properties occupied, and this figure has dropped to 97.8%, a rather large quarterly drop by the company's standards. Basically, a significant number of leases expired during the quarter without being released, including some properties that became vacant due to the bankruptcy of certain restaurant tenants.
Still, CEO John Case reassured investors that the company expects to end the year with occupancy back up to 98%. And, he emphasized that the properties that were successfully released are bringing in 112% of the rental revenue of the previous leases -- the strongest recapture rate since the company began recording the metric.
Case also wants investors to understand that although there was a pretty active quarter in terms of lease expirations, the company expects expirations for the rest of the year to be relatively light. Realty Income plans to work through the remaining vacancies, and feels good about the portfolio's direction for the rest of the year.
What about Sports Authority's liquidation and the Walgreens/Rite-Aid merger?Another concern when it comes to portfolio occupancy is losing certain businesses to bankruptcies, liquidations, or mergers. For investors, two big concerns of investors include the planned liquidation of Sports Authority (a relatively small tenant of Realty Income) and the merger of Walgreens (Realty Income's largest tenant) with Rite-Aid.
Sports Authority represents less than 1% of Realty Income's portfolio, and is a rarity for the company -- the sporting goods business is discretionary in nature. Other than the small exposure, Realty Income says that the Sports Authority properties in the portfolio have already begun receiving significant interest from other retailers. Also, the company's 2016 guidance (FFO and occupancy) already factors in the projected effects of Sports Authority's liquidation, so investors need not worry.
Realty Income President and COO Sumit Roy also pointed out that Realty Income's other sporting good tenants, such as Dick's Sporting Goods and Academy, are in good financial shape.
As far as the Walgreens and Rite-Aid merger goes, the main concern is about stores closing. After all, if you have a Rite-Aid operating right next to a Walgreens, it may be silly to keep both in operation after the companies merge.
However, there are only 15 Rite-Aid properties in Realty Income's portfolio that are within a two-mile radius of a Walgreens store, so the closures are expected to be minimal. Additionally, the average remaining lease term on these properties is 13 years, which Walgreens would still be responsible for if the stores closed.
A more active year for acquisitionsIn its earnings release, Realty Income increased its 2016 acquisitions guidance from $750 million to $900 million. During the first quarter, the company acquired a higher-than-expected $353 million worth of properties and cited a strong flow of investment opportunities that meet its criteria. And while Realty Income's acquisitions fluctuate rapidly from quarter to quarter, Case said that the company was happy with the first quarter and feels optimistic about the remainder of the year.
Still, investors should know that Realty Income is still being picky when it comes to acquiring properties. During the first quarter, the company sourced $6.2 billion in potential acquisitions, and ended up adding just 6% of these to the portfolio -- a rate consistent with its historic average.
Property expenses spiked a bit, but the company is controlling costs elsewhereAt first glance, followers of Realty Income may be concerned that its non-reimbursable property expenses were 2.3% of revenue, which was significantly higher than average due to carry costs on some vacant properties and general timing issues.
However, the company projects that this will normalize by the end of the year as occupancy improves. In addition, Realty Income repaid more than $450 million in bonds and mortgages during the last 12 months, and as a result, interest expense has dropped. In fact, its fixed-charge coverage ratio of 4.1 times is the highest it's been in more than a decade.
Not just retail...Finally, one thing many investors don't realize (even those who own Realty Income shares) is that the company has a significant number of non-retail properties in its portfolio. In fact, more than one-fifth of Realty Income's rental revenue comes from other property types, mainly industrial and office. During the conference call, Case provided some color on this part of the portfolio.
First of all, office properties (6% of revenue) are not a property type Realty Income actively seeks to invest in. The office buildings in the portfolio are the result of portfolio acquisitions or relationships with existing retail tenants. For example, a retailer might ask Realty Income to acquire and lease back their office headquarters. So, investors should know that the company isn't planning to grow its office holdings.
On the other hand, industrial properties are and will continue to be an area of focus, but the company will be picky about the properties it acquires. As Case said, Realty Income is looking for Fortune 1000 tenants, preferably investment grade.
This is significant because although it doesn't make Realty Income a pure play on triple-net retail, it does add diversity and reinforce one key idea: Realty Income is willing to think outside the box to deliver results for its shareholders.
The article 5 Things Realty Income Corporation's Management Wants You to Know originally appeared on Fool.com.
Matthew Frankel owns shares of Realty Income.. The Motley Fool has no position in any of the stocks mentioned. Try any of our Foolish newsletter services free for 30 days. We Fools may not all hold the same opinions, but we all believe that considering a diverse range of insights makes us better investors. The Motley Fool has a disclosure policy.
Copyright 1995 - 2016 The Motley Fool, LLC. All rights reserved. The Motley Fool has a disclosure policy.