5 Things Raytheon Wants You to Know About Its Business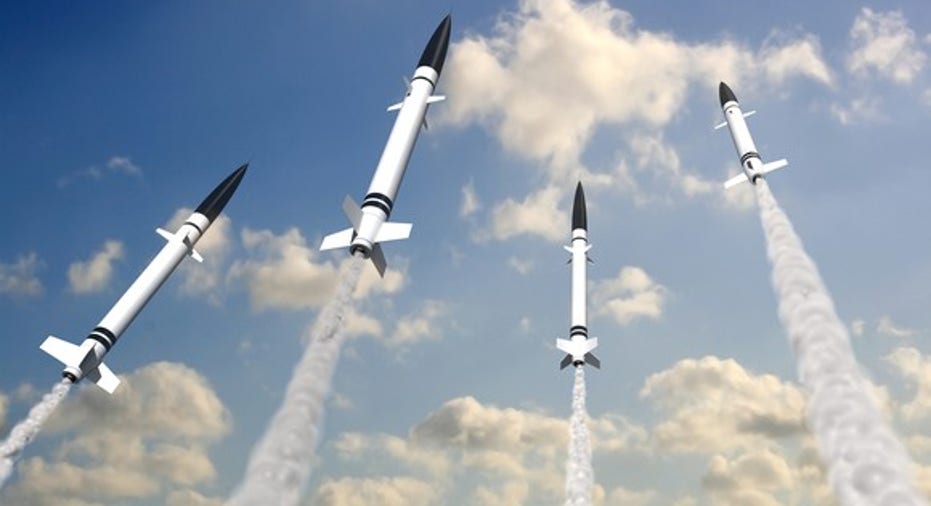 With earnings out of the way, what's next for Raytheon? Image source: Getty Images.
In a week of strong earnings reports from American defense contractors, Raytheon's (NYSE: RTN) report was stronger than most. Quarterly earnings at the rocket maker surged 44% year over year. Free cash flow for the first half of the year was nearly triple what the company generated in H1 2015. And profit margins -- up nearly five full percentage points year over year -- were well above anything seen in recent memory, according to data from S&P Global Market Intelligence.
Can Raytheon keep up this superb performance? To gather some clues, we listened in on Raytheon's post-earnings conference call. Here are five things they told us that we thought you'd like to know.
Thing 1: At this defense contractor, everything's going great guns
As further explained by company CFO Toby O'Brian, Raytheon sees no real movement in its sale projections for this year, and continues to expect to see only low-single-digit sales growth, and full-year revenues of $24 billion to $24.5 billion.
That said, the profitability of Raytheon's revenues is improving -- by about 20 basis points. Accordingly, management now expects to earn operating profit margins of between 13.2% and 13.4% this year, resulting in a $0.20 improvement in earnings, which are now estimated to be between $7.13 and $7.33. Cash flow is also improving, to the point where the company now expects to generate between $2.8 billion and $3.1 billion for the year.
With Raytheon tracking toward $500 million in annual capital spending, that should work out to free cash flow of between $2.3 billion and $2.6 billion -- as much as a 33% leap from 2015 FCF, and quite possibly the company's most cash-rich year ever.
But how?
Thing 2: In-demand products
Simply put, Raytheon is seeing strong demand from its customers around the world for the very products that it specializes in. This isn't simply a case of some "arms dealer" pushing its products on the world, but of world leaders seeking out Raytheon to fulfill a perceived need for national defense.
Thing 3: We need it, and we need it now
Strong global demand for defense products is driving Raytheon's sales growth. At the same time, the company is continuing to grow the profit margins on its products. How? Well, this comment from Mr. Kennedy gives one clue.
The buyers Raytheon is selling to are motivated buyers, driven to purchase missiles, and missile defense systems, out of a "sense of urgency." It almost goes without saying that panicked buyers aren't in the best position to comparison shop between competing systems, or to engage in long and drawn-out negotiations in price. All that adds up to improved profit margins for Raytheon.
Thus, Raytheon's international business is booming. But what about in the U.S.?
Thing 4: Meanwhile, back at the ranch ...
Here at the Fool, we've given a lot of thought to the competing Presidential candidates, and how their policies might affect the U.S. defense budget. In the short term, at least, Raytheon doesn't seem to be worrying about this.
Eventually, the election will end. Someone will win, and someone else will lose. In the meantime, Raytheon sees little risk to defense spending, even in the absence of a defense budget, as Congress will tide the contractors over with a continuing resolution to maintain spending. And after the budget is passed, and after that, when a new president moves into the Oval Office?
Call me a crazy optimist, but judging from experience, defense spending just isn't likely to decline.
Thing 5: Cautious optimism (emphasis on "cautious")
Questioned by analysts on why Raytheon appeared to have reduced the rate at which it was buying back shares, CFO O'Brian responded with the above blunt assessment, and it's one that should resonate with investors.
Raytheon's stock is a good one, its market is growing, and its prospects look bright. Raytheon's stock certainly is worth buying at some certain price -- but not at any price. Accordingly, as the stock goes up -- and Raytheon's is up 30% over the past year -- Raytheon's spending on share buybacks will go down.
Even in light of all the good news that Raytheon announced last week, that's a lesson investors might want to learn from, as well.
A secret billion-dollar stock opportunity The world's biggest tech company forgot to show you something, but a few Wall Street analysts and the Fool didn't miss a beat: There's a small company that's powering their brand-new gadgets and the coming revolution in technology. And we think its stock price has nearly unlimited room to run for early in-the-know investors! To be one of them, just click here.
Fool contributorRich Smithdoes not own shares of, nor is he short, any company named above. You can find him onMotley Fool CAPS, publicly pontificating under the handleTMFDitty, where he's currently ranked No. 308 out of more than 75,000 rated members.
The Motley Fool has no position in any of the stocks mentioned. Try any of our Foolish newsletter services free for 30 days. We Fools may not all hold the same opinions, but we all believe that considering a diverse range of insights makes us better investors. The Motley Fool has a disclosure policy.