5 Things Magellan Midstream Partners' Management Wants You to Know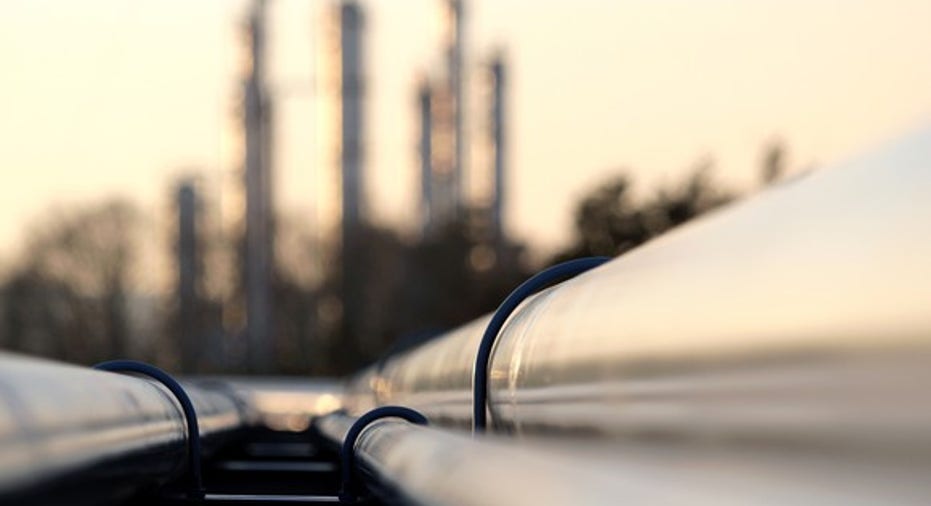 Image source: Getty Images
Despite the declines across the oil and gas industry over the past couple of years, shares of Magellan Midstream Partners have remained rather resilient. Much of that has to do with its business model. It owns the nation's largest network of refined petroleum product pipelines -- think gasoline and diesel -- and its fee based model of moving these products has helped it weather the storm in the energy market quite well.
As we look toward the next chapter of America's shale story, Magellan's management team has kept a pretty consistent strategy: Maintain modest growth while keeping a conservative balance sheet. The five quotes below from CEO Micael Mears and CFO Aaron Milford during the company's most recent conference call that should help give you a better picture of where the company is headed from here.
Creeping debt level concerns?
An aspect that has made Magellan Midstream Partners so attractive as an investment compared to so many of its peers is that the company has kept a much more conservative balance sheet. Debt to EBITDA -- a metric that most credit ratings agencies look at -- is a great example of Magellan's more conservative approach.
| | |
| --- | --- |
| Company | Net debt to EBITDA |
| Magellan Midstream Partners | 3.42x |
| Williams Partners | 5.72x |
| Energy Transfer Partners | 6.02x |
| Enterprise Products Partners | 4.67x |
Source: S&P capital IQ
Looking at the company's most recent finanical statements, though, the company's debt metric has started to increase. According to CFO Aaron Milford, this is slightly by design.
So far, Magellan's management has performed well enough over the years that they should at least be given the benefit of the doubt with this statement. However, it may be worth taking a deeper look if that debt level does start to creep closer -- or worse -- above that 4 times EBITDA mark.
Good guidance
Earlier in the year, management was expecting the operating environment to be a little worse than it actually was in the first quarter of the year. That, and the assumption that some new projects will come online this year, allowed CEO Michael Mears to announce that it was upping its guidance.
Seeing guidance getting upped should also help to ease any fears of the raising debt levels, if EBITDA and cash flow growth grow at a faster pace than debt, then those metrics will come down. This is also promising to hear that the company plans to keep its conservative payout policy in place that will help reduce the risk of a stagnant or lower distribution in the future.
Acqusition update?
Magellan's management has been known to make an opportunistic purchase from time to time. So anyone listening in on the call will always be looking for any indication if the company is on the prowl for a deal. According to Mears, Magellan is likely going to be pretty quiet for a while:
If you're thinking that he is taking shots at asset sellers and telling them they think their assets are worth more than what they really are, you aren't the only one.
Where do we go from here?
With three major capital projects coming to a close -- the saddlehorn crude oil pipeline, its Corpus Christi condensate splitter, and its Little Rock refined product pipeline -- much of the planned capital spending will be wrapping up. While the company hasn't given any major guidance as to its spending plans for 2017 or beyond, Mears wanted to reassure investors there are other opportunities in the wings.
We should expect to see some more details about capital spending in 2017 and beyond in the next quarter or two.
Contract issues with counterparties?
So much of a pipeline company's strength as an investment has been with its long term supplier contracts that set certain volume and fee rates for years to come. However, after a recent court ruling, those contracts are not as sacrosanct as they once were. One investor asked Mears whether the risk of its counterparties not being able to pay their bills. Here's his response.
For the time being, this shouldn't be too much of a concern. Magellan's crude oil counterparties are in decent shape as Mears says, and its other segments are less at risk because of their position in the value chain for oil and gas.
What a Fool believes
Very rarely do Magellan's conference calls or business updates come with many surprises, and this one was no different. No surprise announcements. No big changes to strategy. Just another quarter of strong performance coupled with a conservative business plan going forward. In many ways, that is the appeal to investing in Magellan: Slow & steady growth with a generous payout.
In the coming quarters, investors should watch 3 things: That its three major capital projects come online without a hitch, keepingmanagementto its word about not passing that 4x debt to EBITDA threshold,and any further details about its capital spending for 2017 and beyond. These three things will like be the major factors in the company's profitability in the coming years.
The article 5 Things Magellan Midstream Partners' Management Wants You to Know originally appeared on Fool.com.
Tyler Crowe owns shares of Enterprise Products Partners and Magellan Midstream Partners.You can follow him at Fool.comor on Twitter@TylerCroweFool.The Motley Fool recommends Enterprise Products Partners and Magellan Midstream Partners. Try any of our Foolish newsletter services free for 30 days. We Fools may not all hold the same opinions, but we all believe that considering a diverse range of insights makes us better investors. The Motley Fool has a disclosure policy.
Copyright 1995 - 2016 The Motley Fool, LLC. All rights reserved. The Motley Fool has a disclosure policy.