5 Things Kratos Defense Wants You to Know About Its Business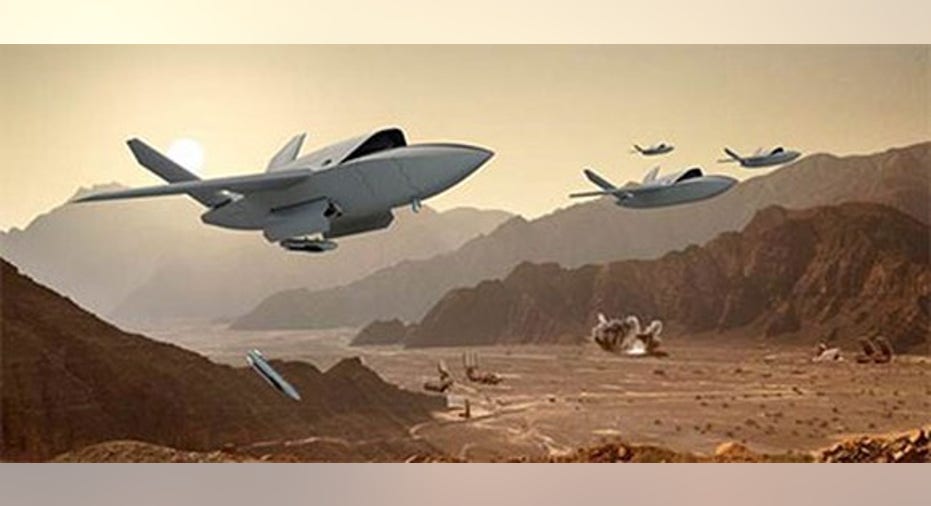 What happens when a tiny company -- less than $800 million in market capitalization -- promises to disrupt the entire way America wages war? What happens to its stock when this company says it can replace manned fighter jets, which have dominated the battlefield airspace for decades, with a new generation of armed combat "drones" that do everything a jet fighter canat a fraction of the cost?
Answer that question, and you'll understand why Kratos Defense & Security Solutions (NASDAQ: KTOS) has become perhaps the most exciting "story stock" in the defense industry today.
Last week, Kratos reported its financial results for Q1 2017 -- and at first glance, they weren't much to look at. Despite growing sales nearly 10%, Kratos lost money on the bottom line. That hardly seems like the kind of news to ignite a stock rally. And yet, that's exactly what happened last week when Kratos stock exploded 18% higher in a single day.
Kratos sees squadrons of combat drones in its future. Image source: Kratos Defense.
So what's the real story at Kratos? Let's listen in on the company's post-earnings conference call, as Kratos management reveals a few things going on behind the scenes at this remarkable company.
1. Drones, drones, and more drones
Kratos referred to this contract in its actual earnings release, but did not mention the size of the contract there. At $30 million to $40 million per batch of BQM-177s, this is a sizable deal. It's also worth pointing out here that Kratos' combat drones -- which are capturing all the headlines lately -- are actually an outgrowth of the company's legacy business building remotely operated targets for the military to practice shooting at.
Last year, that target business yielded revenue of less than $76 million for Kratos, but business is apparently booming, and target drones could be a big revenue driver for Kratos going forward.
2. But Kratos is more than just drones
Of more importance to Kratos is this "jewel" -- Kratos Government Solutions -- which, at $466 million in revenue last year, is actually the company's flagship business. According to data from S&P Global Market Intelligence, it's also the company's only profitable division, earning operating profit margins of 3.7%.
And suffice it to say that, when your biggest revenue producer is growing at 61%, that's good news for the company as a whole.
3. Kratos inside
In addition to its own "name" programs, Kratos also supplies high-tech innards for many weapons produced by other companies. The Barak program should produce $21 million in incremental missile revenue for Kratos. Gripen will be another $20 million to $25 million -- and now we know that whenever Saabsells a Gripen, Kratos collects at least a $200,000 check.
4. But seriously -- tell us more about the drones!
Keeping track of all the different combat drone programs Kratos has in the works is no easy task -- but these post-earnings conference calls do help. After making a few remarks concerning Kratos' subcontractor role (under Dynetics) on the DARPA Gremlins program, for example, DeMarco segued into this discussion of Kratos' other combat drone programs.
By my count, after losing some competitions and winning others, Kratos' active combat drone programs now include:
Gremlins (as subcontractor)

DIUx / UTAP-22 / Mako -- the drone formerly known as "Tornado"
LCASD -- the " Low-Cost Attritable Strike unmanned aerial system Demonstration" program, which could yield hundreds of drone sales, and hundreds of millions of dollars of revenue

a "secret, special program," yet to be revealed

"a brand-new airplane," also somewhat mysterious, for which Kratos has already "got the initial contract" for $1.6 million
So all together, that's at least five rolls of the dice Kratos has in hand with which to try to make it big in combat drones. But it still leaves us with one big question:
5. When will Kratos start making money?
That's a lot of numbers to parse, so let's break this down for you. Kratos is saying that in 2017 -- this very year -- it will:
Generate positive operating cash flow of about $5 million, spend between $28 million and $33 million on capital investments (mostly related to combat drones), and thus end the year with negative free cash flow of between $23 million and $28 million.

But begin reporting GAAP net profits as early as this current Q2, and grow more GAAP profitable as the year progresses.
That alone is very good news, given that Kratos has only reported a full-year GAAP net profit once so far this decade (in 2015). Kratos also hasn't generated positive operating cash flow since 2014 -- but this year, it expects to repeat that feat.
The news gets even better next year, with Kratos promising 2018 will show:
Positive free cash flow -- perhaps as much as $33 million with no further capital investments in the drones program required.

And growth in (and so, by definition, positive) net profits as well.
At last report, analystswho follow the stock agreed that free cash flow would probably turn profitable next year, but the revelation that GAAP profits might turn positive this year -- that must have taken Wall Street by surprise. It helps to explain why investors had such a strong reaction to Kratos' report of another money-losing quarter last week -- and why investors continued to bid the stock up this week as the news sank in.
Now, to keep the bull run running, all Kratos must do is deliver on its promises.
10 stocks we like better than Kratos Defense and Security SolutionsWhen investing geniuses David and Tom Gardner have a stock tip, it can pay to listen. After all, the newsletter they have run for over a decade, Motley Fool Stock Advisor, has tripled the market.*
David and Tom just revealed what they believe are the 10 best stocks for investors to buy right now... and Kratos Defense and Security Solutions wasn't one of them! That's right -- they think these 10 stocks are even better buys.
Click here to learn about these picks!
*Stock Advisor returns as of May 1, 2017
Rich Smith has no position in any stocks mentioned. The Motley Fool has no position in any of the stocks mentioned. The Motley Fool has a disclosure policy.