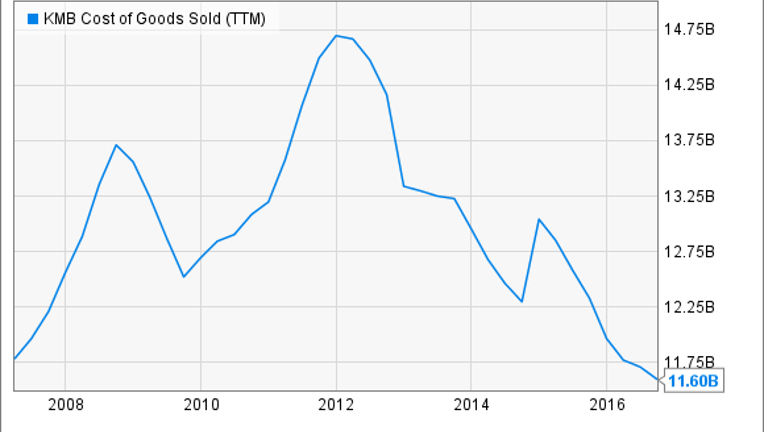 Kimberly-Clark (NYSE: KMB) this week posted quarterly earnings results that met management's lowered expectations. Sales growth sped up slightly from the prior quarter, and surging cash flow helped the consumer goods giant afford a big boost to its dividend payment.
After the announcement, CEO Tom Falk and his executive team held a conference call with analysts to put those results in perspective and provide the company's outlook for the new year. Here are the key takeaways for investors from that chat.
Hitting sales growth targets
Organic sales growth ticked up to a 1% pace from flat in the third quarter. That left the annual expansion rate at 2%, which met the target executives laid out in October. However, Kimberly-Clark had started the year expecting much more robust growth approaching 5%. Worsening industry conditions and increased competition spurred two downgrades of that outlook, first to 3% and then to 2%.
Outperforming on costs
Discipline on costs and expenses helped earnings grow despite an overall decline in revenue. Kimberly-Clark outperformed its aggressive savings targets, which pushed operating margin up by 1% to 18.4% of sales. Gross profit margin improved too, to 37% of sales.
KMB Cost of Goods Sold (TTM) data by YCharts.
The overall cost-cutting program hit 3.8% of cost of goods, up from 3.1% in 2015 as the company sliced over $400 million out of its manufacturing costs compared to its original goal of $350 million. As a result, earnings rose by 5%, the same pace as in 2015 when sales growth was much more robust.
Boosting cash flow and efficiency
Cash surged higher thanks mainly to improvements in working capital and lower pension contributions. These gains aren't likely to repeat in 2017, though, and so the company sees cash flow holding steady or even dropping a bit, in part because management is expecting higher tax payments.
Executives put that cash to work in more efficient ways, with return on invested capital rising by more than a full percentage point to 23.9% -- above their long-term plan of a 0.3% annual boost in ROIC.
Increasing returns
Kimberly-Clark spent $2.1 billion on dividends and stock buybacks last year to mark its sixth consecutive year of returning at least $2 billion to shareholders.
Image source: Getty Images.
The company signaled a continued preference for hefty cash returns by boosting its dividend by 5% and announcing plans to spend as much as $1 billion on stock repurchases.
While still spending aggressively on the business, it should shell out the equivalent of 6% of its market capitalization to investors this year.
Steady outlook
Management's 2017 outlook doesn't call for a quick rebound toward 2015's sales growth pace, but instead predicts a continuation of the weak selling conditions that pinched results over the past two quarters. Organic sales should improve by 2% this year to keep its market share flat. Still, thanks to the $400 million in cost cuts planned in 2017, executives believe they'll boost earnings by 4% for just a tiny step down from last year's pace.
10 stocks we like better than Kimberly-Clark When investing geniuses David and Tom Gardner have a stock tip, it can pay to listen. After all, the newsletter they have run for over a decade, Motley Fool Stock Advisor, has tripled the market.*
David and Tom just revealed what they believe are the 10 best stocks for investors to buy right now... and Kimberly-Clark wasn't one of them! That's right -- they think these 10 stocks are even better buys.
Click here to learn about these picks!
*Stock Advisor returns as of January 4, 2017
Demitrios Kalogeropoulos has no position in any stocks mentioned. The Motley Fool recommends Kimberly-Clark. The Motley Fool has a disclosure policy.