5 Things Gilead Sciences' Management Said After Its Earnings Plummet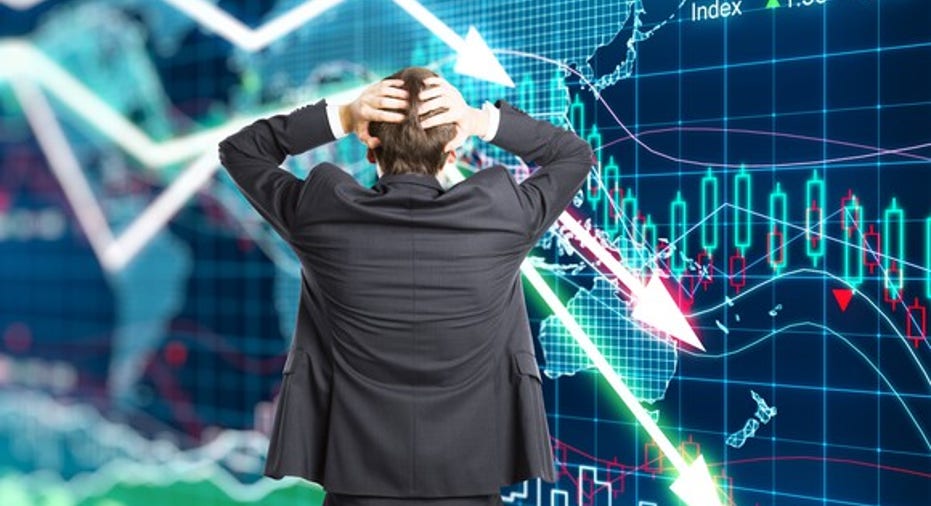 Earnings down. Revenue down. You might expect Gilead Sciences' (NASDAQ: GILD) executives to also be down after the biotech's disappointing third-quarter results. That didn't seem to be the case, though, in Gilead's earnings conference call on Tuesday. Here's what management had to say after reporting another earnings decline.(All quotes courtesy ofS&P Global Market Intelligence.)
Image source: Getty Images.
1. End of the road for hepatitis C development
Gilead says it's finished with developing new drugs for treating hepatitis C. There is one remaining late-stage study targeting hepatitis C virus (HCV) infection with a combo regimen of Sovaldi,velpatasvir, and voxilaprevir. But that's the end of the road.
CEO John Milligan said "there really isn't much less in terms of unmatched medical need" for new HCV treatments. He noted that the company has already "largely turned our attention away from HCV" to other indications.
While this shouldn't be a huge surprise (Gilead's pipeline has told the story for a while), it's bittersweet for the biotech. Kevin Young, Gilead's COO, mentioned that the company will have soon treated 1.2 million HCV patients. Young added, "By any measure, this is a profound contribution to global healthcare delivery." And he's right.
2. Still potential for current hepatitis C drugs
While it's the end of the road for HCV treatment development, it's certainly not the end for Gilead's current hepatitis C lineup. Yes, sales for Harvoni and Sovaldi are falling off a cliff. But Gilead still has a bright spot with Epclusa, and the company still has efforts in progress that could help its HCV franchise continue to generate significant revenue.
Epclusa made $593 million in its first full quarter on the market. That level was reached without reimbursement approval from all payers yet, although Gilead reported significant progress in gaining formulary access for its latest HCV drug. Also, while Epclusa has been launched in Germany, Sweden, Norway, Finland, and Denmark, Kevin Young said that Gilead probably won't market the drug in other European countries until the second half of 2017 after pricing and reimbursement levels are finalized.
Young also pointed out Gilead's initiative to raise awareness about HCV. He said that the biotech has recently launched educational campaigns in the U.S. and Japan. Gilead aired a new television ad in the U.S. recently that encourages individuals to get screened for HCV.
3.All-time success story in HIV
Gilead's management was thrilled with the performance and potential for Genvoya. Kevin Young said that the company expects that in November the drug will become "the all-time most successful product adoption in its first year in the 30-year history of HIV therapy in this country." The current holder of this status is another drug in Gilead's HIV franchise -- Atripla.
There is something of a downside to the biotech's previous success in the HIV market. Most of Genvoya's growth has stemmed from patients on Gilead's other products switching to the newer drug. The same is true for Gilead's other newer HIV drugs,Odefsey and Descovy. Young said that only around "10% of Genvoya switches are incremental to the Gilead HIV franchise."
4.Pipeline positives and negatives
Chief Scientific OfficerNorbert W. Bischofberger didn't try to gloss over Gilead's recent pipeline setbacks, noting that "the very nature of R&D is that you often face both closures and progress."He said that the biotech was halting any development forsimtuzumab after disappointing results in clinical studies of the monoclonal antibody targeting treatment of primary sclerosing cholangitis and nonalcoholic steatohepatitis (NASH).
Gilead stopped a phase 2/3 study ofGS-5745in treating patients with Crohn's disease. The company won't move forward with GS-5745 as a potential treatment for Crohn's or ulcerative colitis but will still forge ahead with evaluating the drug in treating rheumatoid arthritis. Another late-stage setback occurred witheleclazine in treatinglong QT-3 syndrome, a rare heart rhythm disorder.
Bischofberger highlighted Gilead's excitement over other pipeline candidates.GS-4997 is advancing to a late-stage study for NASH after positive phase 2 results. If the mid-stage studies of two other experimental NASH drugs go well, the biotech will also evaluate combination treatments of both drugs with GS-4997 next year.
A regulatory decision on Gilead's TAF treatment for hepatitis B is expected in a few weeks. Bischofberger said that the company also plans to submit its last HCV combo regimen for regulatory approvalbefore the end of 2016.
5. Active but disciplined in search for deals
What is Gilead planning to do with its$31.6 billion in cash and investments? Expect more share buybacks and dividend payments, of course. However, John Milligan said that Gilead is focused on "augmenting [its] portfolio withexternal opportunities, particularly in the field of oncology." Milligan didn't limit potential acquisitions to just oncology, though.
He indicated that Gilead's team is hard at work to find the right deals. However, Milligan said that they "remain open-minded but disciplined" and that the biotech "will keep the bar high" for whatever acquisitions it might make.
How big of a deal might Gilead make and how quickly could something happen? Milligan said the company was looking at multiple opportunities but wouldn't provide any hints as to whether Gilead would keep making smaller deals or attempt a more transformative acquisition. As for timing, he said, "We'll do things when they make sense for us and not before that. And that's really as much as I can say."
A secret billion-dollar stock opportunity The world's biggest tech company forgot to show you something, but a few Wall Street analysts and the Fool didn't miss a beat: There's a small company that's powering their brand-new gadgets and the coming revolution in technology. And we think its stock price has nearly unlimited room to run for early in-the-know investors! To be one of them, just click here.
Keith Speights owns shares of Gilead Sciences. The Motley Fool owns shares of and recommends Gilead Sciences. Try any of our Foolish newsletter services free for 30 days. We Fools may not all hold the same opinions, but we all believe that considering a diverse range of insights makes us better investors. The Motley Fool has a disclosure policy.